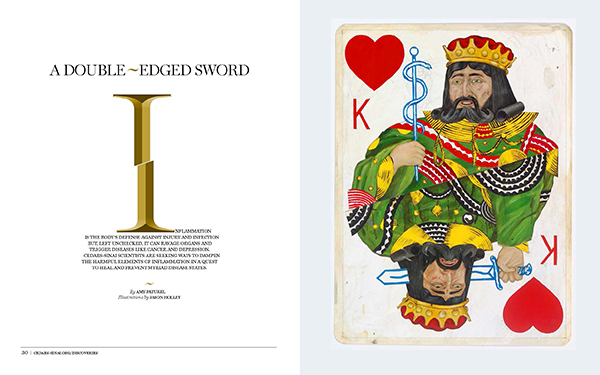 The Robert G. Fenley Writing Awards: Solicited Articles - Bronze
"A Double-Edged Sword" by Amy Paturel, Discoveries Spring 2021
Cedars-Sinai  
"A Double-Edged Sword," Cedars-Sinai's comprehensive exploration of inflammation, was the cover story in the Spring 2021 issue of Discoveries, the organization's flagship magazine. As COVID-19 surged across Southern California, the greater Cedars-Sinai community — including physicians, researchers, and patients — sought to understand how the disease works. At the center of the most severe COVID-19 cases, long COVID-19, and multisystem inflammatory syndrome in children (MIS-C), investigators found inflammation accelerating the disease and ravaging entire organ systems. Prior to the COVID-19 pandemic, Discoveries editors were considering an article exploring the potential of inflammation to heal or harm patients. The body's natural defense against infection and injury, inflammation can also cause or exacerbate illnesses including Alzheimer's disease, atherosclerosis, inflammatory bowel syndrome, depression, heart disease, and cancer. Cedars-Sinai scientists across a variety of disciplines — cardiology, endocrinology, neurology, oncology, and more — are examining the role inflammation plays across organ systems and diseases. Immunologists are exploring how to leverage the body's natural immune responses to fight disease. Inflammation is a massive topic that deserved an impactful feature story, and COVID-19 made the subject matter timely enough to warrant a cover story.
"Usually, inflammation enables our bodies to fight off bacteria, viruses and other toxins. But if that immune response continues unchecked, even after the threat has passed, the immune system can turn on healthy tissue. … It's that relentless, harmful type of inflammation that's capturing the attention of scientists and the public. Study protocols and news headlines are increasingly focusing on the deleterious effects of chronic inflammation. It shakes up cholesterol deposits in our arteries, increasing the risk of heart attacks. It gobbles up healthy nerve cells in the brain, leading to memory loss and Alzheimer's disease. It may even encourage cancerous cells to grow and thrive. Inflammation, as it turns out, could be the engine that drives the most feared diseases, including COVID-19."
What was the most impactful part of your award-winning entry?
By including historical and contemporary medical context, the article connects the biggest medical story of the moment to the ongoing effort to understand the body's immune system.
What was the biggest challenge in writing this topic?
It was challenging to decide what angle the story should take. The one we chose — that inflammation plays both a beneficial and detrimental role in disease process and how investigators can use that knowledge to develop treatments — has inherent tension.
Contact: Cassandra Tomlin