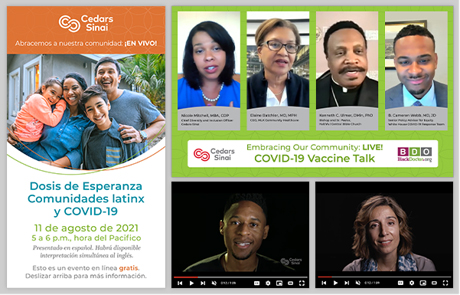 Diversity, Equity, and Inclusion Initiatives - Gold 
Best in Show Winner
Doses of Hope: Sharing Vaccine Information With Los Angeles' Minority Communities
Cedars-Sinai
The COVID-19 pandemic incited a pervasiveness of misinformation. The lack of clarity surrounding vaccines resulted in confusion and hesitancy — particularly among those in communities of color who have historically experienced unethical treatment and were disproportionately impacted by COVID-19. To reach and inspire this audience, Cedars-Sinai created the Doses of Hope campaign with the goal of sharing accurate and understandable information based on the latest scientific evidence. Cedars-Sinai sought to share clinicians' knowledge while highlighting the power of and need for influential voices of color in the conversation. More than 50 organizations with strong community ties were eager to help. Cedars-Sinai shared resources with these partners, including communication toolkits with talking points, frequently asked questions, newsletters, and social media copy; an easy-to-understand video explaining vaccine science; videos featuring clinician ambassadors; and live virtual events. Each resource was based in thorough research and tailored to speak to and represent specific audiences, most notably the Black and Latinx communities. Partnerships with established organizations like BlackDoctor.org and The Los Angeles Sentinel expanded the reach of and added credibility to the effort. The Doses of Hope campaign brought Cedars-Sinai, local and national partners, and communities of color together to encourage vaccination and work toward ending the pandemic.
What is one thing you learned from this experience? 
The power of partnership is critical, and the message must resonate with the audience. It was important that information be tailored for diverse audiences and delivered in collaboration with partners representative of the community, especially given the polarizing topic of COVID-19 vaccination.
What challenge did you overcome? 
Reasons behind vaccine hesitancy within communities of color were varied but understandable, often rooted longstanding distrust of the health care industry, and information related to the COVID-19 vaccines evolved quickly. Resources were updated often to reflect the latest guidelines.
Contact: Nicole Pham