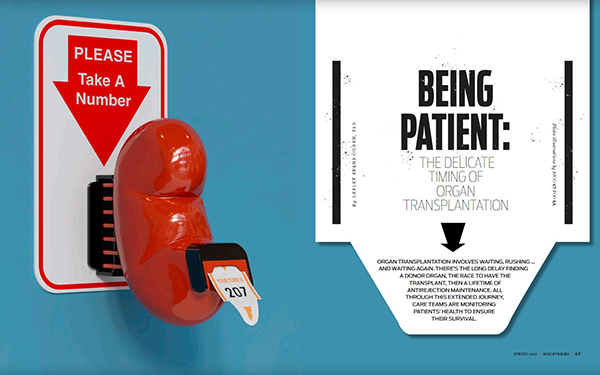 Print and Digital Publishing: External Audience - Bronze  
Discoveries Spring 2021
Cedars-Sinai  
The Discoveries Spring 2021 issue covered the human side of the pandemic, as well as Cedars-Sinai's commitment to research and ongoing scientific work, balancing stories about COVID-19 with articles focused on continued research and care for non-COVID-19 patients. Articles address Cedars-Sinai's work in women's reproductive health, organ transplantation, and minimally invasive procedures to show the breadth of groundbreaking research that continues through the pandemic. The issue connects the mission — to improve the health status of the community by expanding the horizons of medical knowledge — with the moment.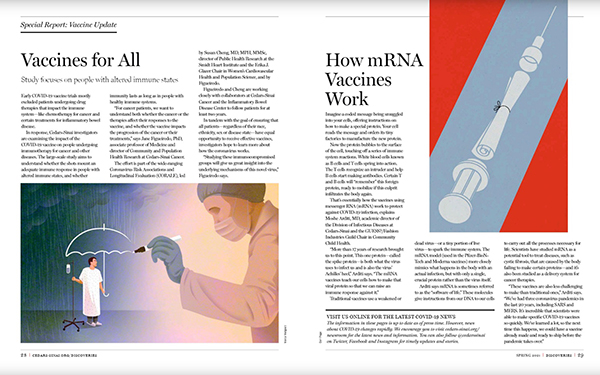 What was the most impactful part of your award-winning entry?
The common theme of hope and healing has the biggest impact; the stories demonstrate that Cedars-Sinai's focus on innovative research, coupled with the pursuit of health equity, uniquely position the institution to respond to the current pandemic.
What challenge did you overcome?
We overhauled the magazine's lineup as the COVID-19 vaccine gained emergency approval: shortly before publication, we opted to include the Special Report section, a series of articles immediately relevant to imminent vaccine rollout. 
Contact: Cassandra Tomlin