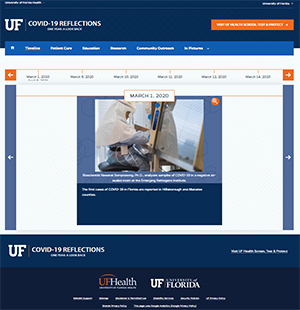 The "Shoestring" Award - Silver
A COVID-19 Year In Review
University of Florida College of Medicine
As the one-year anniversary of the pandemic approached, a last-minute request from the University of Florida president's office challenged communicators from across the campus to come together and develop a compelling, media-rich tribute to the trials and tribulations of our community. With no budget, and less than a month to plan and execute, we developed an interactive and engaging website that told the incredible story of the pandemic's first year.
What is one thing you learned from this experience?
You don't have to invent something new for every major initiative.
What challenge did you overcome?
Having to wade through an entire year's worth of content to extract and highlight COVID-19-based stories.
Contact: Karen Dooley