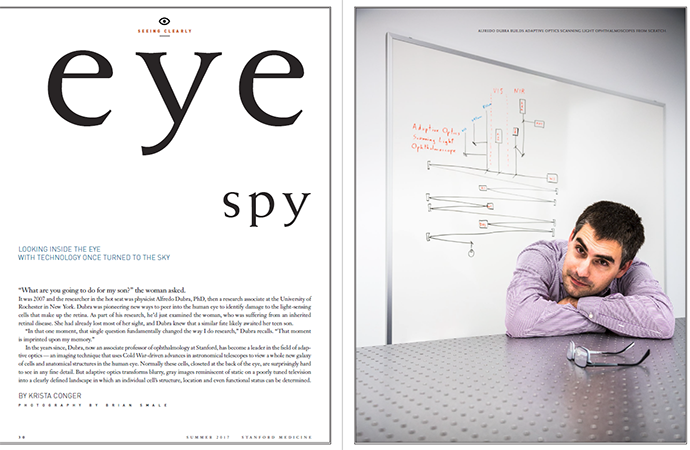 "Eye Spy" by Krista Conger
Stanford Medicine Magazine
Stanford University School of Medicine
"Eye Spy" is a basic-science feature by staff writer Krista Conger. It was part of a theme package on vision. It describes Alfredo Dubra's journey from a young boy in Uruguay with crossed eyes to a renowned physicist who is spending his life trying to find better ways of examining the retina.
What was the most successful part of your feature?
For our theme issue on vision, we looked for examples of Stanford researchers who were finding innovative ways of preserving eyesight. We learned about Dubra's approach of adapting space technology to peer into the retina and thought it would make a good story. As Conger began her interviews, she found that Dubra was an engaging conversationalist who shared his early life story, including that he had suffered at an early age from eye problems that required surgery to correct. He also described how adaptive optics work. Conger then researched the early days of the technology, as it was developed by the U.S. military to defend against enemy satellites and missiles until it was declassified in the early 1990s, and traced the development of the technology as it entered the clinic.
What is one thing you learned from this experience?
It pays to encourage sources to allow the inclusion of personal details to humanize a complex story.
Contact
Susan Ipaktchian, susani@stanford.edu