The Centers for Disease Control and Prevention (CDC) reported in September 2016 that one in four Medicare participants age 65 or older—that's 5 million people—do not take their blood pressure medicine as directed. In fact, 20 to 30 percent of prescriptions for chronic health conditions are never filled, and about half are not taken as prescribed, according to the CDC.
Patients' failure to follow their medical treatment regimens is a common and costly problem with potentially dire consequences. A 2012 study in American College of Preventive Medicine found that nonadherence accounted for an estimated 125,000 deaths annually and at least 10 percent of hospitalizations. The repercussions also cost the U.S. health system as much as $300 billion a year, according to a 2014 study study by Johns Hopkins University researchers.
Depending on the patient, provider, and situation, contributing factors may include the patient's social and economic status or education level, the complexity of the treatment and instructions, health system variables, poor provider communication, patient depression or stress, and physical or financial obstacles to drug access. Patients may also stop taking a medication if they experience unpleasant side effects, are not seeing any immediate benefit from the therapy, or if they simply grow tired of taking pills.
According to the CDC, 20 to 30 percent of prescriptions for chronic health conditions are never filled, and about half are not taken as prescribed.
"In medicine we have a blind spot," said Victor Montori, MD, an endocrinologist and professor of medicine at the Mayo Clinic in Rochester, Minn. "Being a patient, especially being a patient with a chronic condition, is a lot of work." And there's no curriculum about the work of being a patient, he noted.
Adherence rates haven't changed significantly in the past three decades, despite efforts by the World Health Organization and the Institute of Medicine to address the problem, according to the American College of Preventive Medicine. In addition to poorer patient outcomes, hospitals now also suffer the costs of readmission penalties for Medicare patients who return to the hospital because they haven't followed a doctor's instructions. These penalties will affect more than half of the nation's hospitals in 2016 and exceed $500 million (see sidebar).
Minimally disruptive medicine
There's no one-size-fits-all remedy for this problem: physicians and health systems can support adherence in a combination of ways.
At Mayo's Knowledge and Evaluation Research Unit, Montori focuses on "minimally disruptive medicine" that is designed not to overburden patients. He said clinicians often are unaware of the cumulative effects of what they ask patients to do. Montori noted, for example, that patients may have to go through several bureaucratic steps and pharmacy trips to refill each maintenance prescription.
Montori suggests that health care systems focus treatment on the goals patients and clinicians agree to achieve, "and then make sure in the process that we don't overwhelm [the patients]." In some cases, it's virtually impossible for patients to do all that their providers ask, Montori said. "Are the treatments, tests, appointments, that we're asking people to go through, are they really necessary?" he asked. "If we medicalize every moment of their lives, patients will struggle."
In addition to being more judicious about how many appointments are necessary, the health care team can make it easier for patients by trying to bundle appointments or procedures on the same day, he suggested. Or clinicians can help mobilize social resources for patients who need help with housing, food, or addictions—factors that can affect their ability to maintain a treatment regimen, Montori said.
Prescribing more affordable generic drugs, simplifying dosages, synchronizing refills, and finding ways to reduce pharmacy trips may reduce the burden on patients as well, Montori continued. Or, if the patient has stopped taking a medication because of unpleasant side effects, the physician can work with the pharmacist to find an alternative.
Rx: Partnering with patients
At NYU School of Medicine, Adina Kalet, MD, MPH, professor of medicine and surgery and codirector of the Program on Medical Education Innovation and Research, is exploring the use of a Patient Empowerment Program to help patients become more active partners in their care. In a current study, she and colleagues are training patients with diabetes to better communicate with physicians during two two-hour sessions.
So far, said Kalet, "it does what we are hoping it [would do].... It changes the dynamic in the doctor's office. We've had nothing but positive responses from physicians about how much more satisfying it is to be able to engage as partners with patients." Kalet's work has been funded in part by an AAMC grant, and she was a recipient of the 2014 AAMC Clinical Care Innovation Challenge Award.
"Are the treatments, tests, appointments, that we're asking people to go through, are they really necessary? If we medicalize every moment of their lives, patients will struggle."

Victor Montori, MD
Mayo Clinic
For Steven Feldman, MD, PhD, professor of dermatology, pathology, and public health sciences at Wake Forest Baptist Medical Center, close follow-up and establishing trust with patients are the keys to patient adherence. Prescribing a drug and then following up in 8 to 12 weeks is not enough to ensure compliance, he said. "Doctors are the only people on the planet who have the idea that you can tell people, 'Here, work on this every day and I'll see you in two or three months.'"
Feldman has found that being a caring provider leads to better patient accountability. When prescribing a new treatment, for example, he writes his mobile phone number on a business card and tells his patient to call in three days to report on progress. "That adds to their trust in me, which adds to their trust in the medicine," Feldman said.
Wake Forest has spun off a company based on Feldman's adherence-improvement methods, asking patients to report their treatment status through online surveys. Using that approach, acne patients doubled their adherence to treatments.
Motivating change
Brigham and Women's Hospital, Division of Medical Communications, took an institutional approach to improving patient adherence. In late 2015, Helen Shields, MD, associate chief of the division, underwent training in "motivational interviewing." Shields, a Harvard Medical School professor, Brigham and Women's Hospital gastroenterologist, and a physician for 45 years, said she completely changed the way she looked at negotiating with patients about treatment adherence as a result. "I don't think I would ever go back after such a transformative experience," said Shields.
Motivational interviewing was developed three decades ago to help patients with addictions and has been validated in more than 200 randomized controlled trials, explained Joji Suzuki, MD, assistant professor of psychiatry at Harvard Medical School and director of the Division of Addiction Psychiatry at Brigham and Women's. The counseling method is intended to build a person's own motivation and commitment to change. While a simple action can prevent potentially deadly consequences, taking a pill every day isn't always so simple. There's basic human nature, said Suzuki, who noted that people often want to reject something they are forced to do.
Through motivational interviewing, said Suzuki, the provider evokes the patient's "change talk"—a verbal declaration that the patient wants to change a behavior—then helps to strengthen and affirm it. Suzuki now teaches this approach to interested physicians and nurses at Brigham and Women's through a program sponsored by the Division of Medical Communications.
Providers may do well to remember that the intangible can be invaluable. "It is the relationship between the doctor and patient that drives the compliance," said Shields. "I believe strongly that patients are more compliant if they trust you, believe you, and if they can understand what you're saying."
Patient Nonadherence Is a Contributor to Hospital Readmissions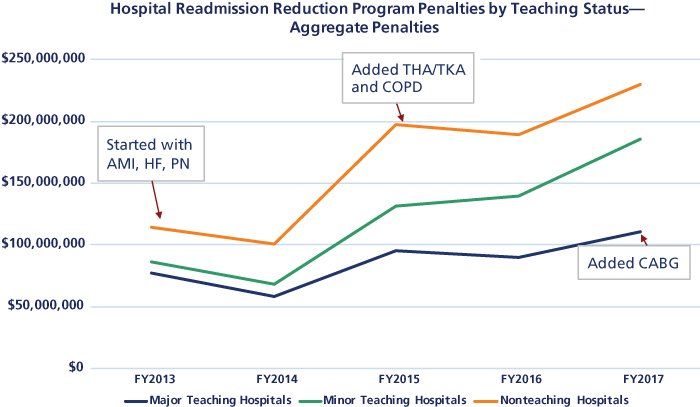 Medicare started penalizing hospitals for excess readmission rates of Medicare beneficiaries in fiscal year (FY) 2013 after the Patient Protection and Affordable Care Act was passed. In the beginning, the program measured readmissions for only three clinical conditions. Since then, Medicare has increased the number of conditions being monitored and may continue to add to the list.
Penalties for major teaching hospitals appear to be growing at a slower rate than for other teaching and nonteaching facilities, but remain a concern for all hospitals.