Updated 08/22/2017 to include new resource, Toolkits for the 13 Core Entrustable Professional Activities for Entering Residency.
I, like so many physicians, vividly remember my first day as a resident. Once again this year, on July 1, first-year medical residents across the country will report to their residency programs to begin the next phase of their careers. While still learners, these residents are graduating to a level of increased responsibility and independence. They are transitioning from performing clinical rotations under the watchful eye of a mentor to seeing patients independently, entering and discussing orders and prescriptions, and working as part of an interprofessional team. The first day of residency is the culmination of a transition from student to resident that starts early in a medical student's journey.
The AAMC has been making an effort to better understand this stage of a physician's journey in order to better support learners, student advisors, and residency program directors with the tools and information they need throughout the residency application and selection process. Over the last several months, we have been engaged in a research project to gain fresh insights about the transition to residency from the perspectives of applicants and advisors. The findings from this project revealed some important details about how students gather information on residency programs, assess their fit, and apply.
One important finding from the study is that information available to medical students about residency programs is often fractured and unreliable. Although students have access to strategies and support throughout the residency application process, many end up relying on other people, such as mentors and current residents, for more personalized information on programs and specialties. Gathering information in this way led to positive outcomes for some students, but it led others to inadvertently rely on misinformation, rumor, or individual anecdotes.
We also spoke with learners and advisors about the volume of residency applications that learners submit, which has increased in recent years. Within the academic medicine community, some suggest that the volume of submissions is due to a lack of research or reliance on bad data on the part of applicants. But in our research, learners reported that the stakes are too high to play it safe. Applying to an abundance of programs gives them extra security and some comfort through the stressful process.
In conjunction with this study, the AAMC launched a research project to shed light on how many residency programs students might benefit from applying to. In examining the data, researchers found that there is a point of diminishing returns in the volume of residency applications—that is, a point at which submitting one additional application results in a lower rate of return on the applicant's likelihood of entering a residency program. This point varies by specialty as well as by applicant type. Specific data are available for six specialties—emergency medicine, general surgery, internal medicine, obstetrics and gynecology, otolaryngology, and pediatrics—with reports on additional specialties expected in the coming months. We encourage learners to use these findings as a starting point as they consider the number of programs to apply to. Our hope is that this information will help applicants feel confident in submitting an adequate number of applications in line with their particular circumstances.
In our conversations with learners, we also learned that one way that residency programs could better help applicants would be to find ways to provide clearer information about the nature of their programs—everything from the culture, to the patients, to the day-to-day experiences of residents, researchers, and staff. Too often, students find themselves relying on anecdotes, which may leave them with unclear or misleading impressions of a program, making it harder for them to determine the programs and specialties that best fit their skills, talents, and personal identities. Giving applicants a better sense of the culture of an individual program from the start would make a significant difference in applicants' ability to assess their fit and target their applications accordingly.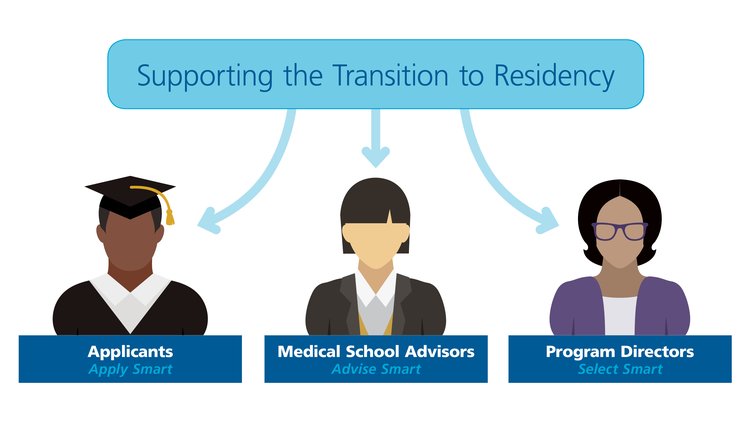 In addition to providing up-to-date research and information on application trends, the AAMC is focusing on developing tools and services to help medical students apply smarter, their mentors advise smarter, and residency program directors select smarter. These tools include a Standardized Video Interview operational pilot, which all applicants to emergency medicine residency programs will be participating in throughout the 2018 Electronic Residency Application Service® (ERAS®) season. The program will evaluate candidates on their knowledge of professional behaviors and interpersonal and communication skills that are less easily assessed in traditional application formats. We recently recommended widespread adoption of a revised Medical Student Performance Evaluation, which includes an assessment of an applicant's performance on clinical rotations and establishes a level of standardization and transparency that ensures fairness. We also have been working with 10 member institutions in a pilot program to study the feasibility of implementing 13 core entrustable professional activities (EPAs) that medical students should be able to perform on their first day of residency. This summer, that pilot group launched a series of toolkits to standardize an approach to this model. We also recently published an interview guide for residency program directors, continue to study the effectiveness of the Core Entrustable Professional Activities for Entering Residency, and provide information for learners through our Careers in Medicine® program to help them identify career goals, explore specialty and practice options, and select and apply to residency programs.
Recent changes we have made to make information more accessible through the AAMC website, alongside research into trends like the diminishing returns data, can help students make informed and strategic decisions about residency applications. But there is much more that we can do, beginning with finding better ways to communicate the culture and experiences of residents within individual residency programs. By improving tools and information for applicants, advisors, and program directors alike, we can advance our shared goal of matching residents to programs and specialties that best fit their skills, talents, and personal identities, so that they can thrive not only during residency, but throughout lifelong careers in medicine.