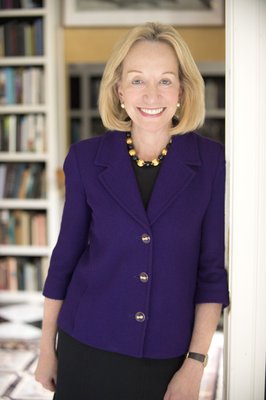 New York Magazine called her "America's historian in chief." Renowned presidential historian Doris Kearns Goodwin will draw on insights gleaned from her critically acclaimed biographies of five American presidents in her plenary, "Leadership Lessons from the White House," Nov. 12, at Learn Serve Lead 2016: The AAMC Annual Meeting.
Goodwin's fascination with the White House goes back to her days as a Congressional intern in the summer of 1965. "It was an incredible time," she recalled about seeing President Johnson sign the Medicare bill and Voting Rights Act. "We had the sense that government was coming together in a bipartisan way. It was an exuberant time to be in Washington." In 1967, at age 24, Goodwin became a White House fellow and assistant to Johnson.
Goodwin is the rare scholar whose books both draw praise from academics and rise to the top of the New York Times best-sellers list. In 1995, Goodwin won the Pulitzer Prize for history for No Ordinary Time: Franklin and Eleanor Roosevelt: The Home Front in World War II. Her book Team of Rivals: The Political Genius of Abraham Lincoln was made into the 2012 Academy Award–nominated film Lincoln, directed by Steven Spielberg.
In addition, Goodwin is a frequent guest on and television commentator for NBC, MSNBC, CBS, ABC, FOX, CNN, Charlie Rose, and Meet the Press.
What can professionals in academic medicine learn from exploring the leadership styles and trajectories of former presidents?
When one talks about leadership, I think it has relevance not just to the White House, but to leadership at the small group, university, and business levels. In my next book, I'm bringing together [Lincoln, Theodore Roosevelt, Franklin Roosevelt, and Johnson] to figure out how they became leaders. Starting when they were young, I'm looking at the trials and tribulations they went through. Their temperaments. What traits were inborn, which ones developed. How they went through adversity. Whether the times made a difference.
How many years must pass before a historian can gain a meaningful perspective on a person or an event before writing about it?
"Attitudes toward a president can shift after a generation. History does make certain settlements, I think."
I'm sure there are already books in the making about the 2016 election. They say the first draft of history will be [constructed] by journalists who are there at the moment—writing it, interviewing people, remembering emotions at the time. But for history to be in perspective, it takes a while, sometimes a generation, because peoples' attitudes shift.
Think of Johnson. He left office with such a scar on his legacy because of the Vietnam War. [That scar] is still there but during the 50th anniversary of all that great social legislation—civil rights, Medicare, education—suddenly people began saying, "Oh my God, he was extraordinary in how he could deal with Congress." No one has been able to do that in the same way for a while. So, attitudes toward a president can shift after a generation. History does make certain settlements, I think.
What did you make of the media's attention to the health of the presidential candidates during this election?
It is a good thing to know the general health of the president and whether there is anything to be worried about in terms of how they conduct the presidency. We knew so much less before [about a candidate's health]. The video of [Democratic presidential nominee] Hillary Clinton stumbling as she was getting into a car would be impossible to see in the old days.
In 1944, doctors knew Franklin Roosevelt had congestive heart failure. His own doctor put out a bulletin saying he was completely healthy and just had bronchitis. President Cleveland had a tumor in his jaw area—probably cancer or precancerous—and [doctors] removed it on a yacht somehow, and nobody knew about it. In those days, you could take three months off for the summer and be healed when you came back to public life.
People knew FDR had polio but didn't know he was paralyzed from the waist down and only seemed to walk if leaning on strong people and wearing braces. In the 1936 election, when he went to accept the nomination at the Democratic convention, he leaned over to shake someone's hand. His braces unsnapped and he fell on the floor. He got up, went to the podium, and delivered this great "Rendezvous with Destiny" speech. There's not a word in the newspapers that he fell; that was an unwritten code on the part of newspapers.
If you could talk to one president who is no longer alive, who would it be and what would you ask?
If I could choose just one, it would be Abraham Lincoln. The interesting thing is that rather than asking him the question I should ask him, the big "what if" question in history—"How do you think things would be different if you had been alive during your second term and you were in charge of Reconstruction, instead of Andrew Johnson?"—I would instead ask him, "Can you tell me a story?" There is something about Lincoln that when he told a story, his whole face, his vitality, came to the fore.
I learned when he was a young lawyer, when anyone knew he was around, they would ask him to tell stories. He could tell funny stories, moral stories, Aesop's fables, and could entertain a crowd for hours. He would laugh out loud at himself when a story was funny. In [writing] the book, it was the part of him I didn't know quite as much. I figure if I could ask him to tell a story, he'd come alive. That's really what you want when [writing a biography].
Physicians honor patient confidentiality. Do you ever encounter requests to keep certain facts and anecdotes out of your books?
"When I was helping President Johnson write his memoirs, every now and then, he'd say, "I don't want you to tell this to anybody."
In the last few years, I've been involved in helping to put together dinner conversations with eight or nine fellow historians and President Obama. The dinners are private. [Obama] wanted to talk freely without it being a public event. I have no problem saying they are meant to be private occasions so that we could relax and talk openly without it being part of the public record. That's an easy call.
When I was helping President Johnson write his memoirs, every now and then he'd say, "I don't want you to tell this to anybody." It was often something about another person. Other times, I was thinking he was telling me something I shouldn't be writing down and then he'd look over and say, "Why aren't you writing this down? This could be important." It was very hard to know with him!
Is it too soon to gauge the impact of the Affordable Care Act? Will people studying history in the next century be astonished that many Americans did not have health care?
I think [the ACA] will be a marker. Teddy Roosevelt started talking about the possibility of health care insurance. FDR [continued] thinking about it. Truman tried [to accomplish it]. And LBJ passed Medicare. But finally, national health insurance came through President Obama.
I hope you're right that a century from now, people will ask, "How did that happen?" Just as we look back now and ask, "How could it have been for so long that women didn't have the right to vote? How could it have been that blacks weren't able to go to school or have equal rights?" Hopefully, people will ask, "How did this happen?" and the [passage of the ACA] will be one of those transforming moments.