Editor's Note: Throughout 2015, an AAMCNews series explored how medical schools and teaching hospitals are addressing social determinants of health in their communities through research, clinical care, and education.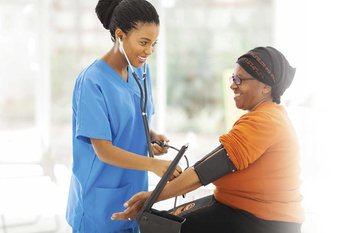 Examining key factors in health inequities, a 2013 Centers for Disease Control and Prevention report noted that non-Hispanic black adults are at least 50 percent more likely to die of heart disease or stroke prematurely than their non-Hispanic white counterparts. The study also found that adult diabetes is more prevalent among Hispanics and non-Hispanic blacks than among Asians and non-Hispanic whites and that the infant mortality rate for non-Hispanic blacks is more than double the rate for non-Hispanic whites. University research centers are developing important intervention strategies to address the complex causes of such health inequities, which encompass biological, social, behavioral, and environmental factors.
Variety of approaches
One strategy for addressing health inequities is investigating particular diseases. For example, one research area at Wake Forest School of Medicine's Maya Angelou Center for Health Equity (MACHE) concentrates on translating findings from several large clinical trials into community-based interventions to combat diabetes. The MACHE project, Latinos Combatiendo la Diabetes, relies on peer groups and lifestyle interventions to help prevent that disease among Latinos.
Some centers for health disparity research focus on particular populations. Through a five-year grant from the National Institutes of Health (NIH), for example, the Sanford School of Medicine at the University of South Dakota established centers for health research for tribes in South Dakota, Montana, and Wyoming. The initiative researches health inequities in the American Indian population of the Northern Plains.
Blending a population and disease approach, the Arkansas Center for Health Disparities (ARCHD), based at the University of Arkansas for Medical Sciences, studies inequities in chronic disease among the state's large African-American and expanding Latino populations. A growing area of interest is the health of immigrants from the Marshall Islands who live in concentrated communities within Arkansas where tuberculosis and even leprosy still occur.
A multidisciplinary team at the National Health Disparities Research Center of Excellence at Meharry Medical College takes a different approach, exploring interactions between health inequities and "the natural, built, social, and policy environments."
Building the talent pipeline
Research centers for health disparity also offer training for students, faculty, and researchers. For example, MACHE provides funding for two medical students to work with faculty on a health inequities research project, according to Director Ronny A. Bell, PhD, MS, a professor of epidemiology and prevention at the Wake Forest School of Medicine. ARCHD Director James Raczynski, PhD, FAHA, professor and founding dean of the Fay W. Boozman College of Public Health at the University of Arkansas for Medical Sciences, said the center offers opportunities for medical students to gain practical field experience in the Latino community through a health promotion partnership with the Mexican consulate in Little Rock.
"Moving [knowledge] into a translational phase sounds very beautiful in the abstract, but when you get into the community, there are all kinds of barriers and challenges."

Mario De La Rosa, PhD, Center for Research on U.S. Latino HIV/AIDS and Drug Abuse at Florida International University
In addition to research and community outreach, the Minority Health and Health Disparities Research Center (MHRC) at the University of Alabama at Birmingham (UAB) focuses on career development for young investigators. "We provide funding for junior faculty who are interested in pursuing research on minority health and health disparities and need seed funds to develop pilot projects," said MHRC Director Mona N. Fouad, MD, MPH, senior associate dean for diversity and inclusion at the UAB School of Medicine. The university's investment of $1.2 million in junior faculty over the past 10 years has leveraged $24 million in federal research grants, she noted.
The UAB center also works to develop the pipeline for minority scientists. Partnering with historically black colleges and universities in Alabama, the center brings undergraduate minority students to the campus in the summer. Experts help the students map careers in science, study for the GRE® and MCAT® exams, learn scientific writing, and connect with mentors on campus. "So far, we've trained about 120 students."
Fouad said, with many continuing on in UAB's graduate programs. Basketball star Charles Barkley helps sponsor an award in his name to support young scientists at UAB.
Ultimately, of course, centers for health disparity research want their knowledge to improve community health. But translating research into actionable strategies "is really one of the hardest things to do," said Mario De La Rosa, PhD, director of the Center for Research on U.S. Latino HIV/AIDS and Drug Abuse (CRUSADA) at Florida International University (FIU). "Moving [knowledge] into a translational phase sounds very beautiful in the abstract, but when you get into the community, there are all kinds of barriers and challenges."
A strong commitment to community engagement makes these partnerships successful. ARCHD, for example, trains parishioners of black churches to lead weight-loss groups. Building on knowledge gained from community needs assessments, Project EXPORT helps tribes develop strategies to reduce and prevent obesity among tribal children. Faculty from FIU's medical school are part of CRUSADA's field work to help Miami's Haitian community understand how the impact of immigrants after the 2010 earthquake has affected general and mental health. As De La Rosa said, the key is to "get information to people for whom it matters most."
In a related effort, the AAMC has created the Health Equity Research Virtual Site Visit, which spotlights outstanding health equity research portfolios at member institutions. Launched last year, the site recently highlighted four health equity research focused centers at New York University Langone Medical Center, including the Center for the Study of Asian American Health (CSAAH). Funded by NIH's National Institute for Minority Health and Health Disparities, CSAAH comprises a broad network of more than 55 community organizations and leaders, academic medical centers, and health care institutions that are committed to identifying health priorities and reducing health disparities in the Asian-American community through research, training, and partnership.
The AAMC site will continue to feature videos, webinars, presentations, journal articles, and other resources reflecting new research, curricula, and innovative care delivery that can contribute to minimizing health and health care inequities.
This article originally appeared in print in the March 2015 issue of the AAMC Reporter.