The 2016 pilot has taken off. This 2017 AAMC Virtual Medical School Fair drew more than twice the number of potential medical school applicants as last year's pilot event. The live online fair in mid February this year attracted 9,166 attendees. Forty-eight MD-granting medical schools from the United States, Puerto Rico, and Canada participated, setting up virtual booths for attendees to visit.
Students and medical school staff "attended" the eight-hour event via computer, tablet, or mobile phone—an arrangement that reduced time, travel, and expense for everyone involved. "Our main goal was to provide a mechanism so that our schools and our potential applicants could interact with one another no matter their location or their means to travel," said Tami Levin, AAMC director of premedical and applicant resources.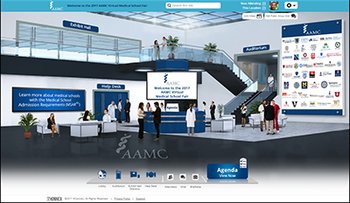 Input from schools participating in last year's fair led to a new design for 2017, incorporating the look of a live, on-site fair, with a lobby, welcome videos, and an auditorium. Four regional exhibit halls provided easy navigation to individual booths.
"It went far beyond our greatest expectations for the number of people who stopped by our booth, the number of very thoughtful questions they asked us, and the ease of communicating with them," said Jane Yahr Shepard, director of MD admissions at the University of Wisconsin School of Medicine and Public Health, which participated for the first time. More than 950 prospective applicants visited Wisconsin's booth to chat with admissions representatives, view videos, and gather information about the school.
Potential applicants could attend two live webinars in the virtual fair auditorium where AAMC staff discussed the MCAT® exam, the application process, and strategies for affording medical school. Each webinar was followed by a question-and-answer session. The AAMC also had an on-site booth with experts available to answer questions.
Finding help and inspiration
Each medical school booth included a direct link to the school's Medical School Admissions Requirements (MSAR®) profile. Schools could upload an unlimited number of videos and materials that attendees could save in virtual briefcases. A robust platform enabled public and private chats.
Virginia Cox, an applicant for the 2017 cycle from Durham, N.C., said she especially valued the opportunity to live chat. "A little bubble popped up on the screen and an admissions rep was able to give me a very personal response about one of my questions," she said. After the event, schools received public chat transcripts. All the content found in the booths also was available to registrants for 30 days after the event.
Cox also went to the 2016 fair. She liked this year's design and felt more comfortable. "I definitely was not as afraid to attend and ask questions this time as I was last year," she said, adding that she appreciated the support from other participants who posted encouraging responses to questions or concerns. "It was more like a community, like we're all in this together … rather than 'I'm going to cut the line so I can talk to the admissions rep first.'"
After visiting more than a dozen booths, Cox tweeted, "Wore scrub pants to the @AAMCPreMed virtual fair because they remind me how close I am to being an MD."
The National Association of Advisors for the Health Professions (NAAHP) had a booth at the fair for students seeking general guidance. More than 1,700 attendees talked with 1 of 16 volunteer advisors at the fair. Kate Fukawa-Connelly, director of health professions advising at Princeton University, said questions ranged from how to write a personal statement to the reapplication process. "We know there are students out there who don't have access to an advisor at their undergraduate school and could benefit from talking with someone who is knowledgeable," she said.
Fukawa-Connelly was surprised by how many students shared sensitive information in public and private chats, asking about how a difficult family situation or legal problem might affect an application, for example. After the fair, the NAAHP received more than 90 requests for its Find an Advisor service, a total she said was the most ever received in one month.
Plans for the next virtual fair include more live webinars and increasing the number of schools taking part. Other ideas will come from feedback being solicited from this year's participating schools. "We're doing this to help our constituents connect to students," said Becky Rice, AAMC director of services outreach.