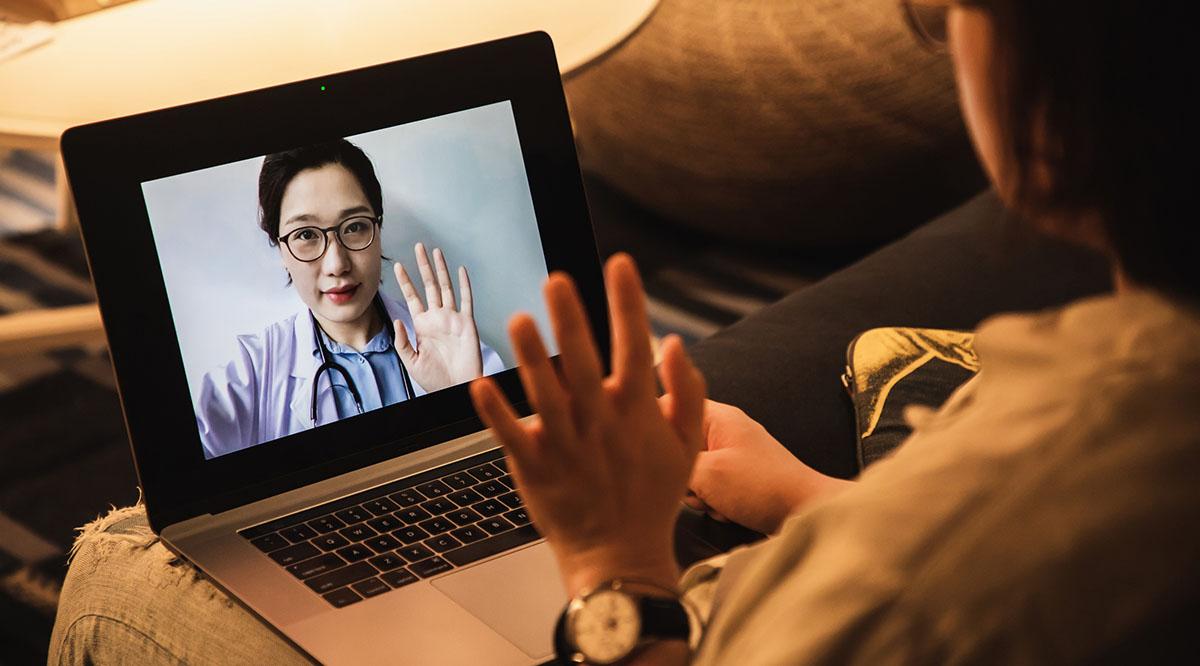 Innovations in Health Technology: Telehealth
Telehealth—the use of technology to deliver care at a distance—offers unique opportunities and poses potential risks for academic medicine.
Telehealth use has risen dramatically as health systems look for ways to provide care while protecting providers and patients during the COVID-19 pandemic. As we reassess what health care looks like in a world living with COVID-19, it is crucial that we understand how telehealth impacts medical education and training, the delivery system and its workforce, and patients' access to care. Additionally, the research mission of academic medicine will have an outsized role in evaluating the impact of telehealth services on quality, costs, and outcomes of care. 

This collection of resources:
Shares learnings across academic medicine about telehealth implementation and training; and
Provides regulatory support for telehealth at health care institutions, including education about recent updates;
Highlights how the AAMC and its members are implementing and using telehealth to provide high-quality care and improve access;
Uncovers insights from research and other literature about the impact of telehealth on access and workforce.
AAMC Telehealth Equity Catalyst Awards
The AAMC has announced the 2023 Telehealth Equity Catalyst (TEC) Award winners. The TEC Awards program is part of the AAMC's strategic planning efforts to "Improve Access to Care for All" by way of leveraging telehealth to improve health care equity.
The TEC Awards program seeks to advance health care equity through telehealth and health technology and address barriers to care via telehealth by recognizing AAMC-member institutions that have programming reflecting innovative contributions to health care delivery that can serve as models for other institutions to address and mitigate the barriers to care associated with telehealth.
The AAMC aims to recognize and highlight how AAMC-member institutions are addressing and mitigating these barriers and how evolving strategies and best practices can be spread across health systems to advance health care equity, particularly for communities that are under-resourced with limited access to health care services.
Learn more about the TEC Awardees. Questions? Please contact telehealth@aamc.org.
AAMC Learning Series: Advancing Health Equity Through Telehealth
Through this learning series, the AAMC aims to highlight the role of academic medicine in promoting and advancing health equity through telehealth. Key elements of the series will focus on understanding the impact of telehealth on equity and access to care, the role data can play in improving telehealth access, and evolving best practices that are being used by health systems to improve digital health literacy and narrow the digital divide. Learn more about each webinar. Questions? Please contact telehealth@aamc.org.
Webinar learning series:
This work supports "Addressing the Digital Divide to Improve Vaccine Access & Information," a supplemental award (#6NU50CK000506-02-01) funded under a cooperative agreement from the Centers for Disease Control and Prevention.
Sustaining Telehealth Success: Integration Imperatives and Best Practices for Advancing Telehealth in Academic Health Systems
As telehealth has become an even more widely accepted mode of delivering care, academic medical centers (AMCs) are examining how telehealth can advance their strategic goals. AMCs must learn how to integrate telehealth capabilities into their everyday clinical care and operations.
This report from the AAMC's Future of Academic Medicine Series will help health system leaders and telehealth managers to critically assess, design, implement, and integrate telehealth programs across mission areas. It presents effective strategies and successful practices from leaders at 15 AMCs that have leading telehealth programs. Read the Executive Summary (PDF). Download the report. For questions, please contact telehealth@aamc.org.
Sustaining Telehealth Success: Integration in Action
The AAMC, in partnership with Manatt Health, recently launched a Telehealth Integration Learning Collaborative. This collaborative provides an intimate and advanced forum for participants to share their telehealth strategies and challenges and learn from each other regarding opportunities and methodologies used by others for advancing their virtual care objectives. For more information, please email telehealth@aamc.org.
Resource: Video telehealth visits are an effective way for patients to access health care providers—but health systems need to invest significant resources in technology, training, and infrastructure to ensure their success. This one-page briefing, Understanding a Video Visit at the Health System Level (PDF), outlines the critical components of a successful video visit and is aimed primarily for policymakers and payers, but can be applied to all health systems.
Webinar: View a recent webinar that highlights findings from the report and real-life experiences from Kaiser Permanente Washington and the Medical University of South Carolina.
Final Report: New Cross-Continuum Competencies in Telehealth
The AAMC and its Telehealth Advisory Committee have developed telehealth competencies across the continuum of UME, GME, and CME with input from a broad range of stakeholders. The competencies are intended to guide educators developing curricula as well as students learning to practice and professionals continuing their development. This is the second report in the New & Emerging Areas in Medicine Series. Download the telehealth competencies report from the AAMC Store. If you have questions, please contact us.
Telehealth Competencies in Action
Check out these videos to see how AAMC member institutions are using innovative approaches to integrating telehealth into medical education and training across UME, GME, and CME.
Telehealth Skills for Health Care Providers
The AAMC Telehealth Advisory Committee recently published a defined a set of critical skills needed by all clinicians to deliver care through telehealth. This set of skills can support health care institutions and health care professionals looking for guidance on how to provide high-quality care at a time when telehealth services are being rapidly deployed. You can review the set of skills recently published in the Telemedicine and e-Health journal.
Call for Submissions: Telehealth Education
As health systems increasingly use telehealth to provide care delivery, it is important to disseminate best practices across the field, promoting their integration into training and curricula across the continuum. MedEdPORTAL invites generalizable teaching and learning activities with a focus on telehealth education. For more information, please visit www.mededportal.org/telehealth.
Examples of Telehealth Training Across Academic Medicine
As health systems increasingly use telehealth to provide care delivery, it is important to capture best practices across the field and highlight the innovative ways in which telehealth is being integrated into training and curricula across UME, GME, and continuing education. Learn more about exemplary telehealth training programs across the country.
AAMC Data Snapshot: 55% of visits for common mental and behavioral health conditions delivered via telehealth in 2020
This data snapshot illustrates the significant impact of audio and video visits in providing access to mental and behavioral health care.
AAMC Data Snapshot: AAMC-member teaching hospitals are expanding telehealth services to support COVID-19 patients
This data snapshot highlights how the COVID-19 pandemic has created myriad needs in both diagnosing COVID-19 cases and preventing the spread of the virus.
Telehealth Regulatory and Policy Resources During COVID-19
Regulatory resource documents on the current state of telehealth during and after the Covid-19 public health emergency and AAMC's recommendations for the future of telehealth.
Visit the Coronavirus (COVID-19) Resource Hub to learn more about the advocacy efforts led by the AAMC.
Center for Connected Health Policy (CCHP): Access resources about telehealth policies, focusing on federal, state, and private payer policies, state licensure laws, and federal legislation. 

Federation of State Medical Boards (FSMB): Before the COVID-19 pandemic, FSMB had been working on a universal licensure compact. With the vast increase in telehealth and the increased movement in providers across the country to respond to the pandemic, licensure has come again to the forefront. FSMB has been analyzing state licensure laws and other policies. 

CMS COVID-19 Waivers and Flexibilities: Access the current decisions from the Secretary of the Department of Health and Human Services' (HHS) to temporarily modify or waive certain Medicare, Medicaid, CHIP, or HIPAA requirements during the COVID-19 pandemic. 
AAMC Telehealth Initiatives and Research
Expanding Access to Care Through Telehealth