Hahnemann University Hospital has announced that it will close most of its training programs by Monday, July 29, with the remaining programs closing by Aug. 6. The hospital also released a detailed chart of how Medicare funding would be allocated to medical residents and fellows affected by the closure.
William C. Boyer, DHSc, chief academic officer and designated institutional official (DIO) at Hahnemann, sent a memo to all institutional DIOs on July 24 outlining the process and thanking those that have stepped up to offer slots to the displaced residents and fellows.
Here's what we've learned about what will happen over the next several weeks:
Residents currently employed by and training at Hahnemann will be released with .8 in direct graduate medical education (DGME) funding and .77 in indirect medical education (IME) funding. Fellows will receive .8 in DGME funding and .5 in IME funding. The two different amounts — DGME and IME — represent two separate payments that teaching hospitals receive from the Centers for Medicare and Medicaid Services (CMS) and reflect the different rules for each. The Hahnemann Graduate Medical Education Office is completing the necessary "GME Resident Displacement Agreements" that will transfer CMS funding to the receiving hospital.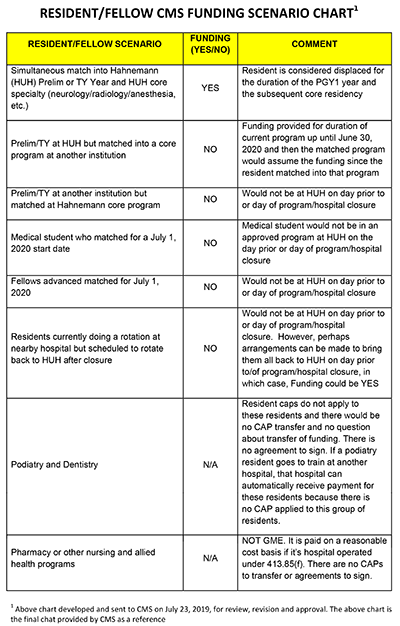 While most current Hahnemann residents will receive funding, a few will not. Residents who matched to Hahnemann for 2020 also are not eligible for funding. Hahnemann prepared the chart at left, which describes the funding situation depending on when and where the resident or fellow was due to begin training. The chart was sent to CMS for review, revision, and approval.
Those residents and fellows who are doing a transitional year at an institution other than Hahnemann but who matched with Hahnemann for 2020 will need to reenter The Match® or look for a slot outside The Match®. The AAMC is waiving all Electronic Residency Application Service® (ERAS®) fees for those residents who need to reapply to residency, and the National Residency Matching Program® (NRMP®) is granting an immediate waiver to applicants to allow them to start looking for a slot outside The Match®.
Hahnemann will voluntarily close the following programs on July 29: Anesthesiology, Emergency Medicine, EM-Med Toxicology, FM-Hospital and Palliative Care, FM-Primary Care Sports Medicine, Cardiac Electrophysiology, Cardiovascular Disease, Endocrinology, Gastroenterology, Hematology-Oncology, Infectious Disease, Interventional Cardiology, Pulmonary Critical Care, Rheumatology, Sleep Medicine, Nephrology, Clinical Neurophysiology, Obstetrics and Gynecology, Female Pelvic Reconstructive Surgery, Ophthalmology, Pathology, Hematopathology, Psychiatry-Adult, Psychiatry-Child and Adolescent, Radiation Oncology, Surgery-General, and Surgery-Orthopedic.
Hahnemann will close the remaining training programs on Aug. 6. These include Family Medicine, Internal Medicine, Neurology, Radiology-Diagnostic, Radiology-Neuroradiology, Transitional Year, and Urology.
All residents and fellows currently employed by Hahnemann will receive salaries and benefits until Aug. 25, 2019. Or until they begin training at their new institutions.
In order for federal funding to transfer to a "receiving" hospital, residents and fellows must be employed and present at the closing of the "home" hospital on the day the home hospital closes. According to CMS rules, medical residents who leave with a federally funded residency slot must be present on the day prior to or day of closure of the program/hospital in order for funds to be transferable to the receiving hospital. The AAMC is exploring whether CMS may be willing to make any exceptions to this requirement to ensure that there is minimal disruption in residents' training.
Residents who have identified an available position elsewhere must still follow Hahnemann's existing policies about leaving the program. This includes notifying the program director, who must release a resident from the program. If a resident does not have any federal funding, then all they need is the permission of the program director. If the receiving hospital does expect federal funding, then the resident not only needs to get permission to be released from the Hahnemann program, but also needs the sign-off of the Hahnemann CFO or equivalent senior individual so that funding goes with them. We understand from Hahnemann officials that they are currently signing and processing these forms. The receiving hospital will then have to go through the application process with the CMS intermediary to register the resident so that they can get an increase in slots.
The Accreditation Council for Graduate Medical Education (ACGME) has identified programs at institutions that are willing to take the displaced residents and is sharing daily updates of approved positions with the Hahnemann DIO. The AAMC has also been in touch with Hahnemann's DIO to offer support. Most of the programs that have offered slots do expect that the residents will come with federal funding. ACGME has informed the AAMC that they will continue to support this information site until all residents are matched.
The AAMC filed a statement in U.S. Bankruptcy Court to ensure that the needs of the residents are considered during bankruptcy proceedings. In our bankruptcy court filing, we noted that the Hahnemann closure marks what we believe to be the largest displacement of medical residents in a single event ever, even more than the number of residents displaced from Charity Hospital in New Orleans, Louisiana, after Hurricane Katrina. We urged the court to require the court-appointed patient care ombudsman, or any other interested party, to consider the educational and professional impact to residents of any proposed transaction.
Any transfer of Hahnemann residency slots to Tower Health or another health care system depends on a number of factors, including program accreditation by the ACGME. After Hahnemann agreed, at the AAMC's request, to require potential bidders to disclose additional information, including the number of current and anticipated accredited programs, the judge approved the bid procedures.
Residents who are training at Hahnemann under J-1 visas should contact the Educational Commission for Foreign Medical Graduates (ECFMG) for additional information. Residents and fellows training at Hahnemann under ECFMG J-1 visa sponsorship should contact their ECFMG case manager with any questions or concerns.
Philadelphia Academic Health System, which owns Hahnemann University Hospital, has postponed the timeline for the sale of the hospital. The auction will now take place on Aug. 7, with the sale hearing on Aug. 9. Hahnemann expects to close the sale on Sept. 6.
Trademarks are the property of the respective trademark owners.

For further questions or information please contact jorlowski@aamc.org or GMEquestions@aamc.org.