New AAMC data projects that the United States will face a shortage of between 46,900 and 121,900 physicians by 2032 in both primary and specialty care. To help address the shortage, medical schools have increased enrollment by nearly 30% since 2002, however without ending the freeze on the over twenty-year-old federally imposed cap on support for graduate medical education (GME), this enrollment increase will do little to meet the nation's growing health care demands.
As the convener of the GME Advocacy Coalition—a group of hospital, physician, academic, and specialty stakeholder organizations—the AAMC hosted its first ever GME Day of Action on May 6. The event brought together more than 75 organizations to advocate for ending the twenty plus year freeze on GME funding through meetings with lawmakers and a coordinated social media campaign. The centerpiece of the effort was a briefing for Congressional staff focused on Medicare's role in addressing the physician shortage.
The Capitol Hill briefing was moderated by Karen Fisher, JD, AAMC chief public policy officer and speakers included Janis Orlowski, MD, AAMC chief health care officer; Christopher Westfall, MD, FACS, dean of the college of medicine at the University of Arkansas for Medical Sciences; and Len Marquez, AAMC senior director of government relations.
Fisher opened the briefing with an overview of the role Medicare plays in GME funding. Teaching hospitals incur expenses that other hospitals do not, such as residents' stipends and benefits, faculty time, and administration costs. Since 1965, Medicare has helped offset these costs through reimbursing teaching hospitals for "Medicare's share." However, that funding has been effectively frozen by Congress since 1997.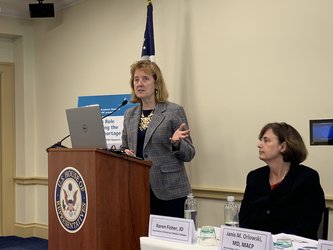 Dr. Orlowski outlined the findings of the AAMC's recently released 2019 workforce projections report, highlighting the key reasons behind the physician shortage and how it could impact patients across the country.
"We have a growing and aging population in this country, and at the same time – in the next decade –  we will have more physicians at the age of retirement. These conditions together will lead to a shortfall that will affect both primary and specialty care, and it will hit all areas of the country from rural to urban settings," Dr. Orlowski said.
The state of Arkansas is already experiencing the effects of the shortage. With a predominately rural population, two-thirds of the counties in Arkansas are considered underserved.
"As an ophthalmic surgeon, I've seen how the shortage is impacting our region firsthand. I have had patients who had to take off work and travel hours and hours to receive care, and many have said they just can't afford to do that," said Westfall.
Research has shown that physicians are 60% more likely to stay in the area in which they do their residency training, so states like Arkansas have a big incentive in both retaining and attracting medical students to in-state residency programs.
"The cap on GME funding has created a bottleneck and we simply do not have enough residency slots to retain all of the state's medical school graduates," said Westfall.
The Resident Physician Shortage Reduction Act of 2019 (S. 348,H.R. 1763), bipartisan legislation introduced in both the House of Representatives and the Senate, would help end the freeze and address the physician shortage. The AAMC supports the legislation which would gradually add 15,000 residency slots over five years. Additionally, the Opioid Workforce Act of 2019 (H.R. 2439) would provide Medicare support for an additional 1,000 graduate medical education positions over the next five years in hospitals that have, or are in the process of establishing, accredited residency programs in addiction medicine, addiction psychiatry, or pain management.
"These pieces of legislation are an essential part of the solution to increase the supply of doctors in the U.S. and make sure patients have access to the care they need when they need it. We look forward to working with Congress to end the freeze on Medicare support for GME," said Fisher.