The connection between molecules and madness. Preventing another catastrophe like the COVID-19 pandemic. Health inequities among Black pregnant people. Gene sequencing that helped restore vision to a boy who hadn't seen his mother for years. This year's crop of recently published medicine-related books covers all this and more.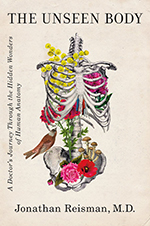 The Unseen Body: A Doctor's Journey Through the Hidden Wonders of Human Anatomy, Jonathan Reisman, MD
Physician by training and naturalist at heart, Jonathan Reisman, MD, takes readers on a tour of the human body, traveling from "Eyes" to "Lungs" and from "Mucus" to "Fat." But Reisman, who works in emergency medicine, also takes readers on an equally edifying journey around the globe. His travels through Himalayan waterways provide a metaphor for the arteries that carry blood, for example, and an icy trek through Russia reveals the crucial role of temperature regulation in health. Although some quirkier sections may not appeal to squeamish readers — there's a chapter on feces and a description of ingesting eyeballs — the book offers a loving look at the sophisticated ecosystem that is the human body.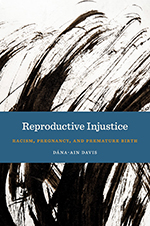 Reproductive Injustice: Racism, Pregnancy, and Premature Birth, Dana-Ain Davis, PhD
In the United States, Black women are twice as likely to give birth prematurely than their White peers — and financial success offers scant protection. Anthropologist Dana-Ain Davis, PhD, spent seven years plumbing the race-related factors that fuel Black babies' early arrivals and subsequent need for neonatal intensive care. She traces a path back to slavery and such racist tropes as the hardiness of Black women while also describing the contemporary phenomenon of stress "weathering" Black bodies. Davis's in-depth interviews with mothers of different ages, incomes, regions, and educational levels reveal a repeated sense of being dismissed by medical personnel. Turning to possible solutions, Davis highlights prevention, including empowering people who want to use doulas and community-based birthing supports. Without such efforts, she warns, Black Americans will continue to face the often lifelong health effects of being born too soon.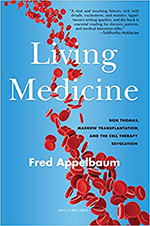 Living Medicine: Don Thomas, Marrow Transplantation, and the Cell Therapy Revolution, Fred Appelbaum, MD
Bone marrow transplantation has saved more than a million lives in the four decades since its discovery, but when E. Donnall Thomas, MD, first pursued the method, he was scorned by many peers. The risky approach entailed first bombarding cancerous blood cells with high doses of radiation and chemotherapy and then injecting donated bone marrow that would, Thomas hoped, generate healthy replacement cells. Ultimately, Thomas transformed the course of leukemia — previously considered a death sentence — as well as other blood-based diseases such as sickle-cell anemia. Beside him throughout much of this work was his long-time mentee Fred Appelbaum, MD. In Living Medicine, Appelbaum takes readers through the challenging path to this groundbreaking advance as well as Thomas's own journey from a one-room schoolhouse in Texas to the Nobel Prize stage.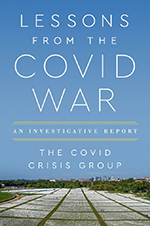 Lessons From the COVID War: An Investigative Report, The COVID Crisis Group
So far, more than 1 million Americans have died from COVID-19 — and the threat of another deadly pandemic looms, health and policy experts warn. A team of 34 such experts — led by the former director of the 9/11 Commission — spent more than a year investigating what worked and what didn't in the war against COVID-19. They describe how a patchwork of local health departments created in the 1800s to fight cholera was ill-equipped to handle a 21st-century pandemic. They also depict the Centers for Disease Control and Prevention as too often prioritizing certainty over action and failing to convey information quickly enough. Looking ahead, the authors urge better health data systems, appointing an undersecretary for health security, and greater reliance on local community leaders to spread essential health information. Above all, they argue that even the greatest scientific advances must be translated into effective public health measures in order to save lives.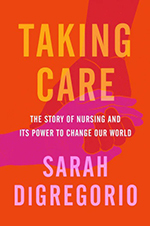 Taking Care: The Story of Nursing and Its Power to Change the World, Sarah DiGregorio
Nurses have treated enslaved people, been tried as witches, gone to jail for providing birth control, and saved lives during wars and pandemics. Journalist Sarah DiGregorio digs into this rich history while also exploring the current reach of the profession — from patient education to policy work and from neonatal care to hospice support. She also describes the sometimes sexist and racist notions surrounding the career. For one, while Florence Nightingale was hailed as the founder of modern nursing, her Jamaican-born contemporary Mary Seacole was condescendingly dubbed "the Black Nightingale." But the book's most compelling moments may be DiGregorio's own experiences with nurses: those who supported her as her mother died from breast cancer, distracted her as she anxiously awaited her own biopsy results, and held her as she prepared for an emergency cesarean section. Ultimately, she asks in praise of this often-overlooked profession, "Could we be human without nursing?"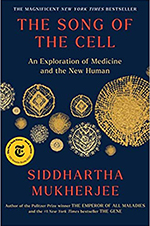 The Song of the Cell: An Exploration of Medicine and the New Human, Siddhartha Mukherjee, MD
The Song of the Cell pays homage to the massive role of the body's tiniest functional unit. In it, Pulitzer Prize-winning author Siddhartha Mukherjee, MD, reaches back 400 years to Robert Hooke's naming of the microscopic squares he saw in cork "cells" based on the Latin for "small room." Mukherjee, an oncologist and assistant professor at Columbia University, goes on to explore cells' key role in numerous arenas, including cancer, immunology, reproduction, and COVID-19. Along the way, he shares his awe at cell-based medical treatments as well as the moving stories of patients who have benefited from them. Mukherjee also looks ahead to the "new human," who may one day benefit from synthetic versions of cells. And he hopes for a time when science achieves greater understanding of how cells relate to each other — sing to one another — and how that music can better serve our world.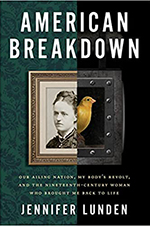 American Breakdown: Our Ailing Nation, My Body's Revolt, and the Nineteenth-Century Woman Who Brought Me Back to Life, Jennifer Lunden, LCSW
At 21, social worker and writer Jennifer Lunden was struck by an inexplicably exhausting condition — she couldn't even stand for a shower — that was ultimately diagnosed as chronic fatigue syndrome (CFS). With few resources and scant hope, she became terribly depressed. But she eventually found solace in an unusual place: 19th-century diarist Alice James, who suffered similar symptoms and was initially labeled a female hysteric. Lunden soon began digging into the science behind CFS, exploring the work of immunologists, toxicologists, and infectious disease doctors. From there, she began thinking about the broader landscape of health in the United States, including the worrisome effects of stress, dangerous exposure to chemicals, and inadequate access to health care. Now feeling better thanks to a range of treatments, Lunden recognizes that she may never be fully well. "I'm a work in progress," she writes. "So are you; so are we all. And I, for one, will keep trying."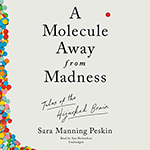 A Molecule Away From Madness: Tales of the Hijacked Brain, Sara Manning Peskin, MD, MS
Sometimes, explains Sara Manning Peskin, MD, MS, molecules are the tiny culprits behind our most terrifying mental health problems. Aberrant proteins can cause the often fatal neurological disorder Creutzfeldt-Jakob disease, bacteria can cause neurosyphilis, and environmental toxins can produce mood-altering conditions like mercury poisoning. Peskin, an assistant professor of clinical neurology at the University of Pennsylvania, plumbs the science behind such ailments as well as the sometimes bizarre stories of patients who bear them. A college student suddenly believes she is battling zombies, and South Carolina farmers mysteriously suffer from a local outbreak of dementia, for example. Within these sorrowful stories, there is a bright spot: the devoted scientists and doctors who strive to understand and treat these painful conditions. Peskin describes them as creative, sometimes behaving outlandishly, often criticized, but "forever devoted to their art."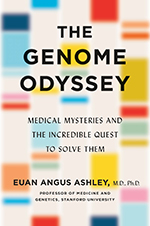 The Genome Odyssey: Medical Mysteries and the Incredible Quest to Solve Them, Euan Ashley, MD, PhD
Decoding a patient's genome — the individualized alphabet of life — once cost billions and took months, but newer methods provide the opportunity to quickly treat patients suffering from mysterious, gene-based conditions. In The Genome Odyssey, Euan Ashley, MD, PhD, describes the scientific journey behind those advances as well as the patients who have benefited from them. One is a young man who, after his vision was restored by gene therapy, asked, "Mom, is that you?" A leader in the field and a Stanford University professor of medicine and genetics, Ashley anticipates greater advances to come, partly thanks to research on people whose super-powered genomes offer extraordinary health protection. Meanwhile, Ashley says he is motivated by the many patients still in need of help. They are, he writes, "the reason I get up every morning."