The American Medical College Application Service® (AMCAS®) celebrates its 50th anniversary this year, marking a half-century of guiding medical school hopefuls in applying to, and being accepted at, America's medical schools.
Much has changed in the last 50 years. In 1969, the system was entirely paper-based, while today, the service is streamlined through an online application process. The system also has seen several incarnations over the years, with additions like the web application and transcript and letter request forms to improve the process for applicants and medical schools.
However, some things have not changed: applicants still must input all their coursework, test scores, research projects, awards, and extracurricular activities.
And yes, applicants sometimes find it stressful as they complete the application, research which schools they want to apply to, and wait to hear whether they've been accepted.
Atul Grover, MD, PhD, AAMC executive vice president, remembers applying in 1990 with an all-paper system.
"It was a challenge," Grover says. "Just getting information about schools and what they were like in terms of curriculum was difficult. You had to look each one up."
He also believes the process has become much more competitive. "I think there were a lot fewer expectations" that you would have done research, received awards, and been engaged in multiple volunteer and extracurricular activities, Grover says. "Now it's expected."
To make things a little less stressful, AAMCNews did some of the legwork for you. Here are seven things you might not have known about the AMCAS program — and some tips that could help you along the way.
1. 100,000 start the process, but only 50,000 complete it. Of the roughly 100,000 applications that are started, only about 51,000 are completed each year. There are a number of reasons why an applicant may not compete an application.
"There are people who complete everything but don't hit submit," says Gabrielle Campbell, AAMC chief services officer. "We know there are a ton of people who start the app but don't continue. Clearly, some people change their minds, or something happens in their lives. But we don't have data about why."
According to new numbers from the AMCAS program, there were 50,905 applicants in 2018, of which 21,078 were accepted into medical school. A total of 20,059 students matriculated.
Around 59% of accepted applicants received one acceptance, 19% received two acceptances, 9% received three, 5% received four, and around 3% received five, according to AMCAS data.
2. You can use two documents to complete your application. Applicants can access two forms to complete their AMCAS application: a prebarcoded transcript request form which can be printed from within the application's main menu, and a letter request form to provide to your letter of evaluation author(s).
"An unofficial transcript can be printed out online to use while completing the application, but it is more consistent if the applicant uses the official transcript," says Tony Mancuso, AMCAS outreach specialist. The AMCAS application only accepts official transcripts with application submission. "They should never use the unofficial transcript."
According to Mancuso, it's important to take the time to gather all the appropriate documents and a list of experiences to avoid stress throughout the process.
"It's about being organized and having everything together," Campbell says. "What I don't want to do is give people this false need for anxiety early on in the process. It's more important to have all of your stuff together than to anxiously send things piecemeal."
3. It takes at least five hours to complete. There's no tip or trick to help you get past this one — the application is time-consuming. But as long as you're prepared for that and don't wait until the last minute, it will be smooth sailing, according to AMCAS Document Processing Team Lead Shannon Vines.
The application includes an opportunity to list up to 15 experiences like research projects, community service initiatives, physician shadowing experiences, and jobs that define you as a unique candidate. There is also an essay portion that requires some in-depth thought. And because medical schools are committed to holistic review — weighing all pieces of an application and not just academic metrics — schools will be looking at the application top to bottom to get a sense of who the applicant really is.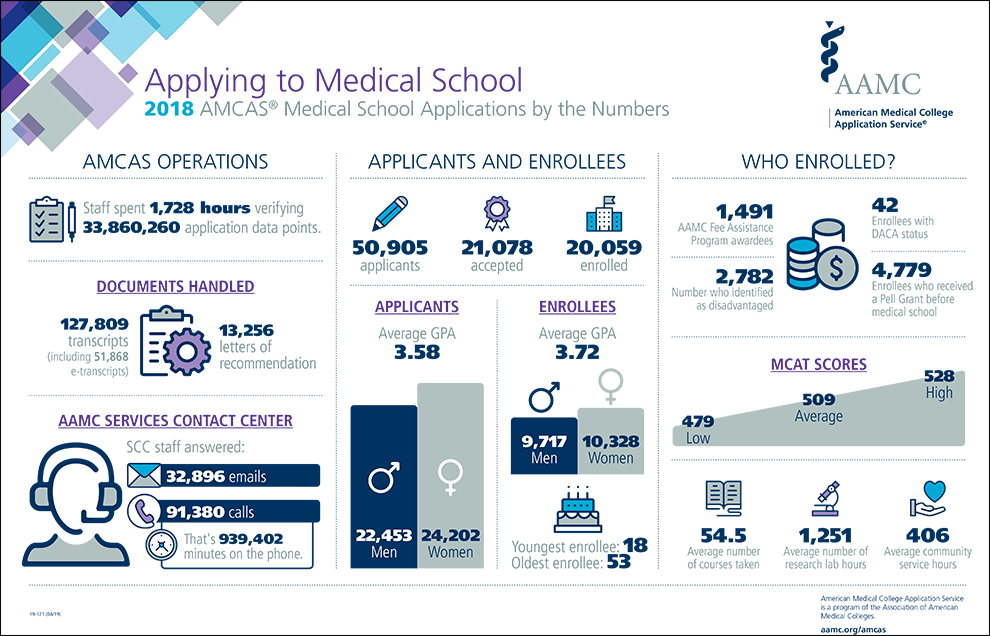 The AMCAS website has a wealth of tools and tutorials to help applicants along the way, as well as a list of frequently asked questions.
4. Each application takes 4-6 weeks to process. Once your application is submitted, it's important to remember just how much time it can take to process — six weeks at peak season. Processing an application requires the verification of 676 data points, including courses, credit hours, and grades. In 2018, a team of 30 AAMC staff spent 1,728 hours verifying 33,860,260 application data points.
"It's a detailed line-by-line comparison of the transcript," Vines says. "We try to make sure the grades are converted correctly and properly, and credit hours are converted properly. It's a meticulous process."
"It's complicated," Campbell admits. "We'd love to be able to scan in the transcripts and prepopulate the application but because the university transcripts are all so different, we can't."
5. The AMCAS cycle opens May 1 and closes in mid-October the following year. It's important to keep track of exactly when the materials need to be with the appropriate people. The AMCAS application opens May 1 and the submission date opens on May 30. Early decision program transcripts and submitted applications are due Aug. 1. Aside from the early decision deadline, all the other deadlines are set by the medical schools, so be sure to consult the list of participating medical school deadlines on the AMCAS website.
6. Fee assistance is available. AMCAS staff say one underused tool is the AAMC Fee Assistance Program, which allows students to apply to up to 20 schools for free and receive other benefits for the medical school application process. Otherwise, it costs $170 for one school and $40 for each additional school.
To qualify, a student's household can earn up to 300% of the federal poverty level established by the Department of Health and Human Services. The federal poverty level for a family of four is $25,750.
Last year, more than 8,500 applicants received a total of $9.1 million in benefits from the AAMC Fee Assistance Program.
"It's typically underutilized," Mancuso says. "It's to help applicants who, even with the help of their parents, couldn't afford to take the MCAT® exam or apply to med school."
7. The AMCAS application is moving towards becoming more digitally oriented. The AMCAS program collects over 134,000 transcripts a year, says Sharifa Dickenson, AMCAS operations director. On average, about 40% of those are electronic and the rest are paper, though this cycle is currently seeing about 65% electronic.
The AMCAS team is constantly looking for ways to cut processing time, she says.
"For us, the future is looking at the verification process and the manual pieces so we can determine how best to improve it using new technology," she says. "We need to simplify our practices but still make sure the process is fair and appropriate for our applicants."
Campbell says in the next year or two the AAMC will explore a tighter connection between the AMCAS application and the Medical School Admission Requirements™ (MSAR®), an online database where you can browse, search, sort, and compare information about medical schools. The AMCAS team is also looking at ways to share data that will help applicants make more informed decisions.
"We are on a continuous improvement cycle to improve the application experience," Campbell says.