What's it like to hold a heart in your hand, cut open a skull, scramble to save your husband's life, face deep-seated sexism or racism in medicine, or make split-second, high-stakes decisions for patients? Read the following books to learn these answers and more.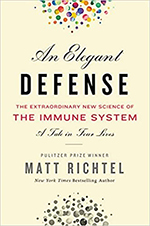 An Elegant Defense: The Extraordinary New Science of the Immune System: A Tale in Four Lives by Matt Ritchel
Given the impact of the coronavirus and COVID-19 vaccines on the immune systems of millions of people around the world, few topics may be as compelling or timely as immunology. Written before the pandemic but powerfully describing the intricate mechanism that can heal cuts, fight cancer, and battle viruses, An Elegant Defense weaves together biology, research, and medical history with four patients' personal experiences — including a childhood friend of author Matt Ritchel. Ritchel, a Pulitzer Prize-winning New York Times journalist, takes readers on an intimate exploration of the body's primary defense mechanism and its ability to heal or hurt.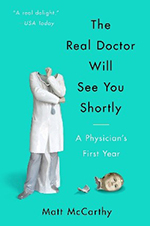 The Real Doctor Will See You Shortly: A Physician's First Year by Matt McCarthy, MD
Bestselling author Matt McCarthy, MD, offers an inside look at the often humbling and even heart-wrenching first year of medical residency. Now an associate professor of medicine at Weill Cornell Medical College in Manhattan, McCarthy shares his journey by capturing encounters with specific patients. Among them are the terrifying struggle to keep one critical care patient alive and the chance to soothe another with tales from his pre-medicine days as a minor league baseball player. Writing with honesty and humor, McCarthy delves into key concerns for young physicians, including the fine balance between a commitment to patients and the need for self-care.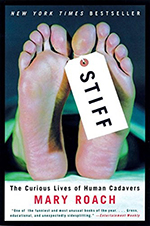 Stiff: The Curious Lives of Human Cadavers by Mary Roach
In Stiff, bestselling science writer Mary Roach manages to playfully describe body-snatching, decomposition, and other such sensitive topics without dishonoring the dead. As today's medical educators weigh the value of virtual cadavers against once-living humans, Roach's book offers a glimpse into the services that corpses have provided for centuries. In clear — yet sometimes creepy — detail, she describes their myriad uses, from car crash tests to plastic surgery practice. And, as Roach notes, "for every surgical procedure developed … cadavers have been there alongside the surgeons, making history in their own quiet, sundered way."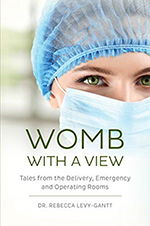 Womb With a View: Tales from the Delivery, Emergency and Operating Rooms by Rebecca Levy-Gantt, DO
Chapters in this book by OB-GYN Rebecca Levy-Gantt, DO, bear some playful titles, including "My Upside Down Night With a Butt-Side Down Baby." Throughout, Gantt shares moments of sublime joy, from her medical education to her private practice in Napa, California. But her slim memoir — it's less than 100 pages — also captures many tough moments witnessing fragile lives enter the world. "When things go wrong in [OB-GYN], they often go horribly wrong, unexpectedly wrong," leaving families, friends, and providers profoundly affected, she writes. Despite inevitable losses, Gantt remains passionate about her chosen field these many decades later. Of witnessing a birth for the first time, she recalls: "This, I thought, was pretty freaking amazing."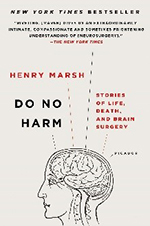 Do No Harm: Stories of Life, Death, and Brain Surgery by Henry Marsh, CBE, FRCS
Henry Marsh, CBEM FRCS, one of Britain's foremost neurosurgeons, has spent decades operating on the human brain: the home of all thought, feeling, reason, and memory. In Do No Harm, Marsh reviews some of his greatest triumphs and most painful failures, honestly sharing the stress of surgeries — sometimes lasting 10 hours or more — in which a minor misstep can cause horrible damage. This New York Times bestseller is an intimate look inside the organ Marsh calls "as great as the stars at night." But it's also a glimpse into the hearts of the physicians who have the blessing and the burden of tinkering inside it.
Hundreds of Interlaced Fingers: A Kidney Doctor's Search for the Perfect Match by Vanessa Grubbs, MD
When Vanessa Grubbs, MD, began dating Robert Phillips, she was a primary care physician and he was an aspiring politician with advanced kidney disease. Soon, she volunteered one of her kidneys to save the life of the man who would later become her husband. But Hundreds of Interlaced Fingers — named for Grubbs' impression of how kidneys look — is another kind of love story as well. Grubb ultimately became fascinated by the kidneys and trained to become a nephrologist. In this intimate memoir, Grubb captures her own journey, beginning with her childhood as an African American girl growing up in a small North Carolina town. She also looks at medicine more broadly, including the painful difficulties of the transplant system and the inequities people of color face in it.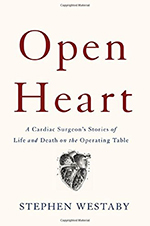 Open Heart: A Cardiac Surgeon's Stories of Life and Death on the Operating Table by Stephen Westaby, PhD, FRCS
Stephen Westaby, PhD, FRCS, has performed more than 11,000 cardiac surgeries. Yet the Oxford University cardiologist and researcher remains enthralled by the organ that pumps 31.5 million times each year. In Open Heart, he details such intricate maneuvers as repairing a hole in an infant's heart — and does so with an artist's eye. In fact, Westaby was once a painter. "I simply shifted from brush on canvas to scalpel on human flesh," he writes. Both vocations require a keen attention to detail, which is one of his strong suits. Sometimes harder for him, admits Westaby, is the warm communication necessary for connecting with frightened patients and their families.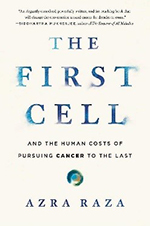 The First Cell: And the Human Costs of Pursuing Cancer to the Last by Azra Raza, MD
Despite COVID-19-related setbacks, 2020 saw the arrival of more than 20 new cancer medications. Azra Raza, MD, a cancer researcher and physician at Columbia University Irving Medical Center in New York City, would not necessarily applaud that outcome. She believes that many cancer medications are of dubious value — adding little time to a patient's life at great financial and physical costs. Instead, she argues for more focus on detecting and treating cancer early. The cause for Raza is personal: She served as her husband's oncologist until he died from leukemia two decades ago. In The First Cell, Raza interweaves powerful images — a mother curled up in the bed of her dying son, for example — with her opinions on such crucial questions as when treating a patient's incurable cancer no longer makes sense.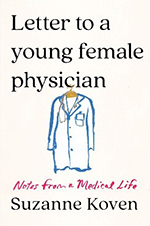 Letter to a Young Female Physician: Notes from a Medical Life by Suzanne Koven, MD
Watching a new class of interns, Suzanne Koven, MD, a primary care physician at Massachusetts General Hospital in Boston, felt an urge to pen them a missive describing what she wished she had known early in her career. "Even more, I yearned to tell my younger self what I wished I'd known," she notes in Letter to a Young Female Physician. Koven's decades of experience include varied forms of sexism, including being told that "no self-respecting man would go to a lady urologist." But her dedication to medicine is staunch, manifest in her decision to volunteer in a COVID-19 clinic despite concerns about her own health. Koven also honestly reveals her many moments of insecurity as a provider, as a mother, and as a daughter who failed to recognize her mother's heart disease. From burnout to body image, she shares her personal journey toward a deeper appreciation of her gifts and a greater acceptance of her imperfections.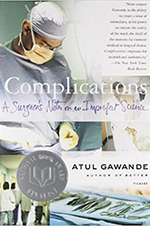 Complications: A Surgeon's Notes on an Imperfect Science by Atul Gawande, MD, MPH
Performing surgery can be an exhilarating opportunity to heal and an intense gamble with dangerously high stakes, notes Atul Gawande, MD, MPH, a New Yorker columnist and surgeon at Boston's Brigham and Women's Hospital. In Complications, Gawande shares chilling tales of physician errors and complex stories of medical mysteries. He holds up a mirror to both doctors and patients, from the burned-out doctor who regrettably refuses to quit to the boy with a football-sized tumor enveloping his lung. Gawande also explores major issues in medicine, including how hospitals can train young doctors while protecting patients from inexperience. Throughout, he makes clear that, with a closer look, one can see just "how messy, uncertain, and also surprising medicine turns out to be."
Editor's note: Book list chosen by AAMC Outreach Specialist Alexandra Mazzarisi.