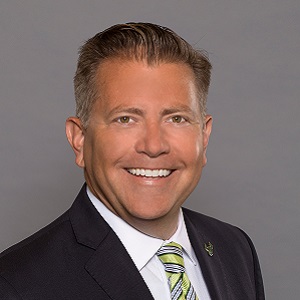 Steve Blair, He/Him/His
Principal Gifts
University of South Florida
We caught up with Steve Blair to discover more about him, what he's up to, and what we can learn from him.
Briefly describe your current role.
Working closely with the University President and other leadership to cultivate, solicit, and steward gifts of $5M+ for the USF System. 
Briefly describe your career journey and what led you to institutional advancement in academic medicine. 
I am from the generation of people who stumbled into this career. People from today's generation are far more purposeful in their choice of philanthropy careers. After college, I travelled for my college fraternity, raising money from alumni and working with undergrads on programming. After this, I returned to my hometown of San Diego and began a sales career at Pac*Tel, in the early days of cell phones. This job required me to find my own leads and do a lot of door-to-door networking. One of my cold calls was to the March of Dimes where they closed the sale—rather than buying phones, they sold me on a new career: healthcare philanthropy.
After two years with MOD, I knew I'd found a passion. I'd heard the American Heart Association invested a lot of training in its team and moved to work with the San Diego chapter. For four years, I developed and increased my passion for healthcare philanthropy. I managed a board, chaired by the UCSD Chief Cardiologist, who shared his vision for a bench-to-bedside Cardiovascular Institute, sort of a Home Depot for cardiology where everything happens under one room from basic research to clinical care. I joined him in launching this effort and helped create the Sulpizio Cardiovascular Center over the next eight years. 
I realized in these early years of my career that while I would never cure cancer, win a Nobel Prize, or have my name on a building, I could greatly impact the future of healthcare by connecting people to their passion. Showing individuals the power of philanthropy and its importance in our world has been a satisfying joy. From discovery and research to compassionate care and education, healthcare provides the very essence of life, and our role is to help people see the return on their investment. This career has not only supported my family, but also improved our world—not bad for something I stumbled into!
What success have you achieved with limited resources? 
Limited resources are the essence of our jobs. At least for me, almost every dollar I spend is a dollar because of a donor. I know of no donor who wants to have their gift pay for my lunch, plane ticket, or gas. While it is typically the gift earnings that are used for budget, these earning came from a gift intended for something else. So, I have always tried to ensure frugal and conservative use of budget funds. Today's environment is even more conducive to a limited budget with outstanding technology. Video calls have become a great help in qualifying prospects. Not only is it easier to secure that first meeting, but it also saves money driving or flying in the hopes a first meeting will go well. Five years ago, I had never closed a major gift without a face-to-face meeting (or several); that is no longer true, having had several successes, including closing a $12M gift virtually.
What was a mistake you made and how did you learn from it? 
Time is money, we've all heard that. Not moving quickly can not just lose a gift, but also create guilt. While I was at UCSD, I was working with a board member who wanted to endow a $2M Chair in Cardiology. He made his intentions clear and hinted he was ready to move forward. It was early in my career, and I didn't want to be overly aggressive. I figured he'd reach out when he was really ready to sign. A couple weeks went by and he reached out and asked if we could proceed, so I began the gift agreement process. Three days later, while playing tennis, he died—of a heart attack. The gift was never completed; his widow—who knew of his desire and intent—did not wish to proceed. Much more disappointing to me than the loss of the gift is the knowledge that this man's passion would never be realized. I had let him down by being too passive. I've learned not to let time pass; donors will always let you know when they want to slow down—but they will rarely tell you to speed it up. It is on us to keep the ball rolling and listen to the donor along the way.
What innovation or trend in the field inspires or motivates you? 
I agree with the answer supplied last month by Shashea—AI! Artificial Intelligence is incredibly exciting. Of course, it comes with risk—but what opportunity does not? I've already seen how this technological advancement can generate efficiency and positive results and believe we have only just begun.
What is the best career advice you were given and how have you used it? 
In philanthropy, "No" almost never means no! It usually means "not now," "not this amount," or "not this project," but never "No gift ever." Applying this advice has helped me curb disappointment and listen more carefully. We should never ask for a gift without feeling certain this is what the donor is telling us. If we proceed down that road, we will always enable a gift to occur—but on the donor's timeline, project, and budget, not ours.
What advice do you have for other institutional advancement professionals in academic medicine? 
Think about what got you into this career and follow that. For me, it's always been people; I love people and sharing their joy when they realize they've changed lives through their resources. At this point in my career, I'm especially reminded that the thrill and passion of the process is why I chose this job. Yet often those things we love the most are reduced or eliminated as we grow. We begin a career hoping to advance and take on more responsibility and management, yet as we climb the ladder, we get slowly separated from what brought us here in the first place. Management responsibilities replace donor visits. We're directing and overseeing strategy rather than inventing it. As our careers soar, many of us just want to get back into the field and do what we love. Don't allow yourself to let career advancement supersede your passion. Be intentional about what aspects of your job are important to you. In keeping intentionality top of mind, I'd also say don't sweat the goals—especially the dollar goals. Goals/metrics don't always tell the whole story. I firmly believe that weighting dollar goals high is a mistake. If you carefully cultivate a donor, listen closely, write a solid proposal, solicit a gift, and don't get the gift, does that make this a failure? NO! We are not writing the check; the amount of a gift is something we have very little control of. I would much prefer a donor gives a dollar—and love what that dollar does—than give more and be resentful. The importance of metrics is in the visits. Are we interfacing with the donor, strategically and purposefully, enough to get their passion reflected in a gift? Focus on the time spent listening to the donor, prioritize the visits, and the dollars will come.
---

We want to shine the light on you! Please submit information about yourself or share this with another GIA member to help you connect, share stories, and highlight best practices. Learn more.