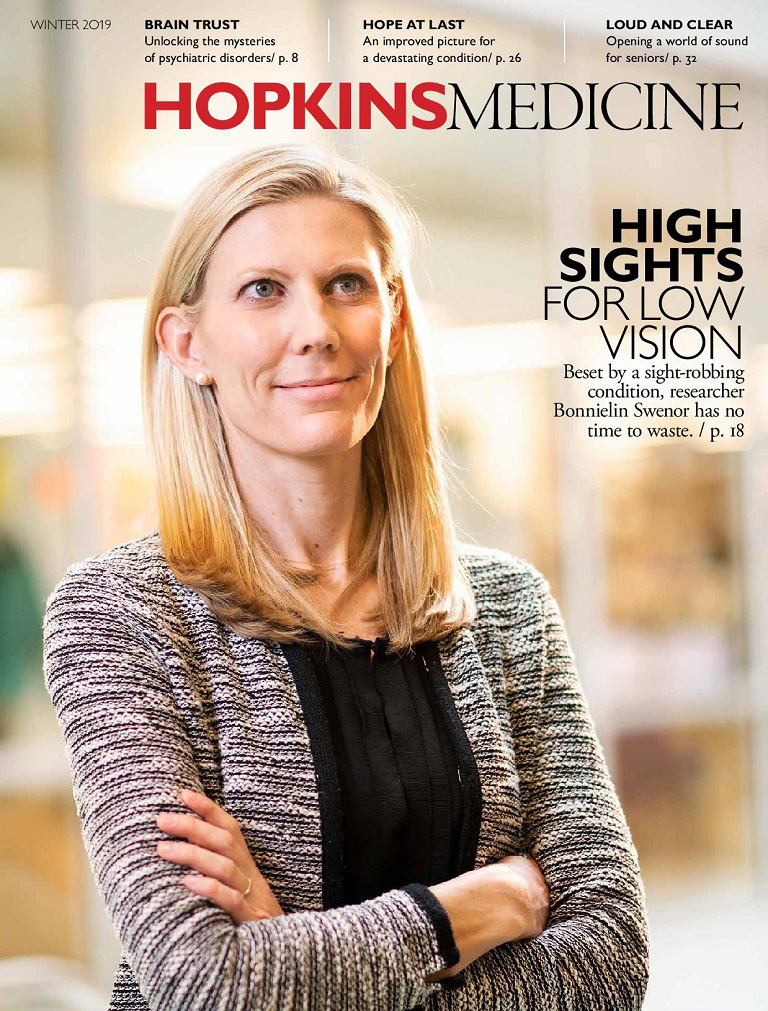 "High Sights for Low Vision," Hopkins Medicine Magazine
By David Glenn
Johns Hopkins Medicine Marketing and Communications 
"Roughly a year after her diagnosis, Swenor's second eye began to be affected. 'I woke up one morning, and there was a hemorrhage in the left eye,' she says. 'At that point, that was my worst nightmare. Until that point, I'd been able to tell myself, 'At least I've got the one good eye.'' She left work on short-term disability and began to doubt whether she'd ever be able to build the scientific career she'd planned. 'It took me a while to really absorb that these changes were permanent,' she says. 'I was very depressed. It was one of the lowest periods of my life.'
"Fast forward 13 years. Today Swenor is an assistant professor of ophthalmology at Johns Hopkins' Wilmer Eye Institute."
When we learned about a young Wilmer Eye Institute researcher who herself was battling a sight-robbing eye condition, our interest was immediately piqued. The article by David Glenn touched all the bases of her story, from diagnosis and treatment to research, discovery, and advocacy. Not only is there a compelling "race against time" aspect, but the impact of the published article is literally changing not only Bonnielin's life, but the lives of medical professionals with disabilities and patients alike.
As it turns out, while she had kept details of her eye condition private from her colleagues for many years, she'd hit a turning point while working on a low-vision study when a patient pointedly asked, "If you can't talk about it, how can I?" The encounter fueled her commitment to become an advocate for people with disabilities, especially those who work or study at Johns Hopkins, and to increase awareness about low-vision rehabilitation services, which too often go underused by referring physicians. The timing for our article couldn't have been better, and "High Sights for Low Vision," reported and written by freelancer David Glenn, fortuitously proved the perfect outlet for advancing both missions.
What was the biggest challenge in writing about this topic?
It was a challenge — but also a privilege — to weave together 14 years of Professor Swenor's personal history with explanations of her diverse lines of research. Swenor made the process easier by being extraordinarily prepared for each interview.
What is one thing you learned from this experience?
Never underestimate the power of a faculty member's personal story to illuminate the broader nature of medical science, research, and discovery.
Contact
Michael Keating, mkeating@jhmi.edu