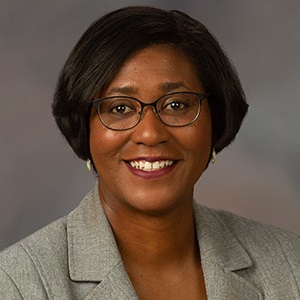 Patrice Guilfoyle, APR, She/Her/Hers
Director of Communications
University of Mississippi Medical Center (UMMC)
We caught up with Patrice Guilfoyle to discover more about her, what she's up to, and what we can learn from her. 
Briefly describe your current role.
I oversee the publications and news operations of the state's only academic medical center. This includes a weekly employee newsletter, five school alumni magazines, our children's hospital magazine, the University of Mississippi Medical Center (UMMC) annual report, and media relations.
Briefly describe your career journey and what led you to institutional advancement in academic medicine.
As a journalism major in my undergraduate study, I started my career in newspapers. I spent nearly 10 years as a journalist at newspapers in Louisiana and Mississippi before accepting my first job in institutional advancement as a writer at UMMC. After several years, I left UMMC as associate director of media relations to become communications director at the Mississippi Department of Education. I remained there for nine years until the call of UMMC's mission to create a healthier Mississippi drew me back. The opportunity to tell the stories of the patients, students, and employees who make that mission a reality is a thrill.
What achievement in your current job are you proud of? 
I am most proud of being a member of an amazing team of talented professionals who worked tirelessly to inform employees and the public of vital information during the height of the COVID-19 Delta wave of the virus. All members of the communications team pulled together in support of our duty to educate our publics.
What success have you achieved with limited resources? 
The UMMC Office of Communications and Marketing is responsible for communication for the entire campus, including our seven professional schools, research enterprise, and health system. We have been able to do that well with a small, centrally-located staff.
What is a challenge that you/your unit/your institution are/is facing and how are you addressing it? 
The challenge, as is the case with many employers, is finding quality employees to add to our already stellar communications and marketing team. The job market has truly become competitive since the pandemic, and we are working collaboratively to evaluate and share potential job candidates who would make the best fit.  
What was a mistake you made and how did you learn from it? 
Prior to returning to UMMC, I distributed a news release about a major decision involving education and two important stakeholders spoke negatively about the decision in public statements. It resulted in a face-to-face meeting with the leaders of those organizations to bring clarity and understanding. The lesson I took away was to never underestimate the power of interpersonal communication to resolve issues, especially prior to any significant change.
What innovation or trend in the field inspires or motivates you? 
I'm truly inspired by the work to make communications a strategic partner in advancing the mission of an organization. That means executing what research shows is a good plan as opposed to what someone may think is a good plan. And you should always measure the effectiveness.
What is the best career advice you were given and how have you used it? 
The best advice shared with me is when making a career move, ask yourself this question: Based on your future hopes and dreams, what is the best decision to make right now? It has never failed me.
What advice do you have for other institutional advancement professionals in academic medicine? 
Never stop learning. Get as much professional development as possible to grow in your knowledge and skills and talk to your colleagues. I'm sure someone else has come out the other side of what you're going into and can share some wisdom.
 
---

We want to shine the light on you! Please submit information about yourself or share this with another GIA member to help you connect, share stories, and highlight best practices. Learn more.