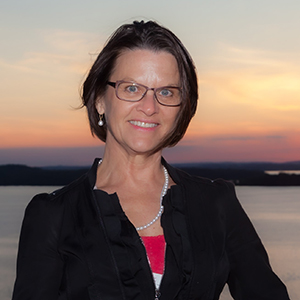 Karen S. Peterson
Assistant Dean for Alumni and External Relations
Executive Director, Wisconsin Medical Alumni Association (WMAA)
University of Wisconsin (UW), School of Medicine and Public Health (SMPH)
We caught up with Karen Peterson to discover more about her, what she's up to, and what we can learn from her.
Briefly describe your current role. 
I manage a comprehensive medical alumni program that fosters close relationships between the school and its medical alumni and students, promoting increased alumni interest in, participation in, and support of the UW School of Medicine and Public Health.
Briefly describe your career journey and what led you to institutional advancement in academic medicine.
I have worked my entire professional career in the health sciences at the UW in Madison. But like most professionals in advancement, I did not plan to become an alumni director. My career in institutional advancement has evolved over 35 years. Fresh out of college, I started working in the UW School of Nursing in the business and research offices, assisting faculty with grant applications. I later accepted a new position in the nursing school as Assistant Dean for Internal and External Affairs, where I placed emphasis on alumni relations and fundraising. In this role, I orchestrated an annual golf outing that was a fundraiser for nursing scholarships for many years. This is when I discovered that alumni and external relations are my passion. Fast forward another 10 years, and I was offered the position of Executive Director of the WMAA at the medical school. I have been in this role for 20 years.
What achievement in your current job are you proud of?
My team and I have developed several programs for MD students to connect to MD alumni, including the Student Alumni Partnership Program (SAPP) and the Medical Student Ambassador Program. We have grown SAPP membership to over 1,000 MD alumni. This group of alumni is committed to helping our students in their career exploration. The program serves to connect our alumni to the school and provides a great resource for our students. In addition, we place emphasis on building a culture of philanthropy with and instilling gratitude in our students. WMAA has programing for students from White Coat to graduation. We are starting to see the fruits of our labor with young alumni who are giving back to the school in many ways.
I am also very proud of the WMAA board of directors. I have worked hard to build a board representing diverse age, specialty interest, and ethnicity and is equality split between women and men. Our board members are some of the school's greatest advocates.
What success have you achieved with limited resources?
I have a small staff of three to fulfill WMAA's mission. We host numerous events and robust programming for alumni and students throughout the year. It is very rewarding to orchestrate a successful event or program that brings together a group of alumni, donors, and/or students who are interested in supporting our mission. When I witness alumni having a great time interacting with students or reminiscing about the past, I know we have been successful. Events are labor intensive, and with a small staff of three, it is all hands-on deck. As my grandmother would say, "That team can get a lot of hay out of the barn." Now I am showing my rural Iowa roots.
What is a challenge that you/your unit/your institution is facing and how are you addressing it?
It has a been incredibly difficult to stay connected to our alumni and students during the pandemic. Like every other alumni organization, we have been forced to embrace the virtual world for engagement. To my surprise, our offerings have been incredibly successful and attendance for some events has been higher than for in-person events in the past.
We are accustomed to seeing our students daily, and our visibility with students was strong before COVID. M1 students have not been able to form the usual connections with the faculty, staff, and each other. They are struggling with loneliness and mental health issues. My staff and I are trying our best to support students and lift their spirits by providing things such as holiday gift bags with locally sourced treats, Valentine's chocolates after an exam, and generous Match Day gift bags.
What is the best career advice you were given and how have you used it?
Many years ago, I was told I should get involved in GIA. I attended my first annual meeting early in my career at SMPH. I was inspired by other professionals who were doing some of the same work that I do! I have met a wonderful network of professionals through GIA. We have so much in common and can learn so much from one another. Many of my GIA colleagues have become good friends over the years, and I expect we will stay connected for life.
What advice do you have for other institutional advancement professionals in academic medicine?
Make an effort to engage with other disciplines. While alumni relations is my focus, I could not do the job successfully without involving communications, development, and student services colleagues. Collaborate with your dean of students and her/his staff too. We are building the pipeline for future volunteers and donors by offering robust student programming. Your colleagues' input on what students need to improve their experience at your school is critical. Build your team to include these professionals.
---

We want to shine the light on you! Please submit information about yourself or share this with another GIA member to help you connect, share stories, and highlight best practices. Learn more here.