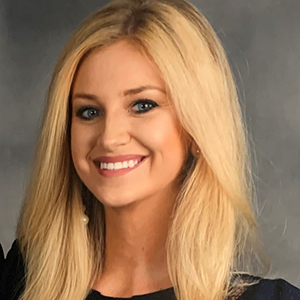 Emily Hagedorn 
Community Engagement Manager
University of Iowa Health Care
We caught up with Emily Hagedorn to discover more about her, what she's up to, and what we can learn from her. 
Briefly describe your current role. 
I lead the Community Engagement team at University of Iowa Health Care to develop, plan, and implement community relations activities, K-12 STEM education programs, and special events. The scope of community engagement initiatives includes strategic sponsorships and partnerships, community and statewide connections, health literacy and educational programming, community benefit and statewide impact data, and special event services for UI Health Care. My role involves building relationships and trust with key community and business leaders, community-based organizations, community members, statewide partners, and educators, as well as internal colleagues, to carry out our institutional goals and strategies. 
Briefly describe your career journey and what led you to institutional advancement in academic medicine.
While I was a student at the University of Iowa, I became the STEM Education Student Intern with UI Health Care's division of Outreach and Engagement in the department of Marketing and Communications. I was studying health and business, and having the opportunity to apply what I was learning to my job was a great experience. It was also rewarding to inspire thousands of Iowa students to consider a future in STEM and to teach health literacy. After graduating, I accepted the role of STEM Education Coordinator within the division. I am grateful to my supervisor for providing me new projects and learning opportunities over the years, which led me to support student engagement and student recruitment and ultimately landed me in my current role managing community engagement. 
What achievement in your current job are you proud of?
During the pandemic, our STEM Education programs, which typically engage over 15,000 K-12 students across Iowa through more than 150 in-person programs annually, was put to a halt. These programs are geared towards inspiring Iowa's students to consider a future in STEM and teaching health literacy. As students were sent home, I led my team to quickly assess current tools available and create low-cost, easily accessible virtual resources to keep students engaged in STEM learning. Within two weeks, we created an online library of activity and career videos, activity worksheets, and live "STEMinars" featuring our faculty and staff. My team was cross-trained by our video team to film, edit, and post videos entirely on our own while they were pulled for COVID-19 coverage. We were very impressed to see 68,000+ video views, 2,000+ webpage views, and 6,000 activity sheet downloads between March and June 2020. 
Developing virtual STEM programs and resources was not only a temporary solution, but something that is sustainable post-COVID. What my team had not taken time to pursue before is now a best practice and option to reach a much larger and more diverse audience. Utilizing resources already in-house and cross-training to learn new skills allowed us to quickly produce virtual content to share with our constituents when they needed it most. We strive to provide opportunities and access for students of all backgrounds to explore STEM, and hosting virtual programs and resources was a step to help us do that.
What is the best career advice you were given and how have you used it?
I once heard from a speaker at a conference that you don't need to be good at many things, you need to be great at one. When trying to do many different things, it is nearly impossible to be great in any single area. You must be willing to prioritize your efforts accordingly.
This advice is especially applicable today as many of us are juggling additional workloads due to staffing transitions and shortages on our teams. Being able to delegate work and prioritize the initiatives I am working on that will have the greatest impact towards our institutional goals has really helped me get things done and be successful in my work. My team is also a strong advocate for using the "parking lot." Any ideas for projects that we don't currently have capacity to do, we add to the parking lot and pick those up when we have downtime or have finished higher priority projects related to those goals. 
What advice do you have for other institutional advancement professionals in academic medicine?
We must take time to stop and reflect on our accomplishments and results. It's easy to gloss over this when there is constant work to be done, but spending some time analyzing results and impact will help to identify successes, gaps, and opportunities. Bring in key stakeholders and target audiences for conversations, focus groups, and brainstorming sessions and use that feedback to drive your strategy and plan to maximize your efforts reaching your institutional goals. These conversations can lead to new creative solutions and reenergize your team. 
 
---

We want to shine the light on you! Please submit information about yourself or share this with another GIA member to help you connect, share stories, and highlight best practices. Learn more.