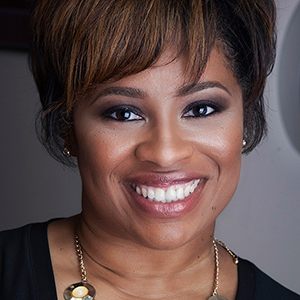 Dorian Harriston, She/Her/Hers
Director, Academic and Community Marketing
Cedars-Sinai
We caught up with Dorian Harriston to discover more about her, what she's up to, and what we can learn from her.
Briefly describe your current role.
In my current role, I lead a growing team focused on building marketing, communication, and branding strategies in the areas of research and education, community engagement, diversity and inclusion, health equity, and sponsorships to promote and align Cedars-Sinai's actions to its mission and goals.
Briefly describe your career journey and what led you to institutional advancement in academic medicine.
My career has not followed a traditional path, and those varied experiences have served me well. I am grateful to have worked in a variety of industries that allowed me to utilize my communication skills, providing opportunities for growth.
My past experiences include positions in radio, the hotel industry, and nonprofit management. I began my healthcare journey with Ohio KePRO, Inc., designing community health education programming and culturally competent Medicare collateral for the state of Ohio. My success in this position led to my recruitment by The Ohio State University Wexner Medical Center. This served as my introduction to academic medicine and my success there ultimately led me to Cedars-Sinai. Much of my varied MarComm experience in fast-paced environments has proven beneficial to me in my current role.
What achievement in your current job are you proud of?
One of my proudest achievements is the Doses of Hope campaign winning Best in Show and a Gold GIA Award for Excellence in Diversity, Equity, and Inclusion at this year's 2022 AAMC Conference for Institutional Advancement. This campaign was born out of the determination to help communities of color combat misinformation and provide education, awareness, and access to COVID-19 vaccines. Although we had a multitude of resources providing consistent information on COVID-19 to our patients and the public, I believed our most vulnerable populations needed messaging that directly aligned with their needs. That meant creating an impactful, culturally relevant, and transparent strategy. I wanted to contribute something to the fight, and the support of the campaign has been overwhelming. I'm very proud that the evolution of this campaign is ongoing with the next phase addressing children, families, mental health, and preventive care.
What is a challenge that you/your unit/your institution is facing and how are you addressing it?
When faced with the challenge of increasing recruitment of residents and fellows, we were at a loss due to activity upended by the COVID-19 pandemic. Recruitment has historically depended on providing a personalized, high-touch experience for candidates; therefore, the pandemic required us to create a strategy that replicated this in a safe, responsible manner that did not interfere with hospital safety protocol or clinical care.
The most difficult aspect proved to be recreating the personalized campus tour. How could we use the virtual space to create a warm welcoming experience replacing the long-standing in-person encounter? Putting emphasis on the virtual experience, we created an innovative multi-channel campaign to fully engage this audience. The results have been phenomenal.
What was a mistake you made and how did you learn from it?
Early in my career, I focused every effort on being as perfect as possible, not making any mistakes. I learned a lot from that experience: First, you cannot avoid mistakes. Second, it's the lesson learned that makes the impact. This is the reason why I tell my team to be bold and make mistakes but learn from them. I encourage and empower them to work through solutions, becoming better prepared if the situation occurs again.
What innovation or trend in the field inspires or motivates you?
I am really intrigued by the advancement of virtual reality in healthcare. Each innovation provides additional value to the virtual environment and inspires me to find new ways to keep people engaged in this space. Although we may all be suffering from a bit of "video conference fatigue," we must continue to search for alternative ways to connect, educate, and increase awareness.
What is the best career advice you were given and how have you used it?
My father had one of the greatest work ethics I have seen. He was an Army veteran, a business owner, and retired from Ford after almost 40 years. His consistent advice to me was always, "Do it afraid. It's ok to be scared, but never let fear stop you." I hear these words when I am making a challenging decision, presenting an out of the box idea, etc. Whenever I'm hesitant to make a move, I hear his voice telling me… "Do it afraid." My most important decisions have been made when I've been fearful, taken a breath, and moved forward anyway—afraid, but prepared.
What advice do you have for other institutional advancement professionals in academic medicine?
I have many lessons learned over the course of my career, but here are a few I consistently utilize:
Before engaging with any audience, especially diverse communities, ask what is needed—don't assume. Often, we assume and miss the mark. Asking and engaging with trusted community and internal partners will ensure you dive deeper for solutions and avoid wasting time on performative actions that won't provide positive results.
Remember that one message may not be sufficient. Within each targeted demographic, there are varied audiences, and a single or general message isn't enough. Having multiple messages and communications vehicles could be the difference between being heard or ignored.
Before beginning any outreach initiative, know that there are no quick fixes. Determine if your organization is willing to invest budget, time, and resources before proceeding.
Maintain honest and transparent communications. There's no shame in admitting you don't know or need to do more research.
---

We want to shine the light on you! Please submit information about yourself or share this with another GIA member to help you connect, share stories, and highlight best practices. Learn more.