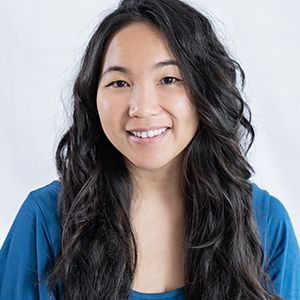 Deborah Manog Dimaya
Interim Communications Director
University of Hawaii John A. Burns School of Medicine (JABSOM)
We caught up with Deborah Manog Dimaya to discover more about her, what she's up to, and what we can learn from her.
Briefly describe your current role.
I currently serve as the head of our Communications Office, which includes media and government affairs. My office is responsible for creating original content in the form of articles, photos, and videos to tell the wonderful stories about the people at JABSOM. As a small two-person office (or sometimes three), we do all the reporting, filming, and editing ourselves and our footage is often used in local newscasts in stories about the school. 
Briefly describe your career journey and what led you to institutional advancement in academic medicine.
I always had a penchant for both journalism and healthcare. In high school, I was voted "Most Valuable Staffer" as my school newspaper's editor-in-chief while volunteering at a convalescent home on the weekends. In college, I worked as a dental assistant and found joy in working directly with patients. Before applying to dental school, I decided to take a magazine writing class as an elective to "get it out of my system," but ended up loving it. I switched my major and landed an internship with JABSOM, mentoring under then-Communications Director and prominent Hawaii journalist Tina Shelton. Years later, I was able to return to the medical school, where I now get to combine both of my passions: healthcare and journalism. It's my dream job, for sure.
What achievement in your current job are you proud of?
At JABSOM, we have built a strong following, especially on social media, about the news we put out. When I first started at JABSOM as a college intern, I encountered people who were a bit afraid to talk to our office, as they weren't sure how they would be presented through news and media. But over the years, as many have seen the quality work that we produce, people are more trusting and are comfortable being interviewed by us. One of the best feelings was meeting incoming medical students who told us that as pre-medical students, they would watch our videos to motivate themselves while waiting to get into medical school. And they were happy to talk to us, knowing that their stories would inspire the next generation of future doctors.
What is a challenge that you/your unit/your institution is facing and how are you addressing it?
Like many other institutions, we've been forced to find creative ways to continue to tell the stories of our school while keeping everyone safe during the pandemic. For example, every year JABSOM is involved in the Men's March Against Domestic Violence. This year, we produced a commercial that was played on television, with several deans of the University of Hawaii advocating for people to speak out if they know someone suffering from domestic violence or to seek help if they are victims themselves. This commercial was a first for us, and we look forward to seeing how much we can continue to broaden our skills and grow as communicators.
The pandemic also forced our team to pivot from our usual short-form storytelling to longer-format videos as we had to help many programs at our school that could no longer give hospital or school tours and had to turn large, in-person events into digital ones. Once, two of us filmed three people in over 10 locations over a four-hour period. It was not only challenging mentally but physically—we've got the muscles to prove it from hauling around heavy camera equipment! 
---

We want to shine the light on you! Please submit information about yourself or share this with another GIA member to help you connect, share stories, and highlight best practices. Learn more here.