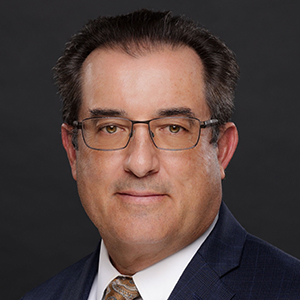 Charles W. (Chip) Roberts
Assistant Vice President for Development and Chief Development Officer
University of Central Florida College of Medicine
We caught up with 2021-2022 GIA Steering Committee Chip Roberts to discover more about him, what he's up to, and what we can learn from him. 
Briefly describe your current role.
As the first advancement professional hired for a new medical school in 2007, my role has been to establish and grow the advancement function of the college, as well as establish strategic partnerships with community medical entities. I oversee a small, but exceptionally effective, team that focuses on everything from principal gifts to alumni to Parents & Family Council constituents and a number of other functions. I also have begun work on fundraising initiatives for our newly formed Academic Health Sciences Center, as well as our new Cancer Center. 
Briefly describe your career journey and what led you to institutional advancement in academic medicine. 
I have been a development professional since 1986. Since my very first days in this profession, I knew that I wanted to be in academic medicine, largely due to a mentor, Hank Lione, who had been the VP at the University of Miami for many years. When I was there, we were in what at the time was the second largest campaign in the history of academia, behind Stanford, and Hank, as VP of Development for the medical school, was responsible for about 60% of the campaign total. The perfect opportunity presented itself in 2007, when Hank, who had moved to Central Florida years earlier, told me that UCF was looking to build a new medical school. Most of my career has been involved with building new programs from the ground up. Not to mention my wife is a nurse, and I began my college career with the idea of, but perhaps not the brains for, becoming a physician. I inevitably preferred the literary side of William Carlos Williams, and my mind worked better with red wheelbarrows than with red blood cells.
What achievement in your current job are you proud of? 
Truly, I'm most proud of my team and the fact that these exceptional people have worked and succeeded next to me since I hired them into their positions. One has been with us for 13 years, another 12 years, another 8 years, and one 5 years. And that's how long those positions have been in existence. I think the achievement I might attribute to myself is being fortunate enough to hire extraordinary people.
What success have you achieved with limited resources? 
When I first came to UCF, my boss, Dr. Deborah German, had the extraordinary idea of starting a medical school with the entire charter class receiving scholarships for all four years, including tuition, fees, and living expenses. She is an exceptional leader and visionary. This had never been done in the history of American medical education. We received national attention from NBC, the Wall Street Journal, and others. I'm not sure if you could have called our resources limited; nonexistent may be closer to the mark. We had about 20 employees, including me and the Dean. We spoke to every Rotary, every Chamber, every medical group; you name it. We were averaging about 20 presentations per week, seven days a week, for months. It was exhaustlerating—both exhilarating and exhausting. I'm hoping that coined phrase will catch on, but not copyrighting it just yet….
What was a mistake you made and how did you learn from it? 
When you're essentially a startup, you probably make hundreds of mistakes. At least I did. It's hard to think of a single one, because I like to learn from those things and also put them very quickly behind me and out of my memory. I would say that I could have been more attentive to stewardship of our donors. Stewardship is so important, and when everything is new, there's a terrific temptation to keep moving on quickly. I think we did a good job; my team certainly has done a great job. I could have done better. Now we have a very keen focus on stewardship, and I would say we are exceptional.
What is the best career advice you were given and how have you used it? 
Hank once said, "Chip, sometimes you just have to swallow hard." One day I was ready to go to war due to a true injustice, and he knew that saying less, or, better yet, nothing, particularly in trying circumstances, often brings both the peace and the resolutions we ultimately want. Another mentor and friend, Jerry Panas, counseled me, on many occasions, to stay enthusiastic. He was about the most positive person I ever met and helped me understand that enthusiasm involves looking past the flaws in the brush strokes and always seeing the beauty in the painting. More recently, Dr. German has helped me see the "and" when others are seeing "or" solutions. Our decisions are often based on subtraction rather than addition or multiplication. My nature is to look for the best option, rather than to look for the best in each option. The simple word "and" is a sort of home base for a good decision-making process.
What advice do you have for other institutional advancement professionals in academic medicine? 
It's tough to offer advice without sounding trite or clichéd. But here goes. As stated above, learn when to swallow hard and always remain enthusiastic. To that, I would add three things. First, focus always on the things that bring you joy. If you're fortunate enough to be somewhere where your highest order work brings you joy, don't ever take that for granted. For me, the joy is in working with benefactors who have a deep desire to help others, to change the world. There will always be internal politics, but my true focus, where my thoughts and where my heart go, is in being with those benefactors and in knowing what this ultimately means for our faculty, students, and patients. Second, love the people around you. You will not always be loved by them, but you always have the means to love them: not necessarily with your emotions, but definitely with your actions. It's no easy thing. I struggle all the time to do it well. And when I succeed, I know that there is nothing better that I could have done. And the final one, always tell the truth. No matter how tough or what the consequences. Yes, it sometimes gets me in a bit of hot water, but my soul is cool and refreshed. I tend to think about character and culture a lot. Peter Drucker said, "Culture eats strategy for breakfast." A tag for that might be "No good character, no good culture."
---

We want to shine the light on you! Please submit information about yourself or share this with another GIA member to help you connect, share stories, and highlight best practices. Learn more here.