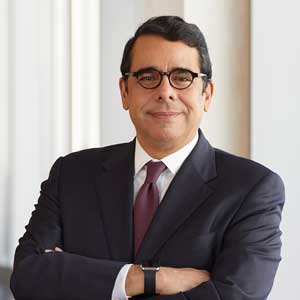 Art Ochoa, He/Him/His
Senior Vice President and Chief Advancement Officer 
Cedars-Sinai
We caught up with Art Ochoa to discover more about him, what he's up to, and what we can learn from him. 
Briefly describe your current role.
I lead our organization's community engagement, development, and health equity efforts. 
Briefly describe your career journey and what led you to institutional advancement in academic medicine. 
While in college, I was involved in small ways in supporting the University's development efforts with alumni. After college, I worked in Washington, DC as a policy analyst and an advocate in the burgeoning National Service movement. I also helped lead a team that received a $1mm grant from the Kellogg Foundation for a novel leadership development program. A million dollars was a lot of money in 1991!
After law school, I returned to my hometown of Los Angeles, CA and worked at two large law firms with a practice focused on large tax-exempt organizations and high net worth individuals. Twenty-two years ago, I took a chance to join a client, Cedars-Sinai, to lead planned giving and oversee charitable gift compliance. Three years later, I ended up as the Chief Development Officer. 
Over the last 18 years, my portfolio has changed, and I've continued to be challenged, but the core part of my role at Cedars-Sinai will always be development. When I came to Cedars-Sinai, we were raising slightly over $20mm a year. This past fiscal year, we closed more than $235mm in gifts. I'm grateful for the opportunities I've had over these more than two decades to support our mission. 
What achievement in your current job are you proud of? 
My role in helping our institution serve the incredibly diverse Los Angeles region through my development, Community Benefit, and health equity leadership roles. This past year, we broke our prior fundraising record, and, at the same time, we provided a record amount of grants to support our community.
What is a challenge that you/your unit/your institution are/is facing and how are you addressing it? 
Across the field, fundraising for academic medicine is being called upon not only to support traditional areas of research and education as well as clinical care, but increasingly also the development team is being asked to help support community health, health equity and other key initiatives. Balancing all of these needs and adjudicating priorities is increasingly complex. I'm proud that our development team at Cedars-Sinai is rising to that challenge without cannibalizing our philanthropic revenue for traditional priorities. 
What is the best career advice you were given and how have you used it? 
Not all of your job duties are created equal. Figure out what the real priorities are and focus on those. Ever since my job right out of college, I've always focused on "keeping the main thing the main thing."
 

We want to shine the light on you! Please submit information about yourself or share this with another GIA member to help you connect, share stories, and highlight best practices. Learn more.