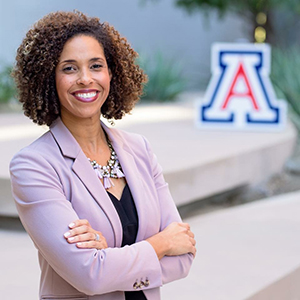 Allison Otu, MBA
Executive Director, Corporate & Community Relations
University of Arizona Health Sciences

We caught up with Allison Otu to discover more about her, what she's up to, and what we can learn from her. Read on.
Briefly describe your current role.
Working for the University of Arizona since 2012, I've held multiple positions leading communications and outreach efforts for the UArizona College of Medicine - Phoenix. Since 2019, I've built fruitful relationships with key stakeholders as the University of Arizona Health Sciences Executive Director for Corporate and Community Relations, now representing our two medical schools in Phoenix and Tucson, Nursing, Pharmacy, and Public Health. My responsibilities include strategic planning and external affairs, helping to grow UArizona partnerships with organizations in the corporate, non-profit, civic, and health care sectors in Phoenix and Tucson and across Arizona. My office acts as the front door to our institution, ensuring our community members can take advantage of resources and ongoing opportunities. I've proudly served on the GIA Steering Committee for four years, and I'm currently the Awards Chair.
Briefly describe your career journey and what led you to institutional advancement in academic medicine.
I was very fortunate to grow up behind the pharmacy counter as my parents owned three pharmacies in downtown Indianapolis. Physicians, patients, and dispensing medicine were a part of my life very early, and I fell in love with the science, patient interactions, and healthcare delivery at a young age. My father loved being a pharmacist, and he used to deliver prescriptions to patients on his way home every day. He would also deliver prescriptions to senior living facilities, and his patients treated him like a celebrity. He was beloved and trusted, and I saw how much they appreciated his time and focus. I'm also grateful to have worked at Phoenix Children's Hospital in public relations for five years, where I truly learned the definition of community engagement and the mission an institution plays to increase health as a community. When the opportunity presented itself to join the University of Arizona College of Medicine - Phoenix in 2012, I was thrilled to be a part of the academic medicine environment focusing on community outreach and communications.
What achievement in your current job are you proud of?
I'm the founder of Connect2STEM, the largest community outreach event in Phoenix showcasing the wonders of Science, Technology, Engineering, Math, and Medicine. We've hosted more than 40,000 youth and families at the University of Arizona College of Medicine – Phoenix over the last six years, and our work has led to extraordinary outcomes. We have a current student who brought her children to Connect2STEM several years in a row, only to recognize her dream of becoming a physician. After talking with medical students and faculty at the event, she decided to apply to medical school.
Connect2STEM 2020 was an extraordinary experience with 9,500+ attendees, 550 volunteers from 100+ local museums, other universities, high school robotics clubs, etc. coordinating 250+ hands-on activities for kids. The event garnered 29.5M media impressions, and we were able to secure $46,000 in sponsorships from nine corporate partners. Additionally, Connect2STEM received top honors winning Gold in the special events category from the AAMC GIA's Awards for Excellence in 2018. I've very proud to have led successful initiatives that have raised the profile of the Phoenix Biomedical Campus and has significantly increased brand equity and visibility of the University of Arizona in Phoenix.
What success have you achieved with limited resources?
Once the pandemic hit and we had a moment to grieve our traditional community engagement work, we started to brainstorm how we can stay connected to our community. Listening to the collective stress everyone was feeling due to the pandemic, we developed a new weekly series called Wellness Wednesdays, a Lunchtime Connection featuring experts from medicine, nursing, agriculture, integrative health, etc. from across our campus and community. Our goals for the series were to decrease stress, increases wellness, and give people control. The series was an instant success, as we registered 2,314 attendees the first 3-months—57% said this was their first University of Arizona Health Sciences event and 93% said the event was excellent or very good.

Surprisingly, connecting with new corporate and community partners reached far beyond our usual stakeholders, reaching 70+ organizations/corporations represented in the first event alone. We learned 15% of those who registered were from outside Arizona and included attendees from Texas, New Jersey, France, Boston, UAE, New Mexico, Virginia, Spain, New Zealand, and Oregon. The series exceeded our expectations, and we recognize if we were hosting a traditional on-campus event, we never would have reached such a wide audience! When we resume our in-person programming, we will continue to utilize the virtual format as well.
What innovation or trend in the field inspires or motivates you?
I'm continuously inspired by our GIA peers! I love learning how an event, campaign, or idea got started as we constantly shift and pivot during challenging times. I appreciate learning and being inspired by the great work across the GIA. In fact, that is top reason I was excited to become the Awards Chair, so I can see more successful projects up close.
What advice do you have for other institutional advancement professionals in academic medicine?
My best advice is to take advantage of the GIA membership by networking with your peers. Because of the relationships through the GIA, I've been able to pressure test ideas and campaigns and learn tools that ultimately saved my institution money and many future headaches for me!
---

We want to shine the light on you! Please submit information about yourself or share this with another GIA member to help you connect, share stories, and highlight best practices. Learn more here.