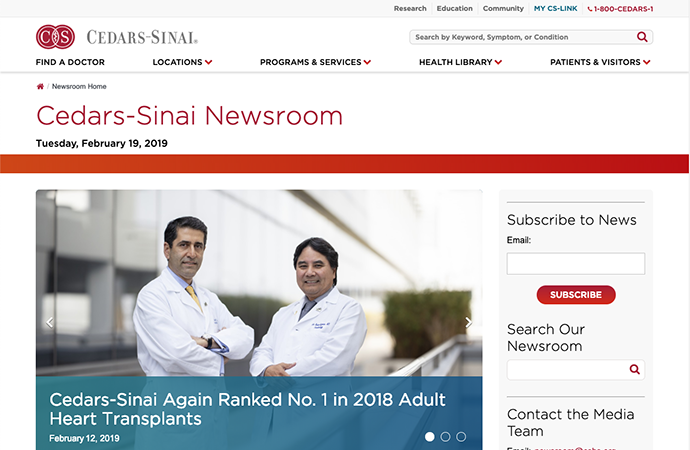 Cedars-Sinai Online Newsroom
Cedars-Sinai
As Cedars-Sinai evolves its public relations program to better compete in the digital media age, it set forth to transform its online newsroom. The Cedars-Sinai expert media team created and launched a visually compelling destination website where journalists and health care consumers could easily access all the headline-making health and scientific news at Cedars-Sinai.
The primary goals for this new communications platform included creating a newsroom that would be a resource for journalists covering health; an online destination for relevant, compelling, and timely health news; and the source for official Cedars-Sinai communications to the public, including patients, community members, donors, and public officials.
Since launching in April 2018, the new Cedars-Sinai Newsroom has been a tremendous success by any measure, with an audience increase of more than 1,000%. The previous news website averaged about 800 unique visits per month, with only 5,438 unique visits in six months. In just the first two weeks of the new Cedars-Sinai Newsroom operation, the site had 5,174 unique visits — as many as the total for the previous six months
on the old site.
Today, the Cedars-Sinai Newsroom averages 11,000 unique visits per month, for a six-month total of more than 65,000 visits. Since the launch on April 16, 2018, there have been more than 65,000 unique visits to the site. And people like what they see — about 25% of visits are return visits.
Transforming Cedars-Sinai's online presence has transformed the entire team. Instead of acting as a team of public relations representatives, they have become a team of journalists employing the written word, photos, and video to chronicle their own narrative. They no longer write press releases — they cover and write stories. They don't depend on a third party to spread Cedars-Sinai news — they do that on their own. Perhaps the most convincing proof that the team has become a team of journalists is that site subscribers now include reporters and producers from top-tier mainstream media outlets, including CNN, The New York Times, Forbes, VICE, and NBC.
Contact
Pattie Cuen, patricia.Cuen@cshs.org