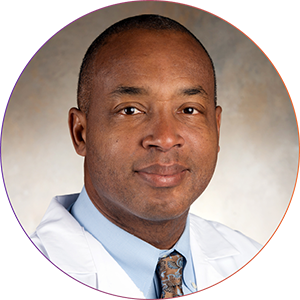 Selwyn O. Rogers, Jr., MD, MPH, FACS
University of Chicago Medicine
Representation matters, as does understanding the importance of ensuring a diverse workforce that reflects the communities it serves. Making an intentional and significant impact to this end in the field of surgery has been a guiding philosophy for Selwyn O. Rogers, Jr., MD, MPH, FACS, founding director of the University of Chicago Medicine Trauma Center.
Dr. Rogers understood the connection between violence, trauma, and negative health outcomes early in his career. During his training at Boston's Brigham and Women's Hospital, he recognized that intentional trauma was disproportionately affecting historically marginalized communities. Realizing that the right approaches and interventions could break the cycle of violence and intentional trauma, he wanted to help as many people as possible by addressing the immediate needs in the trauma bays and operating rooms and understanding the upstream reasons why minorities disproportionately suffered from intentional violence.
To better understand those upstream reasons, he earned his MPH from Vanderbilt University while serving as an on-call trauma surgeon. Then, he returned to Boston to develop a hospital-based violence intervention program to stop the cycle of retaliatory and gang-related violence. He developed a population-based perspective of social determinants of health to better treat vulnerable individuals.
In alignment with his vision, the University of Chicago Medicine Violence Recovery Program works to address the epidemic of violence by providing critical services to victims of trauma via more than 60 community-based social and behavioral health agencies to reduce violence, build resiliency, and save lives.
In 2012, Dr. Rogers became the first African American chair of the department of surgery at Temple University School of Medicine in Philadelphia. In 2014, he became vice president and chief medical officer at the University of Texas Medical Branch in Galveston. Since 2017, he has served as a professor in the department of surgery at UChicago Medicine, where he established the first trauma center operation on the city's underserved South Side and remains committed to ensuring the workforce reflects the community.
Both as a clinician and educator, Dr. Rogers "demonstrates his passion to improve the health care of disadvantaged populations," notes Kenneth Wilson, professor of surgery at UChicago Medicine. Always with an eye to diversifying the health care workforce, "Selwyn continues to successfully mentor a rainbow coalition of residents who go on to become leaders in academic surgery. This new representation in the leadership ranks will continue to transform the field."
Over the course of his career, Dr. Rogers has garnered a number of awards, including the 2010 Harold Amos Faculty Diversity Award and the 2012 Bernard Lown Award for Excellence in Teaching, both from Harvard Medical School. In 2022, he received the Outstanding Mentor Award from the Surgical Section of the National Medical Association.
Dr. Rogers earned a BA, magna cum laude, in biology in 1987 and an MD in 1991, both from Harvard University, and an MPH from Vanderbilt in 2001. He completed residency and a fellowship at Brigham and Women's Hospital in Boston, where he also served as assistant to the surgeon-in-chief staff surgeon.