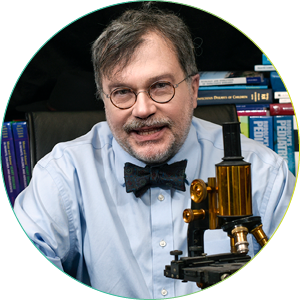 Peter Hotez, MD, PhD
Dean, National School of Tropical Medicine
Baylor College of Medicine
Professor of Pediatrics and Molecular Virology and Microbiology
Co-director of the Texas Children's Center for Vaccine Development (CVD)
Texas Children's Hospital Endowed Chair in Tropical Pediatrics
A renowned vaccine scientist, Dr. Hotez has improved the lives of billions of people through his relentless work to combat some of the most common debilitating diseases around the world. His groundbreaking research, advocacy, and education have led to many breakthroughs, including a "rapid impact package" of medicines to combat neglected tropical diseases — the most common afflictions of the world's poor — and a new low-cost version of a COVID-19 vaccine being tested across India. He also co-leads a team developing some of the first human vaccines for neglected tropical diseases while pioneering the concept of global vaccine diplomacy. Dr. Hotez has published more than 600 scientific papers and is a noted author, having written four landmark books on the geopolitics of disease and poverty.
An elected member of the National Academy of Medicine and the American Academy of Arts and Sciences and the founding dean of the National School of Tropical Medicine at Baylor College of Medicine — the first school in an academic health center devoted exclusively to poverty-related diseases — Dr. Hotez has dramatically transformed public health in the United States and abroad. He pioneered a new framework for mitigating the most prevalent but neglected tropical diseases, including 20 parasitic and bacterial infections.
Dr. Hotez is an outspoken advocate and educator. In 2015 and 2016, he served as U.S. Science Envoy for the State Department and White House under the Obama administration, leading the nation's vaccine diplomacy efforts. He was also the first to shape policies on neglected tropical diseases among people living in poverty in the United States, working across the aisle in Congress to submit legislation to raise awareness of these often-overlooked conditions.
As both an iconic scientist and a parent of a daughter with autism, Dr. Hotez has debunked vaccine-autism myths for years. His work in combatting anti-vaccine lobbying became even more important in 2020-2021 with the spread of COVID-19, and he has been leading efforts to confront anti-COVID-19-vaccine aggression. He continues to work with the National Vaccine Advisory Committee and the Rockefeller Foundation, and he co-leads two Lancet commissions to halt anti-vaccine activities. A leader in health communications, he appears regularly on major news outlets to share information about COVID-19 with the public. His essays on rising anti-science aggression in America and globally have raised awareness of anti-science as a world threat.
Dr. Hotez earned his PhD in biochemical parasitology from Rockefeller University and his MD from Weill Cornell Medical College. After a pediatrics residency at the Massachusetts General Hospital, Dr. Hotez returned to Yale University, where he had earned his undergraduate degree, as a postdoctoral and clinical fellow and, later, as an associate professor. He went on to become professor and chair of the Department of Microbiology, Immunology, and Tropical Medicine at George Washington University and has served as president of the American Society of Tropical Medicine and Hygiene. Peter and Ann Hotez have been married for 35 years and have four adult children.