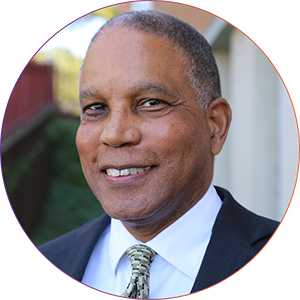 Neil Richard Powe, MD, MPH, MBA
University of California, San Francisco, School of Medicine
Real heroes don't wear capes, but some wear white coats. One of American medicine's most distinguished white-coated champions of health care equity and justice is Neil Richard Powe, MD, MPH, MBA, chief of medicine at the Priscilla Chan and Mark Zuckerberg San Francisco General Hospital and Trauma Center (ZSFG), and vice chair of medicine and Constance B. Wofsy Distinguished Professor at the University of California, San Francisco, (UCSF) School of Medicine.
Dr. Powe began his medical-faculty career at Johns Hopkins University in 1986, and by 1998, he had become the first African American full professor in Hopkins' department of medicine's more than 100-year history.
An advocate for women in science and medicine, Dr. Powe was the founding director and principal investigator for Hopkins' NIH Roadmap Institution K12 and T32 grants, which support women and underrepresented students and faculty. In addition, through a relationship he forged with Howard University, Dr. Powe helped build a pathway for underrepresented students to pursue research training at Hopkins.
In 2009, the UCSF Department of Medicine at ZSFG recruited Dr. Powe to lead San Francisco's flagship public safety-net hospital.
Throughout his stellar career, Dr. Powe "has improved millions of patients' lives and has unified specialty and primary care medicine, bridged clinical, biological and social sciences, translated research into policy, and trained aspiring scholars in health equity research," says Catherine R. Lucey, MD, executive vice chancellor and provost at UCSF.
A leader in the field of health equity and a mentor to scores of learners, Dr. Powe also is a prolific writer, having published more than 500 manuscripts, and serves as a voice for social justice in the practice of medicine and education of clinicians. Dr. Powe has also mentored many diverse academic medicine faculty members, further extending his reach, Lucey says. "Dr. Powe's mentoring has had a ripple effect, amplifying future generations of diverse academic leaders and mentors."
Recognized for his impact in medicine, Dr. Powe has received numerous awards including election to the National Academy of Medicine in 2003, the John Phillips Memorial Award for Outstanding Work in Clinical Medicine from the American College of Physicians in 2021 and the Robert J. Glaser Award for Exceptional Contributions in Research, Education, Leadership and Mentoring from the Society of General Internal Medicine in 2023.
In 2010, Dr. Powe received the Diversity Award from the Association of Professors of Medicine and was named a Master of the American College of Physicians. In 2019, the National Kidney Foundation awarded him its David M. Hume Memorial Award, the highest honor given to a distinguished scientist-clinician in the field of kidney and urologic disease.
Dr. Powe earned a BA, cum laude, in biochemical sciences from Princeton University in 1976. He earned an MD from Harvard Medical School and an MPH in epidemiology from the Harvard School of Public Health in 1981. In 1986, while completing postgraduate residency and fellowship work at the Hospital of the University of Pennsylvania, he received an MBA in health care from the Wharton School of the University of Pennsylvania.