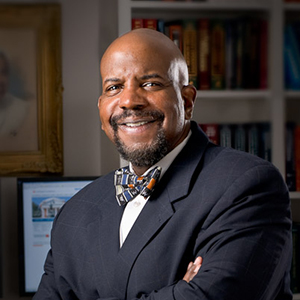 Cato T. Laurencin, MD, PhD
University Professor
Albert and Wilda Van Dusen Distinguished Professor of Orthopaedic Surgery
Professor of Chemical Engineering, Materials Science, and Biomedical Engineering
Chief Executive Officer
The Connecticut Convergence Institute for Translation in Regenerative Engineering
University of Connecticut
Cato T. Laurencin, MD, PhD, has distinguished himself throughout his 40-year career as a phenomenal physician-scientist and a courageous leader in social justice, equity, and fairness.
Through his scholarship and national, regional, and community efforts, Dr. Laurencin has worked to make a difference in the lives of people affected by racial and ethnic health disparities. He co-founded the W. Montague Cobb/National Medical Association Health Institute, which focuses on addressing health disparities. Dr. Laurencin was among the first to publish a peer-reviewed article on COVID-19 and Black Americans and is the founding editor-in-chief of the Journal of Racial and Ethnic Health Disparities, now in its seventh year.
Dr. Laurencin has mentored more than 200 scientists- and physicians-in-training, many from minority groups underrepresented in medicine, and has founded several programs and initiatives to improve diversity in medicine and science. At UConn, those include the Young Innovative Investigator Program for Black and Latino students and the UConn Presidential M-1 Mentoring Program, where senior faculty mentor minority students and junior faculty.
"Mentoring has been a way of life for me," he says. He has received many accolades, including the inaugural Beckman Award for Mentoring, the American Association for the Advancement of Science Mentor Award, the Alvin Crawford Mentoring Award, and the Presidential Award for Excellence in Science, Math and Engineering Mentoring from President Barack Obama in ceremonies at the White House.
Dr. Laurencin is also an outstanding administrator, and previously served as dean of the UConn School of Medicine and vice president of health affairs at UConn. An award-winning practicing orthopaedic surgeon, he has been named to America's Top Doctors for more than 15 years. Dr. Laurencin is an extraordinary scientist, whose research has yielded more than 500 publications and patents. A University Professor at the University of Connecticut, he is the first person in history to win both the oldest and highest award of the National Academy of Medicine, the Walsh McDermott Medal, and the oldest and highest award of the National Academy of Engineering, the Simon Ramo Founders Award. President Obama presented the 2016 National Medal of Technology and Innovation to Dr. Laurencin — America's highest award for technological achievement.
Dr. Laurencin completed his BSE in chemical engineering at Princeton University; his MD, magna cum laude, at Harvard Medical School; and his PhD in biochemical engineering/biotechnology at the Massachusetts Institute of Technology. He completed residency at the Harvard Combined Orthopaedic Surgery Program, where he served as chief resident of Beth Israel Hospital. Dr. Laurencin completed a fellowship in shoulder surgery and sports medicine at the Hospital for Special Surgery, Cornell University Medical Center, in New York.