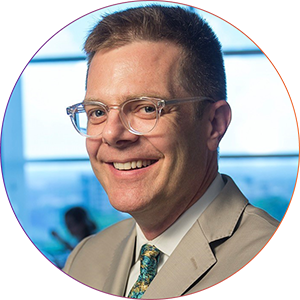 James Earl Crowe Jr., MD
Vanderbilt Vaccine Center, Vanderbilt University School of Medicine
As the novel coronavirus that emerged in 2019 made all too clear, there are numerous pathogens circulating and mutating in the environment that can threaten human health. But one researcher has leveraged a deep understanding of the actions and responses of pathogens and the human immune system – along with a lifelong commitment to ending deaths from infectious diseases – to make major contributions to the fields of immunology, microbiology, pathology, and public health.
Over the course of his biomedical research career, James Earl Crowe Jr., MD, a professor of pathology, microbiology, and immunology and university-distinguished professor of pediatrics and chemistry at the Vanderbilt University School of Medicine, has developed antibody treatments for a broad range of pathogens including avian and swine influenza strains, Ebola, smallpox, mpox, chikungunya, dengue, equine encephalitis viruses, Zika, and, most recently, the SARS-CoV-2 virus that led to the global COVID-19 pandemic.
Jennifer Pietenpol, PhD, executive vice president for research at Vanderbilt University Medical Center, notes that Dr. Crowe has "delineated the structural and genetic basis for direct virus neutralization for nearly every major pathogenic virus family that affects humans and has identified potentially neutralizing antibodies against these viruses."
In a triumph of translational medicine, Crowe and his laboratory colleagues used their theoretical work to develop drugs that have already saved lives, including the long-acting antibody prevention regimen, Evusheld. A combination of two human-monoclonal antibodies (tixagevimab and cilgavimab), Evusheld was granted FDA Emergency-Use Authorization from December 2021 to January 2023 to protect immunocompromised people from COVID-19 infection. Though the medication has been deemed ineffective against the most recent variants of the SARS-CoV-2 virus, early on, it was a game changer, to the degree that Evusheld was named to TIME magazine's list of "The Best Innovations of 2022."
Dr. Crowe has received a number of awards during his career, including the Stanley J. Korsmeyer Award from the American Society for Clinical Investigation in 2017 and the Golden Goose Award for scientific contributions with great societal benefit from the American Association for the Advancement of Science in 2020. In 2022, Dr. Crowe received an R&D 100 Award and an R&D 100 Gold Medal in the COVID-19 special recognition category from the R&D 100 Awards, the so-called "Oscars of Innovation."
Dr. Crowe earned a BS, magna cum laude, in 1983 from Davidson College in Davidson, North Carolina, and an MD in 1987 from the University of North Carolina at Chapel Hill School of Medicine. He completed a pediatric internship and residency at NC Memorial Hospitals at UNC Chapel Hill in 1990 and was a medical staff fellow and senior research investigator in the respiratory viruses section of the Laboratory of Infectious Diseases at the National Institute of Allergy and Infectious Diseases through 1995. He also completed a clinical fellowship in the division of pediatric infectious disease at Vanderbilt University Medical Center in Nashville, Tennessee, in 1996.
LEARN MORE ABOUT THE AWARD FOR DISTINGUISHED RESEARCH IN THE BIOMEDICAL SCIENCES