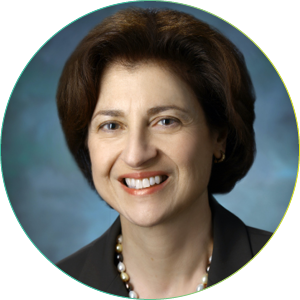 Suzanne L. Topalian, MD
Bloomberg-Kimmel Professor of Cancer Immunotherapy
Professor of Surgery and Oncology, Johns Hopkins University School of Medicine
Director, Melanoma Program, Sidney Kimmel Comprehensive Cancer Center
Associate Director, Bloomberg-Kimmel Institute for Cancer Immunotherapy
With a career spanning over four decades, National Academy of Medicine member Dr. Topalian has contributed groundbreaking research and opened new avenues of scientific investigation in cancer immunology. Her contributions extend well beyond her lab at John Hopkins, establishing immunotherapy as a pillar of oncology around the world. Her research has resulted in the unprecedented development and regulatory approval of drugs for over a dozen different cancers — benefiting countless patients and their families.
Dr. Topalian's research focuses on manipulating immune checkpoints in cancer therapy, including the inhibitory receptor programmed cell death-1 (PD-1) and its major ligand, programmed death-ligand 1 (PD-L1). After designing a small first-in-human trial, Dr. Topalian led a team at the Johns Hopkins Kimmel Cancer Center in a global effort that established immunotherapy as a viable method of cancer treatment alongside surgery, chemotherapy, and radiation therapy. Her leadership in both the clinical application and the correlative science in these trials demonstrated that blocking PD-1/PD-L1 can effectively reverse tumor immune suppression and mediate the durable regression of multiple types of advanced cancers.
After Dr. Topalian's research was published in the New England Journal of Medicine (NEJM) in 2012, it quickly gained global attention. Her work prompted several major drug companies to devise agents that block PD-1/PD-L1, and over 1,000 clinical trials testing anti-PD-1/PD-L1 antibodies have been initiated since the seminal publication.
Dr. Topalian led the effort to discover the clinical relevance of an immunohistochemistry (IHC) test for expression of PD-L1 in pretreatment tumor biopsies. Her team defined PD-L1 IHC as a potential biomarker for clinical response by correlating test results with patient outcomes. These results were also published in the NEJM in 2012, and since then, several commercial PD-L1 IHC diagnostic tests have been developed and approved to guide patient selection for anti-PD-L1 therapy in certain cancer types.
In recognition of her work, Dr. Topalian was named one of Nature's "Ten People Who Mattered This Year" in 2014, earned the Karnofsky Award from the American Society of Clinical Oncology in 2015, was elected to the American Association of Physicians in 2016, and received the 2016 Taubman Prize for landmark discoveries in immunotherapy.
Dr. Topalian earned her MD from Tufts University School of Medicine in 1979 and completed her residency in general surgery at the Thomas Jefferson University Hospital. She undertook a fellowship in the Surgery Branch of the National Cancer Institute in 1985 and continued to work there as a senior investigator for nearly two decades. In 2006, she joined Johns Hopkins to lead the Melanoma Program in the Sidney Kimmel Comprehensive Cancer Center. Dr. Topalian has over 140 peer-reviewed publications and is one of the most highly cited researchers in the biomedical field.
LEARN MORE ABOUT THE AWARD FOR DISTINGUISHED RESEARCH IN THE BIOMEDICAL SCIENCES