The 2023 Alpha Omega Alpha Robert J. Glaser Distinguished Teacher Award recipients are Lisa M. Bellini, MD, Neil Osheroff, PhD, Dimitrios Papanagnou, MD, MPH, and Karen Szauter, MD, MACP.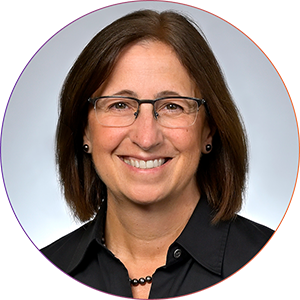 Lisa M. Bellini, MD
Perelman School of Medicine at the University of Pennsylvania
Lisa M. Bellini, MD, senior vice dean for academic affairs and professor of medicine at the Perelman School of Medicine (PSOM) at the University of Pennsylvania, has served the PSOM community for nearly 30 years as an exceptional educator and mentor.
J. Larry Jameson, MD, PhD, dean of PSOM and former chair of the AAMC Board of Directors, says that Dr. Bellini is "one of the most influential and effective medical educators within the institution and perhaps the single-most influential and effective among them."
During her three decades at PSOM, Dr. Bellini has served in a variety of roles, including program director of the internal medicine residency program and vice chair of education for the Department of Medicine. In that position, she oversaw all medical student programs and raised the quality of the core clerkship and sub-internship such that they were among the highest-rated courses in the school.
A practicing pulmonologist, Dr. Bellini is also a sought-after mentor for medical students and residents interested in pulmonary medicine, and she is widely revered for her ability to engage with students and nurture their passion for patient care.
Dr. Bellini's contributions to the field of medical education are not limited to the PSOM community: her national contributions include nearly 80 peer-reviewed papers in high-impact journals. Among her most notable research work was the iCOMPARE study, the largest randomized trial in graduate medical education history. Funded by the National Heart, Lung, and Blood Institute, that trial examined patient safety, educational, and sleep and alertness outcomes of interns exposed to standard duty hours versus more flexible duty hours; the findings led to national policy changes from the Accreditation Council for Graduate Medical Education.
A thought leader in the faculty-development space, Dr. Bellini has advocated for additional support for faculty in medical education leadership roles and the evolution of the role of faculty. In her 2020 paper, "The Definition of Faculty Must Evolve: A Call to Action," Dr. Bellini explored how academic medical centers are evolving and how faculty must adapt to that changing landscape to support the dynamic educational needs of future physicians.
Throughout her distinguished career, Dr. Bellini has won numerous teaching awards, including the university-wide Lindbeck Award for Distinguished Teaching in 2014 and the Association of Program Directors in Internal Medicine Dema Daley Award for lifetime contributions to medical education in 2016. In 2008, the Alliance of Academic Internal Medicine recognized her with its Lifetime Achievement Award. She was conferred Mastership with the American College of Physicians in 2019.
Dr. Bellini earned a BA from the University of Vermont in 1985 and an MD, cum laude, from the University of Alabama at Birmingham Marnix E. Heersink School of Medicine, in 1990. She completed postgraduate training and fellowship appointments at the Hospital of the University of Pennsylvania and the Perelman School of Medicine and joined the faculty of the PSOM in 1996.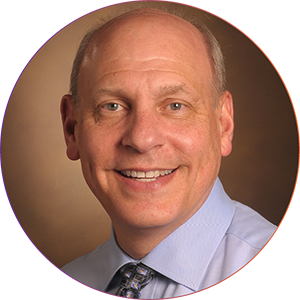 Neil Osheroff, PhD
Vanderbilt University School of Medicine
Through his research, Neil Osheroff, PhD, professor of biochemistry and medicine at Vanderbilt University School of Medicine (VUSM), has devoted himself to unraveling the complexities of the tiniest elements of DNA. Through his teaching, he has helped medical students across the globe thrive thanks to this innovative approach to basic science education.
Dr. Osheroff came to VUSM in 1983 and since then, he's expanded his work to support students in acquiring the basic science skills and knowledge they need to thrive in clinical practice. Dr. Osheroff leads the Master Science Teachers (MST) cohort, a role established in 2007 to recognize VUSM's outstanding basic science educators. When the school adopted Curriculum 2.0 in 2013, the MST took on new responsibilities, including reviewing all integrated science courses for third- and fourth-year students. Dr. Osheroff co-led efforts to create a highly innovative and integrated pre-clerkship curriculum and a new introductory basic science course.
Dr. Osheroff's efforts have contributed to a revised curriculum that meets the needs of undergraduate medical students today and will remain relevant in the future. Jeffrey Balser, MD, PhD, president and CEO of Vanderbilt University Medical Center and dean of VUSM, says, "The success of VUSM's core UME programs would not be possible without Dr. Osheroff."
Dr. Osheroff has extended his reach in supporting faculty and developing curricula well beyond the campus of VUSM and has consulted with many schools nationally and internationally including the University of Michigan Medical School, Ben Gurion University of the Negev Medical School for International Health, and the University of California, Los Angeles, David Geffen School of Medicine. He serves as a member of an expert panel for the Centre for Medical Education (CenMED) at the National University of Singapore Yoon Loo Lin School of Medicine and has been a visiting professor at the University of Aarhus in Denmark and St. George's University School of Medicine in Grenada.
As part of a USAID capacity-building grant, Dr. Osheroff was a member of a VUSM faculty team that assisted the University of Liberia School of Medicine in transforming its curriculum. He acted as a basic science advisor, presenting virtual workshops on curriculum integration and team teaching, traveling to Monrovia to coach faculty in person and helping develop team- and case-based learning blocks.
Over his notable 40-year career, Dr. Osheroff has earned numerous honors and accolades including the Elaine Sanders-Bush Excellence in Teaching Award from VUSM in 2002. He was one of the inaugural recipients of VUSM's Denis O'Day Excellence in Teaching Award for his curricular work in 2016. Among other recognitions, Dr. Osheroff was elected as a fellow in 2018 to the American Association for the Advancement of Science for distinguished contributions to the fields of DNA topology and enzymology, anti-cancer and antibacterial drug mechanisms and teaching, leadership, and curricular innovation in medical education. Dr. Osheroff earned a BA, cum laude, in chemistry in 1974 from Hobart College and a PhD in biochemistry and molecular biology from Northwestern University in 1979.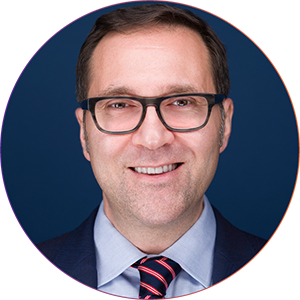 Dimitrios Papanagnou, MD, MPH
Sidney Kimmel Medical College at Thomas Jefferson University
As an emergency medicine physician, Dimitrios Papanagnou, MD, MPH, EdD(c), sees up close the influence of the social determinants of health on those seeking urgent and emergent medical care. This insight has deeply informed Dr. Papanagnou's work, both as a clinician and as an educator determined to help students better serve their diverse patients.
Because of his interest in improving equity in health care and his extensive background in public health, patient safety, and medical education, Dr. Papanagnou was selected to become the director of Health Systems Science (HSS) at the Sidney Kimmel Medical College (SKMC) at Thomas Jefferson University, in 2019. At SKMC, HSS has provided curricular space to address such important conversations as systemic racism, gender identity, disability, reproductive health, and other social and political determinants of health. Since he accepted the position, HSS has also focused on preparing students to navigate diagnostic uncertainty and uncertainty in clinical practice.
"While other schools may address these issues extracurricularly, Dr. Papanagnou's structural design of HSS and his ability to seamlessly incorporate current events into coursework allows us to address these conversations in formal curricula," says Karen Novielli, MD, vice dean for faculty affairs and professional development at SKMC.
In addition, Dr. Papanagnou serves as co-director of medical education (MedEd) scholarly inquiry (MedEd SI), which trains students to conduct education-based scholarship. Projects developed through the program are presented annually at the AAMC Northeast Group on Educational Affairs and Learn Serve Lead conferences. They have also been published in Academic Medicine and MedEdPORTAL.
Dr. Papanagnou has served as associate dean for faculty development at SKMC since 2014. In that role, he and his team designed a conceptual framework that provides a long-range view of how faculty can continually grow to improve student outcomes.
Across his career, Dr. Papanagnou has received multiple accolades and awards. Prior to arriving at SKMC, he was selected as Emergency Medicine (EM) Educator of the Year at SUNY Downstate in 2011. At SKMC, he received the EM Outstanding Clinician Educator of the Year Award in 2015 and 2016 and the SKMC Dean's Award for Excellence in Education in 2016. In 2018, he was named a Gold Humanism Scholar by the Arnold P. Gold Foundation for his work on emergency department wellness initiatives. In 2020, he was selected to be a Macy Faculty Scholar by the Josiah Macy Jr. Foundation, and in 2022, he was named a Diagnostic Excellence Scholar by the National Academy of Medicine.
Dr. Papanagnou earned a BS in biomedicine from the accelerated Sophie Davis School of Biomedical Education at the City University of New York in 2002, and an MPH from the Mailman School of Public Health at Columbia University in 2004 as a Josiah Macy Jr. Scholar. He earned an MD from NYU School of Medicine in 2005. He will defend his dissertation in spring 2024 and earn an EdD from Teachers College, Columbia University Graduate School of Education.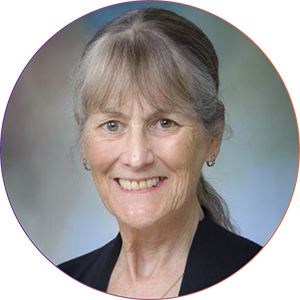 Karen Szauter, MD, MACP
University of Texas Medical Branch, John Sealy School of Medicine
Though she initially dreamed of a career in theater, Karen Szauter, MD, MACP, professor at the University of Texas Medical Branch (UTMB) John Sealy School of Medicine in Galveston, abandoned that goal early on. However, she believes her love of the arts has helped her become the academic medicine educator she is today. During a 2021 conversation on the "Recipes for Residency" podcast, she told host Austin Mefford, "There are actually many parallels between the discipline and art that goes into theater and the discipline and art that goes into medicine," including the need for teamwork and continual growth and improvement.
An interest in tropical medicine eventually led her to gastroenterology and primary care for patients with GI needs. Ensuring that her students are well equipped to provide the best care possible has helped her become a key, respected figure at UTMB.
Convinced that direct experience is the best teacher, Dr. Szauter's primary contributions have included hands-on learning activities to help students gain as much knowledge as possible while in medical school. Emphasizing creative teaching and assessment approaches to clinical training, Dr. Szauter mentors up to 20 students per year on abstract writing, poster preparation, and other elements of presentation and publication. For the past 15 years, Dr. Szauter has been co-director of the three-year internal medicine clerkship, introducing new opportunities to support student learning and skills building to help ease students' transition into residency. She has also mentored more than 30 faculty members via the Scholars in Education Program.
"Throughout over 30 years at UTMB, Dr. Szauter has demonstrated her passion and commitment to undergraduate medical education," says Jeffrey L. Susman, MD, interim dean and senior associate dean for Educational Performance at the John Sealy School of Medicine at UTMB. "Her dedication to medical education made her a natural choice to be inducted to UTMB's inaugural class of the Academy of Master Teachers (AMT) in 2007, and to receive the ATM's Lifetime Achievement Award 10 years later."
Beyond UTMB, Dr. Szauter has served as chair of the AAMC Group on Educational Affairs and the Grants and Research Committee of the Association of Standardized Patient Educators. She led the Clerkship Directors in Internal Medicine Survey and Scholarship Committee and has co-chaired the Education Committee of the Kenneth I. Shine, M.D., Academy of Health Science Education at the University of Texas. In 2022, she was elected a Master to the American College of Physicians.
Szauter earned a BA in psychology in 1979 and an MD in 1983, both from Case Western Reserve University. She completed postgraduate training at the Francis Scott Key Medical Center (formerly Baltimore City Hospital) in 1986. She completed a fellowship in gastroenterology in 1989 at Cleveland Metropolitan General and another in nutrition at St. Vincent Hospital & Health Center in Cleveland in 1990. She joined the faculty at UTMB in 1990.
LEARN MORE ABOUT THE ALPHA OMEGA ALPHA ROBERT J. GLASER DISTINGUISHED TEACHER AWARD