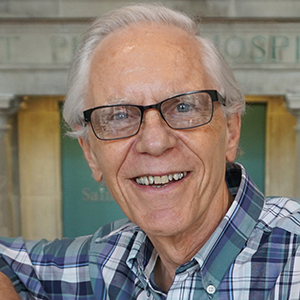 John W. Bigbee, PhD
Professor, Department of Anatomy and Neurobiology
Virginia Commonwealth University School of Medicine (VCU)
Over three decades, John W. Bigbee, PhD, professor, Department of Anatomy and Neurobiology at VCU, has developed a reputation as an innovative and enthusiastic educator.
Dr. Bigbee is well-known among VCU medical, graduate, and dental students for his passion for teaching histology. Throughout his career, he has spent countless hours developing innovative materials and original images to use in teaching students about the microscopic anatomy of tissues. Recognizing changes to educational laboratory environments and the power of technology in the 1990s, Dr. Bigbee and colleague Alice Pakurar, PhD, led an ambitious project to create what he describes as an "interactive digital atlas" of more than 1,200 histology images and illustrations and associated learning materials. First engineered on CD-ROM in 1998, Digital Histology is now available as an open educational resource for histology learners around the globe.
Dr. Bigbee's dedication to his learners is also evident from the awards they have bestowed on him, including 27 Outstanding Teaching Awards in many courses, including histology, cardiovascular disease, physiology, endocrinology, and pathology. VCU awarded him its highest mentoring award in 1999 and the 2002 VCU Award for Innovating Excellence in Teaching, Learning and Technology. In 1994, he received the Gender Equity Award from the American Medical Women's Association. Dr. Bigbee has served as a primary mentor for 17 PhD, MD-PhD, and master's students and, for more than a decade, as a judge for the Richmond Metro Science Fair and the Virginia Junior Academy of Sciences. He has authored 58 peer-reviewed articles and nine book chapters in the field of neuroscience and serves as the neuroscience graduate program director at VCU.
Dr. Bigbee received his PhD in neurobiology from Stanford University and completed his undergraduate education and master's degree in biology at Humboldt State University. He completed a postdoctoral fellowship in the Department of Biochemistry at VCU.
Learn more about the Alpha Omega Alpha Robert J. Glaser Distinguished Teacher Award