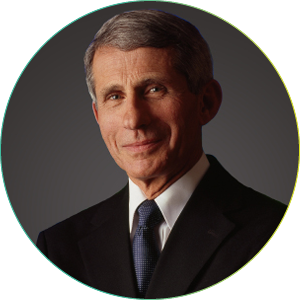 Anthony S. Fauci, MD
Director
National Institute of Allergy and Infectious Diseases
Appointed director of the National Institute of Allergy and Infectious Diseases (NIAID) in 1984, Dr. Fauci has served as a trusted advisor to seven presidents on domestic and global health issues, most notably the AIDS epidemic of the 1980s and the COVID-19 pandemic. While the academic medicine community has long revered Dr. Fauci's skill and expertise as a physician-scientist and immunologist, Dr. Fauci's commitment to scientific integrity and public health during the COVID-19 pandemic especially earned him the respect of millions across the globe. Despite balancing a grueling schedule, he continues to be available to the public and the academic medicine community, sharing the latest evidence and offering support to teaching hospitals and health systems in their care of the more than 30 million COVID-19 cases nationwide. Additionally, the mRNA vaccines for COVID-19 are a direct result of the decades of research supported and advanced by the National Institutes of Health, and the NIAID specifically, under Dr. Fauci's leadership.
Dr. Fauci has a long career as chief of the Laboratory of Immunoregulation, where he helped pioneer the field of human immunoregulation by making important basic scientific observations underpinning the current understanding of the regulation of the human immune response. Dr. Fauci is also one of the principal architects of the U.S. President's Emergency Plan for AIDS Relief, a program that has saved over 20 million lives, and he remains committed to preventing and controlling the HIV/AIDS epidemic throughout the developing world. Having made seminal contributions to understanding immunopathogenic mechanisms of HIV infection and the scope of the body's immune responses to HIV, Dr. Fauci has been instrumental in developing treatments that enable individuals diagnosed with HIV to live long and active lives.
Dr. Fauci is a member of many professional societies and associations, including the National Academy of Sciences, National Academy of Medicine, American Academy of Arts and Sciences, and American Philosophical Society, as well as the American College of Physicians, American Society for Clinical Investigation, Association of American Physicians, Infectious Diseases Society of America, American Association of Immunologists, and American Academy of Allergy, Asthma & Immunology. He serves on the editorial boards of many scientific journals and has authored or edited more than 1,300 scientific publications, including several textbooks.
Dr. Fauci received his medical degree from Weill Cornell Medicine, formerly known as Cornell University Medical College. Following his medical residency at New York Hospital-Cornell Medical Center (now NewYork-Presbyterian/Weill Cornell Medical Center), Dr. Fauci became a clinical associate with the National Institutes of Health.