New section
Yvonne Massenburg

, MBA
Chief Human Resources Officer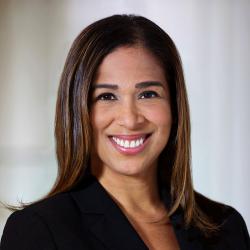 Yvonne Massenburg oversees the recruitment and retention efforts of more than 650 AAMC employees.
Yvonne Massenburg leads human resources for the AAMC's more than 650 employees, overseeing talent management, leadership development, compensation and benefits, employee relations, and other HR functions. She rejoined the AAMC in 2015 after serving as director of talent management from 2012 to 2013. 
Ms. Massenburg has more than 25 years of professional experience. For most of her career she has worked in human resources management, leading HR functions and strategic organizational initiatives such as employee engagement and organizational redesign, specializing in organizational development and talent management. She has also worked in consulting, marketing and sales. Before rejoining the AAMC, Ms. Massenburg served as head of human resources for Bates White LLC, and previously held leadership positions at Abbott Laboratories, Eli Lilly & Company, PricewaterhouseCoopers, and TRW Inc. She earned her BA from Hampton University and her MBA from Purdue University.