New section
Marc Levy

, MBA
Chief Information Officer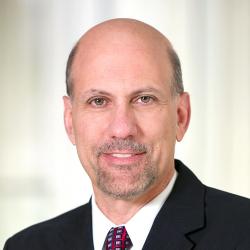 Marc Levy leads the AAMC's information technology team and guides long-term strategic plans to improve the association's technological capabilities.
Marc Levy leads the AAMC's Information Technology (IT) unit in executing long-term strategic plans in support of the AAMC and its member institutions. In this role, he enhances and implements IT governance processes to ensure timely, cost-effective, and high-quality applications and infrastructure. 
Mr. Levy joined the AAMC in 2016 after a long career with Marriott International, where he served in various leadership positions, including chief architect, vice president of enterprise transformation programs, and vice president of application development and support. Prior to Marriott, he was IT director of corporate systems at Bell Atlantic (now Verizon) and led research and development and systems integration efforts for several government agencies and commercial clients at Booz Allen Hamilton and TRW (now Northrop Grumman).  
Mr. Levy earned his BS in computer science with honors from the University of Maryland, his MS in computer science from the Johns Hopkins University, and his MBA from the University of Maryland Robert H. Smith School of Business.