New section
Jennifer M. Schlener
Chief of Staff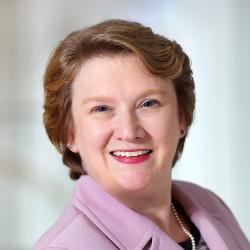 Jennifer M. Schlener, chief of staff, enhances the strategic alignment of work across the AAMC.
As chief of staff at the Association of American Medical Colleges (AAMC), Jennifer M. Schlener supports and serves the President and CEO in his role in leading the AAMC to advance the mission of the AAMC.  As a member of the Leadership Team, she champions and supports the implementation of the AAMC's strategic plan and organization-wide efforts. 
Serving as an advisor on governance matters, she is responsible for the work of the Governance, Nominating, and Leadership Development committee of AAMC's Board of Directors.  She has spoken nationally on governance matters, including executive compensation, the imperative for board assessment, and continuous board improvement. 
In her executive role, she oversees the functioning of the office of the president, which includes the AAMC's strategy and innovation development function and internal audit function.  Her team supports the President and CEO, the work of the Board of Directors, the effective functioning of the executive Leadership Team, the association's presidential awards program, and internal executive searches.  She drives and champions the alignment of culture, strategy, and leadership, and facilitates, and provides leadership to internal organizational development activities. 
She is a highly rated speaker nationally, an expert facilitator of strategic and organizational development retreats, and is a certified trainer of Crucial Conversations and Crucial Accountability.
Prior to joining the AAMC in 2007, Ms. Schlener worked at Penn State University for seven years, last serving as the Director of Development & Alumni Relations for Health Affairs at Penn State Hershey Medical Center and College of Medicine.  She began her career as a development and alumni relations professional at her alma mater, Franklin & Marshall College, in Lancaster, PA.  Ms. Schlener is the Vice Chair of the Board of Directors of Physicians for Peace; a member of the Board of Directors of National Medical Fellowships; a member of Franklin & Marshall College's Leadership Council; and she served as a past board member of the American Heart Association – Lancaster Division, Ephrata Performing Arts Center, and Hershey Area Playhouse.