New section
Bernard K. Jarvis

, MBA, CPA
Chief Financial and Administrative Officer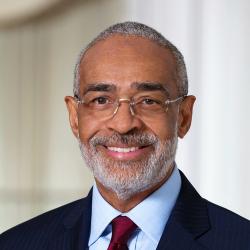 Bernard K. Jarvis oversees all financial and administrative operations at the AAMC and stewards its resources to fulfill the association's missions.
As chief financial and administrative officer, Bernard K. Jarvis, MBA, CPA, oversees all the AAMC financial operations, which include the accounting, business services, financial systems, procurement and budget functions. As the association's financial steward, Mr. Jarvis ensures that the association has adequate resources to carry out its mission. He also is responsible for the AAMC operating and capital budgets, the investment portfolio, and real estate and facilities. 
Mr. Jarvis brings his experience with local government, university administration, nonprofit organizations, and private banking to his role at the association. Previously, he held executive positions with the Joint Center for Political and Economic Studies, U.S. Trust Company, NA, The Summit Charitable Foundation, Howard University, the District of Columbia's Department of Human Services, and Ernst & Young. He earned his MBA from The Wharton School of the University of Pennsylvania and his BA from Morehouse College. Mr. Jarvis is a certified public accountant.