Current Spotlight: Bernard P. Chang, MD, PhD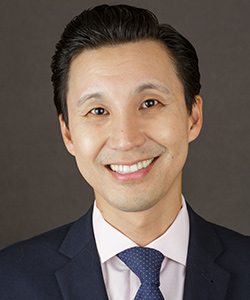 Bernard P. Chang is the Vice Chair of Research and Associate Professor in the Department of Emergency Medicine at Columbia University. Trained as a psychologist and an emergency physician, he has become a national leader on patient and clinician mental health. As an investigator, he has pioneered the relationships between psychological health and physical health, publishing on the impact of clinician burnout on cardiovascular health in providers. His research on clinician mental health has been supported at the institutional, state, and federal level, and he is currently the Principal Investigator of one of the nation's largest longitudinal studies on emergency clinician long-term psychological and physical health. His advocacy for clinician well-being has also driven his advocacy efforts at the state and national level. As a member of the Board of Directors at American College of Physicians, New York Chapter, he has helped stimulate efforts aimed at supporting clinician mental health, while his committee work on ACEP and SAEM has focused on highlighting the need for clinician psychological support. He received his PhD from Harvard in psychology, his MD from Stanford and completed his Emergency Medicine residency training at the Harvard Affiliated Emergency Medicine Residency at Massachusetts General Hospital and Brigham and Women's Hospital. Prior to going to medical school, he served as a professional sailboat captain and crew doing yacht deliveries internationally.
To learn more, download Dr. Chang's ROCC Star Profile (PDF).
Webinar: Clinician Well-Being and Resilience: What the Data Show and How We Move Forward
As the COVID-19 public health emergency continues, academic clinicians face unique challenges as they juggle clinical, research, and administrative stressors. In this webinar, Dr. Chang discussed the body of research on the results of stress on mental and physical health, and the impact of the COVID-19 pandemic on clinician well-being. Dr. Chang also highlighted steps academic health centers can take to mitigate the negative impacts of stress across clinical, research, and educational missions. 
---
Past ROCC Spotlights
|   |   |
| --- | --- |
| Susan Moffatt-Bruce, MD, PhD | Consuelo Wilkins, MD, MCSI |
| Denise White-Perkins, MD, PhD | Ted Wun, MD |
| Jeffrey A. Gold, MD | Amy Abernethy, MD, PhD |
| Simon Mahler, MD, MS | Wendy Lane, MD, MPH |
| Melissa Arbuckle, MD, PhD | Matthew Hudson, MD, MPH |
| Pamela W. Duncan PhD, FAPTA, FAHA | Yoshimi Anzai, MD, MPH |
| Jennifer Lee, MD, FACP | Elizabeth Crabtree, MPH, PhD (c) |
| Michael B. Rothberg, MD, MPH | Eric Bass, MD, MPH |
| Thomas McGinn, MD, MPH | Amy M. Kilbourne, PhD, MPH |
| Melanie Spencer, PhD, MD | Sengwee Darren Toh, ScD |
| Kensaku Kawamoto, MD, PhD, MHS, FACMI | Ronald M. Przygodzki, MD |
| Roberto Cardarelli, DO, MHA, MPH | Leslie H. Curtis, PhD |