Evaluating the Impact of Medical-Legal Partnerships on Health and Health Inequities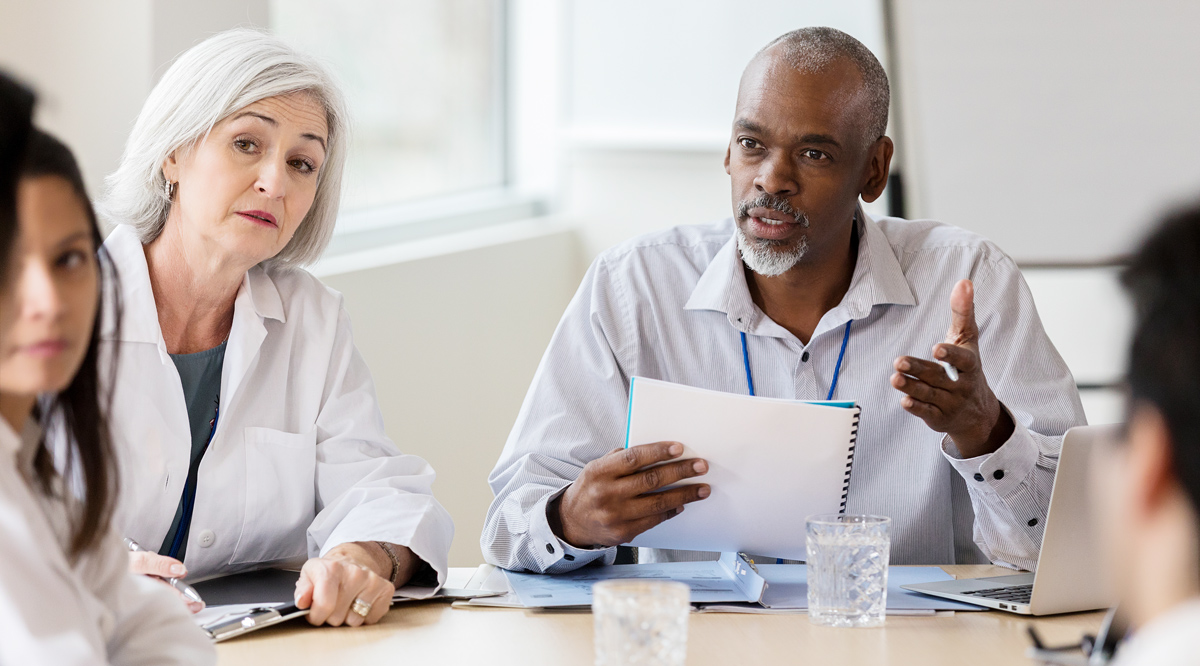 A medical-legal partnership (MLP) is a health care delivery model that formally includes lawyers on a care team to address legal issues that drive poor health and contribute to population health inequities. These issues might include substandard housing, lacking access to insurance, or unstable guardianship.
As part of an MLP, health systems, hospitals, and clinics work with attorneys to screen patients for health-related social and legal needs, intervene with legal counsel where necessary, communicate and share data, and jointly set priorities that reflect the partnership's mission.
MLPs and the Social Determinants of Health
The health care system is increasingly tackling the complex social conditions that create unhealthy communities. As part of a collaborative intervention through an MLP, attorneys play a special role in this work; they steer patients through the federal, state, and local policies and laws linked to the intractable social problems they face.
About the AAMC Medical-Legal Partnership Evaluation Cohort
The number of MLPs has soared over the past decade along with their potential effect on community health and health inequities. Evaluations of their impact are rare, however.
In a 2015 competitive award process, the AAMC selected MLPs at three member institutions to address that gap.
The Healthy Together MLP (a collaboration of the Children's National Health System and the Children's Law Center), the Health Law Partnership (a collaboration of Children's Healthcare of Atlanta, Georgia State University College of Law, and the Atlanta Legal Aid Society), and the Indiana University School of Medicine–Eskenazi Health Medical-Legal Partnership developed and implemented metrics to evaluate the impact of MLPs on:
Patient and community health and health inequities;
Cost savings, institutional benefits, and efficiencies; and
Student, resident, and fellow educational outcomes.
 
The resources below emerged from this three-year project. Explore and use them to develop your AAMC-member institution's MLP evaluation.
Tools, Resources, and Publications
The Accelerating Health Equity, Advancing through Discovery (AHEAD) Medical-Legal Partnership Learner Pre/Post Survey includes a core set of questions used to examine the effect—on staff member knowledge, attitudes, and beliefs—of various types of education about social determinants of health and medical-legal partnerships.
The survey design supports the evaluation of four Entrustable Professional Activities and six General Physician Competencies and applies across different educational intervention models or intensities, including learners in various health professions.
---
The AHEAD Medical-Legal Partnership Patient and Community Health Pre/Post Survey provides a core set of questions that assess the impact of legal interventions on a patient's perception of her health and the quality of services receives from an MLP. The survey is designed for broad applicability across different intervention models and describes specific administration instructions for the pre- and post- surveys in detail.
AAMC AHEAD 2015: Medical-Legal Partnerships is supported by the Association of American Medical Colleges and the Cooperative Agreement Number U36OE000004 from the Centers for Disease Control and Prevention, Center for Surveillance, Epidemiology, and Laboratory Services.