What is Community Engagement?

According to CDC, community engagement is "the process of working collaboratively with and through groups of people affiliated by geographic proximity, special interest, or similar situations to address issues affecting the well-being of those people. It is a powerful vehicle for bringing about environmental and behavioral changes that will improve the health of the community and its members. It often involves partnerships and coalitions that help mobilize resources and influence systems, change relationships among partners, and serve as catalysts for changing policies, programs, and practices."
In Academic Medical Centers this process of community engagement can include:
Creating health equity-focused community improvement activities including economic and infrastructure development
Developing experiential learning opportunities for medical students that are responsive to community needs and assets
Developing a diverse and culturally competent healthcare workforce through K-12 and college pipeline programs
Ensuring research questions, protocols, analyses, and dissemination efforts are co-developed with community partners
Enriching the community health needs assessments and implementation plans conducted and developed by not for profit teaching hospitals
Explore resources and research developed by AAMC and national experts focused on partnering with communities to improve local health and address health inequities.
Community Engagement Resources
Learn more about definitions and best practices related to the full spectrum of community engagement, and explore our growing collection of related resources developed by AAMC and national experts.

Access resources
Community Engagement Toolkits
Drawing on thought-provoking sessions from Learn Serve Lead: The AAMC Annual Meeting, the AAMC developed toolkits to help institutions engage their academic and local communities in dialogue to identify actions individuals or institutions can take to move communities toward health and health care equity.
2017 Learn Serve Lead Session Toolkit: Social Justice Behind and Beyond the Bars: Criminal Justice Health and Academic Medicine

2016 Learn Serve Lead Session Toolkit: Community Engagement, Precision Medicine, and Native Health

2015 Learn Serve Lead Session Toolkit: Social Justice, Communities, and Academic Medical Centers
Community Health Needs Assessments
Not-for-profit teaching hospitals are required to conduct a community health needs assessment (CHNA) every three years. This collaborative process engages communities, public health experts, and clinical leaders to identify and intervene on the most important health needs in the local community.  The AAMC has provided a collection of tools and resources which will help our members improve and impact the health of the communities they serve.

Learn more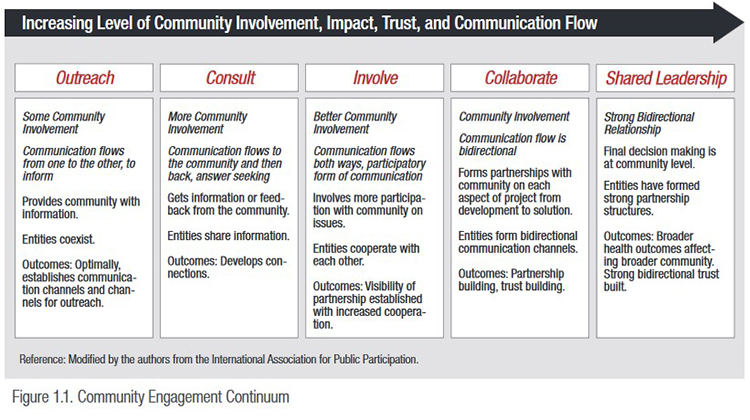 Centers for Disease Control and Prevention. Principles of community engagement (2nd ed.) Atlanta (GA): CDC/ATSDR Committee on Community Engagement; 2011, pg.22.
The spectrum of community involvement ranges from providing the community with information to strong bidirectional relationships between community members and academic members.

Below is a selection of resources developed by the AAMC and national experts to enhance community engagement at medical schools and teaching hospitals.