The AAMC published new guidelines in May 2014 to provide expectations for both learners and teachers that include 13 activities that all medical students should be able to perform upon entering residency, regardless of their future career specialty. The guidelines are based on emerging literature documenting a performance gap at the transition point between medical school and residency training. Entrustable Professional Activities (EPAs) were chosen as the framework for the guide because they offer a practical approach to assessing competence in real-world settings and impact both learners and patients.
Why are we doing this?
To date, there has been no agreement in the undergraduate medical education (UME) community about a common core set of behaviors that might be expected of all graduates. These 13 core EPAs for entering residency seek to do just that.
What has been done so far?
In January 2013, the AAMC convened a drafting panel to identify the short list of integrated activities that might be expected of all M.D. graduates transitioning from medical school to residency. The Drafting Panel included a student, a resident, and a basic scientist as well as distinguished medical educators representing the continuum from UME through practice.
The result of this work was published in May 2014, the Core Entrustable Professional Activities for Entering Residency, and called for the medical education community to test these EPAs in the field.
What are the goals of the implementation project?
Primary Goal: To demonstrate the feasibility of implementing the Core EPAs for Entering Residency framework in the path to graduation of MD candidates.
Specifically, we are addressing four main areas: Curriculum development, assessment of competency using the EPA framework. the path to entrustment, and faculty development.
Secondary goal: To demonstrate improvement in the gap between performance and expectations for students entering residency who have been entrusted on the Core EPAs.
Who is involved in the pilot?
After receiving applications from more than 70 AAMC-member institutions, 10 medical schools were selected to serve as pilot cohorts to test the implementation of the 13 EPAs.
The Learning Community
Our goal is to build a learning community by partnering with institutions and individuals beyond the demonstration sites who are working on implementation of the Core EPAs for Entering Residency to share knowledge and bring promising practices to scale. We hope to see this extended network of medical educators test and adopt effective practices for teaching and assessing the Core EPAs and for developing pathways to entrustment and faculty development tools. Our work also benefits from collaboration with various external influencers such as licensing and accrediting bodies, that are aligned with the vision and goals of this project.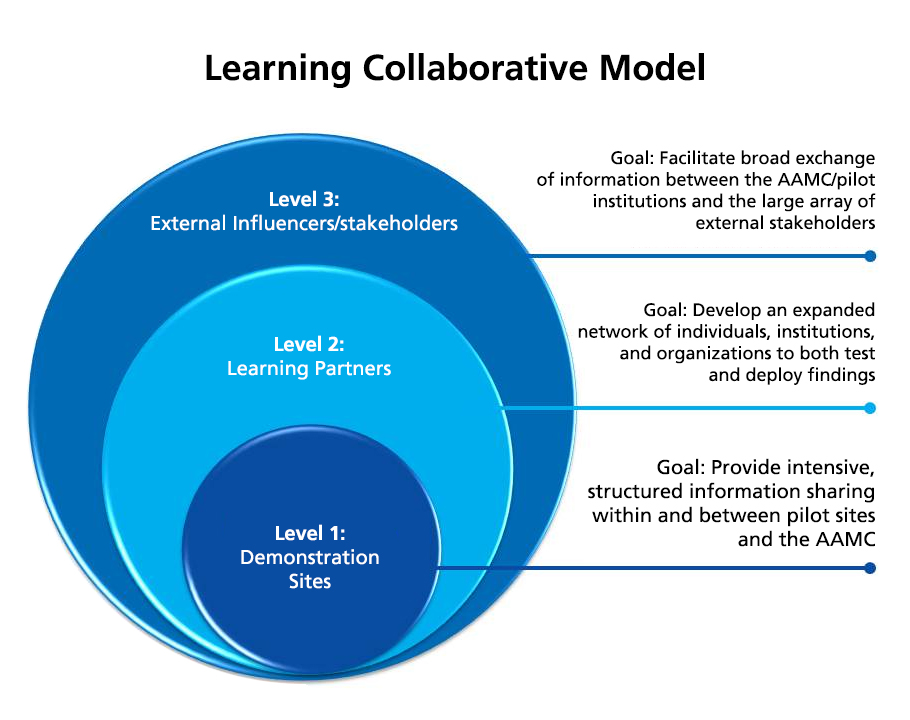 Model and graphic adopted with permission from Urban Universities for Health