The toolkit is a collection of aids that aim to complement and enhance professional development practices and results across the GSA community. The tools were developed to specifically execute a continuous three-step process proven to help GSA professionals realize their potential and a fulfilling career in student affairs.
How can I best use the Support Toolkit?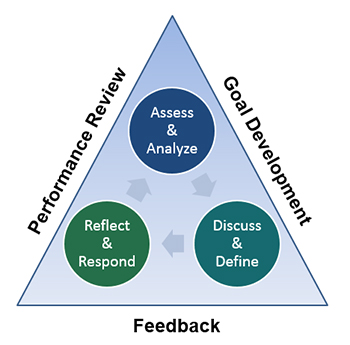 The tools will provide the greatest benefit when executed as part of an ongoing, collaborative process led by you.
This three-step process can serve as an opportunity to complement current professional development practices in which you can further engage yourself and others to make your professional journey and career success a priority.
What specific tools are available?
Below are the available tools listed with opportunities to guide your application for the best results. These aim to reinforce the ongoing, collaborative process noted above and complement the resources and support already available at your school or institution.

Gain a clearer understanding of responsibilities/performance expectations (essential critical behaviors) for your current and aspiring roles.
Identify specific, high potential development areas for consideration.
Develop clear and meaningful professional development goals and a detailed plan for execution.
Explore and identify high-value development options to achieve your specific goals.    
Engage in more effective professional development discussions.
Use feedback and recognition as valuable tools to guide and excel your growth and performance.   
Learn more about elevating your career, raising the bar at your institution, and connecting with others in the student affairs' community through the PDI Webinar Series.
Related Resources