New section
Women in Medicine Month: Women as Physicians
Week One:
Women as Physicians
The AAMC Group on Women in Medicine and Science (GWIMS) is proud to celebrate Women in Medicine Month! Each week in the month of September we will feature spotlights, articles, journals and leadership lessons from women in physician, scientist, educator, and leadership roles. This week's theme is women as physicians.
Women as Physicians Spotlight
"Women have earned the right to have any job in medicine. It is now our responsibility to maintain that privilege."

Ruth A. Lawrence, MD, FAAP, FAACT
Professor of Pediatrics and Obstetrics and Gynecology University of Rochester School of Medicine
Medical Director of the Breastfeeding and Human Lactation Study Center
"Celebrating the accomplishments of women in medicine is important to instill in the younger generation that they too can achieve anything that they put their mind to with hard work and perseverance."

Nancy DeMore, MD, FACS
Professor of Surgery
BMW Endowed Chair in Cancer Research 
Medical Director, MUSC Breast Program
Program Director, Medical Scientist Training Program
Vice Chair of Entrepreneurship Department of Surgery Medical University of South Carolina
2019 GWIMS Leadership Award Winner Spotlight
Leadership Award for an Individual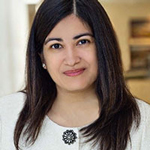 Reshma Jagsi, MD, DPhil is a Newman Family Professor and Deputy Chair in the Department of Radiation Oncology and Director of the Center for Bioethics and Social Sciences in Medicine at the University of Michigan. Dr. Jagsi is recognized for publishing groundbreaking research in gender equity in academic medicine — the key area of her scholarly work and leadership. Author of over 250 articles in peer-reviewed journals, including multiple high-impact studies in the New England Journal of Medicine and JAMA, her research to promote gender equity has been funded by an R01 grant from the National Institutes of Health as well as large independent grants from the Doris Duke Foundation and several other philanthropic foundations. Dr. Jagsi is committed to gender equity and faculty wellness at the University of Michigan and co-chairs the task force on wellness and learning environment.
Emerging Leadership Award for an Individual
Jennifer L. Hunt, MD, MEd, FCAP is Chair of Pathology and Aubrey J. Hough Endowed Professor of Pathology, at the University of Arkansas for Medical Sciences College of Medicine. One of Dr. Hunt's passions is increasing the number of women in leadership roles in health care. Dr. Hunt is a certified executive leadership coach and uses this training to work with current and emerging women physician leaders both at UAMS and nationally as they embark on stretch opportunities. In her roles as an academic chair and hospital executive, her training program, and her coaching practice, Dr. Hunt focuses on helping people with practical tools, skills, and strategies to enhance self-empowerment and self-appreciation.
Articles of Interest
Should You Choose a Female Doctor?
Does gender matter when choosing a doctor? Whether your doctor is male or female could be a matter of life or death, a new study suggests. The study, of more than 580,000 heart patients admitted over two decades to emergency rooms in Florida, found that mortality rates for both women and men were lower when the treating physician was female. And women who were treated by male doctors were the least likely to survive.
Read more
When the perpetrators are patients
Most female physicians have stories about "those patients." In the #MeToo era, AAMCNews examines what teaching hospitals and medical schools are doing to protect their own.
Read more
"Yes, I'm the Doctor" - One Department's Approach to Assessing and Addressing Gender-Based Discrimination in the Modern Medical Training Era
While gender-based bias and discrimination (GBD) is known to exist in medical training, there is limited guidance for training programs on how to understand and combat this issue locally. The Massachusetts General Hospital Department of Surgery established the Gender Equity Task Force (GETF) to address GBD in the local training environment.
Read more
Too many female doctors go part-time or stop working — why that's a big problem
Physicians aren't immune to the trade-offs working women face, new research shows. Female doctors are more likely than their male peers to shift to part-time work or stop working a few years after completing their medical training, according to a recent study published in the journal JAMA Network Open. Women, moreover, are more likely than men to cite family as a consideration in determining their work status.
Read more
Use of "Doctor" Badges for Physician Role Identification During Clinical Training
Clinical care teams in academic medical centers consist of members with various functions and levels of training. Patients and their families are often disoriented by the changing tide of medical staff. Reports show that only 40% of inpatients correctly identify their hospital physicians.
Read more
Three women bring all-female OB-GYN team to Lehi clinic
It didn't take long after Emma Miller moved to Utah for her to start dropping hints. There weren't many female OB-GYNs in Utah County, she told her former fellow residents, and she could use more women at her office.
Read more
Advancing women in academic medicine: progress, challenges, and hope for the future
Academic medicine boasts a wealth of accomplished female physicians, scientists, and educators, but women are hitting the glass ceiling when they try to advance to full professors, department chairs, deans, and hospital chiefs. Why is this happening? Women in academic medicine are outnumbered by men in faculty positions and they are not promoted or advanced to leadership positions at the same rate as men.
Read more
Female Physicians Reject "Good Enough"
Medicine should be heralded as the star pupil of modern feminism- at least that's what a recent New York Times article would have you believe. Female physicians expressed outrage on Twitter and decried the idea that medicine is a family-friendly profession.
Read more
Gender-Based Differences in Burnout: Issues Faced by Women Physicians
Individual, institutional, and societal risk factors for the development of burnout can differ for women and men physicians. While some studies on physician burnout report an increased prevalence among women, this finding may be due to actual differences in prevalence, the assessment tools used, or differences between/among the genders in how burnout manifests.
Read more
Closing the gender pay gap in medicine
In 1999, when Janis Orlowski, MD, was executive dean and associate vice president at Rush University Medical Center in Chicago, Illinois, one of her responsibilities was to ensure faculty salary equity. "I recall sitting in my office, shocked and distressed over the dramatic pay differences between men and women," says Orlowski.
Read more
Achieving Gender Equity in Physician Compensation and Career Advancement: A Position Paper of the American College of Physicians
Women comprise more than one third of the active physician workforce, an estimated 46% of all physicians-in-training, and more than half of all medical students in the United States. Although progress has been made toward gender diversity in the physician workforce, disparities in compensation exist and inequities have contributed to a disproportionately low number of female physicians achieving academic advancement and serving in leadership positions.
Read more
Medicine changing as women make up more of physician workforce
Dr. Sarah Newbery moved to Marathon, Ontario to work in a new group of family doctors in 1996. The group included three women and four men. Until this group was set up, there had never been a full-time female doctor in the community. Newbery has since seen the same shift occur in surrounding communities. A decade ago, there was a "frontier mentality" culture in northern medicine — it was a man's world.
Read more
New section
Join us on Social Media
To show your support for women in medicine month (#WiMmonth), please consider sharing the suggested tweet below (or RT from @AAMCtoday's account):
I support women in medicine. RT if you do, too. #WIMmonth #GWIMS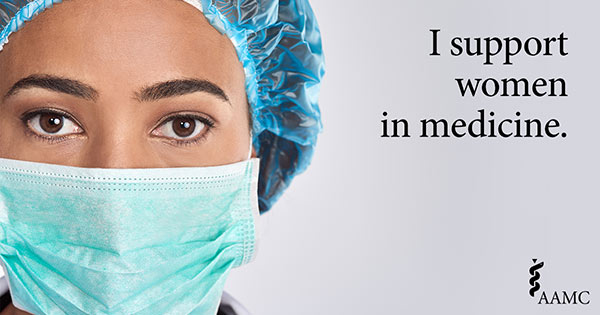 GWIM Resources
The GWIMS Toolkit is a series of presentations designed to provide practical guidance on a variety of topics relevant to women faculty in academic medicine. Each presentation provides an overview of the topic, relevant best practices, tips on implementation, and useful references for more information.
GWIMS Toolkits are useful resources that will help advance women in leadership roles.