New section
Women in Medicine Month: Women as Biomedical Scientists
New section
Women as Biomedical Scientists
The AAMC Group on Women in Medicine and Science (GWIMS) is proud to celebrate Women in Medicine Month! Each week in the month of September we will feature spotlights, articles, journals and leadership lessons from women in physician, scientist, educator, and leadership roles. This week's theme is women as biomedical scientists.
Women as Biomedical Scientists Spotlight
"[To better support female scientists] I think we need to cultivate a community — even at the earliest years — where girls and young women know they don't need to conform to a certain stereotype. Show them you can do STEM, you can do art, you can do both. Beyond that, provide encouragement and active — instead of passive — mentorship. Identify women early on, promote them, and encourage them to take risks."

Tejal Desai, PhD
Chair, Bioengineering and Therapeutic Sciences Director, UCSF Health Innovation Via Engineering (HIVE) Program University of California San Francisco
"There are two reasons we are entering a new era of discovery that will transform our health over the next 20 years. First, like time, temperature and the number of replicates, we are now including sex as a biological variable in scientific studies; and, secondly, women are emerging at the forefront of science. As a consequence, we can expect new knowledge, better health, and faster recovery from disease. These are outcomes that will ensure that tomorrow's patients will be treated better than today's!"


Teresa K. Woodruff, PhD
Associate Provost for Graduate Education
Dean of The Graduate School
Vice Chair for Research, Department of Obstetrics and Gynecology
Director, Women's Health Research Institute
Chief of Reproductive Biology Research in the Department of Obstetrics and Gynecology 
Thomas J. Watkins Memorial Professor of Obstetrics and Gynecology
Northwestern University Feinberg School of Medicine
"A diverse team creates better solutions! Promoting the advancement of women in medicine and science is the right thing to do – not only for the women involved, but to benefit society more broadly by creating those better solutions."

Ann Butler Nattinger, MD, MPH
Associate Provost for Research
Lady Riders Professor of Breast Cancer Research and Professor of Medicine and Population Health
Medical College of Wisconsin
"Things have gotten better for women in science and medicine, but we still need more of a seat at the table. And we all should help establish networks that ensure the support and advancement of women."

Amita Sehgal, PhD
John Herr Musser Professor of Neuroscience
Director, Chronobiology and Sleep Institute (CSI)
HHMI, Perelman School of Medicine
University of Pennsylvania
"I am grateful for my career as a biomedical researcher in an academic medical center. It has afforded me the opportunity to work with outstanding scientists and clinicians to research fascinating biological questions and to support the development of the next generation of researchers, while at the same time providing me with the flexibility to enjoy time with my family. I couldn't imagine a better career."

Carolyn Smith, PhD
Interim Dean, Graduate School of Biomedical Sciences, BCM
Professor, Molecular & Cellular Biology and Urology
Baylor College of Medicin
"Both genders must be equally valued for possessing leadership qualities. We must eliminate the exhausting; implicit bias tightrope of women being viewed as bossy and self-promoting rather than assertive and goal-directed so that women leaders can be both competent and likeable."

Paula Shireman, MD
Professor of Surgery
Co-Principal Investigator, Institutional Clinical Translational Science Award (CTSA)
University of Texas Health San Antonio
"Having administrative support for equal resources and time to focus on research is critical for the success of women scientists. We need more women in leadership positions to mentor and support the next generation of women scientists."

Sarah A. Tishkoff, PhD
David and Lyn Silfen University Professor
Departments of Genetics and Biology
Perelman School of Medicine
School of Arts and Sciences
University of Pennsylvania
Articles of Interest
LA Times: In Science, Questions Matter. Men are More Likely than Women to Ask
The Los Angeles Times reported on why women are less likely than men to speak up at professional scientific conferences and how that can affect a career. The piece covered a June article in the American Journal of Human Genetics that explored reasons behind the reticence of women to ask questions.
AWIS Publishes Gender Equity Report
The Association for Women in Science (AWIS) published a report on gender equity of leadership roles in STEM. The Government Accountability Office meanwhile outlined strategies to increase representation of women and minorities on boards.
2019 FNIH Lurie Prize in Biomedical Sciences Winner Uncovered the Microbiome's Critical Role in Immune Regulation
The Foundation for the National Institutes of Health (FNIH) is delighted to name Yasmine Belkaid, PhD, the winner of the 2019 Lurie Prize in Biomedical Sciences for blazing a trail in understanding the microbiome's significant role in immune regulation. Read more.
Read more
STAT: More than 8,500 Women have Joined the 500 Women Scientists Database
More than 8,500 researchers from 133 countries have joined the grassroots organization 500 Women Scientists' database, according to STAT. This database, which has been accessed over 100,000 times, holds their contact information so that they can be contacted as experts. STAT interviewed two leaders who discussed the importance of the representation of women in the media.
How to Build the Next Generation of Women in Science
Women throughout history have played leading roles in scientific innovation, helping shape the world we know today. From Rosalind Franklin and her discovery of DNA's double-helix structure in the 1950s to Mary-Claire King and her more recent discovery of the BRCA1 gene's ties to breast and ovarian cancers, women have been integral to advancing human health and science, laying the groundwork for others to follow.
Read more
IHE: (More) Bias in Science Hiring
Inside Higher Ed covered a study published in the journal Sex Roles that asked professors in physics and biology to evaluate CVs, which varied only by name to indicate race and gender, from hypothetical recent PhDs looking for postdoctoral research position. IHE explained that, "the researchers found that scientists operated on a slew of stereotypes," and in biology, female candidates were rated more likeable and Asian candidates were rated more competent and worthy of hiring than black and Latinx candidates. While the biology faculty did not discriminate against women in these categories, the study found greater prejudice against women of color.
My second acts
"You've got to be f%*@ing stupid!!!" "This is academic career suicide!" "People will believe you didn't get tenure!" "You want to be a housewife!" These are some of the more charitable comments I received from my colleagues and mentors some 20 years ago, when I decided to leave my job as a tenured professor to raise my twins.
Read more
500 Women Scientists: A Guide to Organizing Inclusive Scientific Meetings
The group 500 Women Scientists published a "Guide to Organizing Inclusive Scientific Meetings: Where to Start," which includes guidance on general principles, clarity of language, key considerations for planning a meeting, creating an inclusive space during the meeting, and assessment. A Nature article interviewed the guide coordinator, who discussed topics on diversity and inclusion at meetings and the importance of avoiding "manels," all-male panels.
United States National Postdoc Survey results and the interaction of gender, career choice and mentor impact
The postdoctoral community is an essential component of the academic and scientific workforce, but a lack of data about this community has made it difficult to develop policies to address concerns about salaries, working conditions, diversity and career development, and to evaluate the impact of existing policies.
Read more
Nature Human Behavior Study Shows that Recognizing Bias Helps Prevent It
Inside Higher Ed reports on a Nature Human Behavior study of academic hiring data at France's National Committee for Scientific Research that found that "committees whose members don't believe in gender bias are less likely to promote women," and that when committee members recognize that women face barriers, they are more likely to overcome bias.
Women Are Winning More Scientific Prizes, But Men Still Win the Most Prestigious Ones
We don't do a great job of recognizing women's contributions to science and innovation. Only two women have won the Nobel for physics in the nearly 100 years it has been conferred. The most prestigious prize in mathematics, the Fields Medal, has had just one female winner: the late Maryam Mirzakhani. And evidence suggests female academics are also less likely to receive grant funding due to gender bias.
Read more
PNAS: The Changing Career Trajectories of New Parents in STEM
Nature reports on a study in PNAS that delved into the effect of becoming parent on the careers of both male and female scientists. The researchers found that 43% of women with full-time jobs in science leave or switch to part-time work after their first child, compared to 23% of men. While the authors state that "these findings suggest that parenthood is an important driver of gender imbalance in STEM employment," they also note that new parenthood has a striking effect on fathers as well as mothers.
Save the Date!
Women in Biomedical Careers
The National Institutes of Health (NIH) Working Group on Women in Biomedical Careers provides resources that support women scientists at all levels of their careers.
Save the Date
2020 AAMC Joint Professional Development Conference
Group on Graduate Research, Education, and Training (GREAT) and the Group on Women in Medicine and Science (GWIMS)
Sept. 10-12, 2020 Swissotel Chicago Chicago, Illinois
See you in Chicago!
New section
Join us on Social Media
To show your support for women in medicine month (#WiMmonth), please consider sharing the suggested tweet below (or RT from @AAMCtoday's account):
I support women in medicine. RT if you do, too. #WIMmonth #GWIMS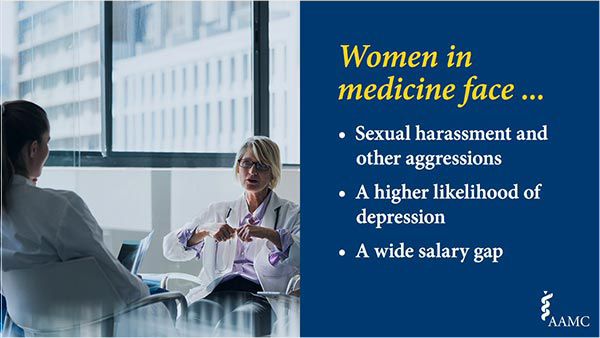 GWIM Resources
The GWIMS Toolkit is a series of presentations designed to provide practical guidance on a variety of topics relevant to women faculty in academic medicine. Each presentation provides an overview of the topic, relevant best practices, tips on implementation, and useful references for more information.
GWIMS Toolkits are useful resources that will help advance women in leadership roles.