New section
Women in Medicine Month: Women as Biomedical Scientists
New section
Women as Biomedical Scientists
The AAMC Group on Women in Medicine and Science (GWIMS) is proud to celebrate Women in Medicine Month! Each week in the month of September we will feature spotlights and leadership lessons from women in educator, scientist, physician, and leadership roles.
Women as Biomedical Scientists Spotlight
"The scientific process:
*the questions we choose to ask
*the creative approaches and rigorous methods we bring to bear
*the healthy skepticism with which we approach existing findings in order to define new questions
All of this is best is when we have a scientific community with diverse voices and perspectives.
Diversity in science is not only an issue of equity- diversity in science is just good science."

Kirsten Bibbins-Domingo, PhD, MD, MAS
Professor and Chair, Department of Epidemiology and Biostatistics
Lee Goldman, MD Endowed Chair in Medicine
Vice Dean for Population Health and Health Equity, School of Medicine
University of California, San Francisco
"Women in medicine and science month is important because it provides space to center our experiences, contributions, and leadership. Women play a powerful role in advancing scientific discovery and innovation. As we look toward strengthening the future, we must address the impact of intersectionality and the unique inequities many women face because of their overlapping social identities."

Namandje N. Bumpus, PhD
E.K. Marshall and Thomas H. Maren Professor
Director, Department of Pharmacology and Molecular Sciences
Johns Hopkins University School of Medicine
"Your path through a career in academic medicine does not need to be scripted early in your career. Detours can be exciting and rewarding. Those detours allow you to build diverse teams, finding balance in gender, diversity, scientific expertise, and across the career spectrum. Energy from the young scientists and the wisdom of the more senior scientists is a wonderful blend."

Melinda Dwinell, PhD
Professor of Physiology
Director, Medical Physiology
Genomic Sciences & Precision Medicine Center
Medical College of Wisconsin
"I am here because of all the women who came before me. Those women had great courage and stamina to open doors and forge a future for women in medicine and leadership. I am looking forward to empowering the next generation."

Valerie Flattes, PhD
Assistant Professor (Clinical)
College of Nursing
The University of Utah
"It is critically important to increase the diversity of scientists in the US. The Millennial Generation, comprising 26% of the population, is the most diverse in US history. However, young adults are not entering science, technology, engineering and mathematics (STEM) careers at commensurate rates, especially those who are racially and ethnically diverse, from rural areas, and from low-resource backgrounds. As an African American woman performing biomedical sciences research, I am leading several large NIH-funded research training grants to train underrepresented students from historically black colleges, universities, and high schools in South Carolina in state-of-the art techniques in cancer research."

Marvella E. Ford, PhD
Professor, Department of Public Health Sciences
Associate Director, Population Sciences and Cancer Disparities, Hollings Cancer Center
Director, Office of Community Outreach and Engagement, Hollings Cancer Center
SmartState Endowed Chair, Cancer Disparities Research
Medical University of South Carolina and South Carolina State University
"Women in Medicine and Science Month is a critical recognition of our forebarers' contributions for our contemporaries and our future. For so long, the contribution of women in science and medicine has been overlooked or miscredited because of the social norms in a given time. But as women have won the right to vote, won the right to work, and continue to fight for the right for equal pay, we have to acknowledge the work of the women who have come before us to pave the way for the women who will come after us. You cannot know where you are going if you don't know where you have come from, so we must celebrate the full history of our collective journey."

Senta Georgia, PhD
Assistant Professor of Pediatrics and Stem Cell Biology & Regenerative Medicine
Keck School of Medicine, USC
Center for Endocrinology, Diabetes, and Metabolism
Children's Hospital Los Angeles
"The global COVID-19 crisis and our own national reckoning around racism have together surfaced ongoing threats to equity—gender equity, racial equity, and their many intersections. Strong allyship and mentorship are needed to ensure women in the sciences and beyond are ever-vigilant in our commitment to overcoming those threats. We can't stop now."

Laura Gottlieb, MD, MPH
Director of the Social Interventions Research & Evaluation Network (SIREN) 
Professor, Department of Family and Community Medicine
University of California, San Francisco
Events and Resources
Webinar Recording Now Available! Understanding Intersectionality: Bringing visibility to the experiences and perspectives of women of color
The AAMC Group on Diversity and Inclusion (GDI) and GWIMS hosted an informative and powerful webinar on defining intersectionality with over 800 participants joining on Aug. 7. During this first part of a longer webinar series on various aspects of women of color, speakers from both inside and outside academic medicine introduced foundational elements of intersectionality theory, shared experiences, and created dialogue on how institutions can maintain an intersectional lens as they continue their diversity, equity and inclusion journeys.
New section
Join us on Social Media
To show your support for women in medicine month (#WiMmonth), please consider sharing the suggested tweet below (or RT from @AAMCtoday's account):
I support women in medicine. RT if you do, too. #WIMmonth #GWIMS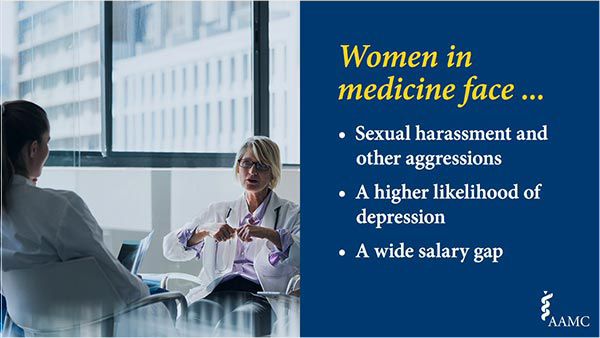 GWIM Resources
The GWIMS Toolkit is a series of presentations designed to provide practical guidance on a variety of topics relevant to women faculty in academic medicine. Each presentation provides an overview of the topic, relevant best practices, tips on implementation, and useful references for more information.
GWIMS Toolkits are useful resources that will help advance women in leadership roles.
New section