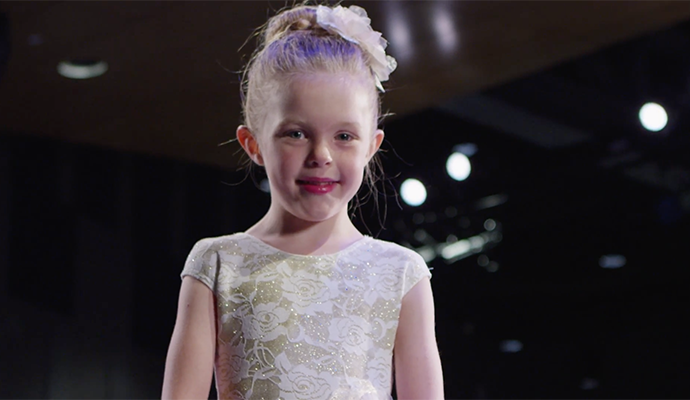 Scarlett's Story
Children's Miracle Network at Penn State Children's Hospital
Scarlett's Story is a one-minute video that shares Scarlett's journey from her stay in Penn State Children's Hospital's Neonatal Intensive Care Unit, to her medical challenges in early childhood, to her dreams of becoming a ballerina. The video is a visual interpretation of Penn State Children's Hospital's content marketing theme, the #GiftofGrowingUp, which highlights the milestones patients achieve thanks to the advanced medical care that is made possible by the children's hospital donors.
Knowing that the authentic content provided by their patients' families would resonate deeply with donors and reduce the need for expensive production locations, the team developed a story around the photos and videos Scarlett's family was able to provide, and a local production company, JPL, kindly agreed to waive the remaining production fees for this project and five additional videos. Scarlett's video can also be adapted to serve various audiences. The video's end slate can be changed to include a corporate partner logo. The message at the end can be changed from a call to action to a message of thanks.
By embracing the #GiftofGrowingUp theme, Scarlett's story and the subsequent videos give Penn State Children's Hospital's content a unique voice that shares a patient's story simply, but dramatically. While most stories are told linearly, Scarlett speaks in present tense about events that have already happened to make the viewer feel her experiences in real time. It ends with her aspirations to become a ballerina, and the donor is inspired to help Scarlett achieve her dream.
What was the most successful part of this video?
In just one minute, Scarlett's story shares a journey of struggle and hope that connects emotionally with viewers and inspires them to help our cause.
What is one thing you learned from this experience?
Less is more! A simple script and authentic photos and video from a patient family can be even more compelling than an extensively produced video.
Contact
Allison Mason, amason4@pennstatehealth.psu.edu