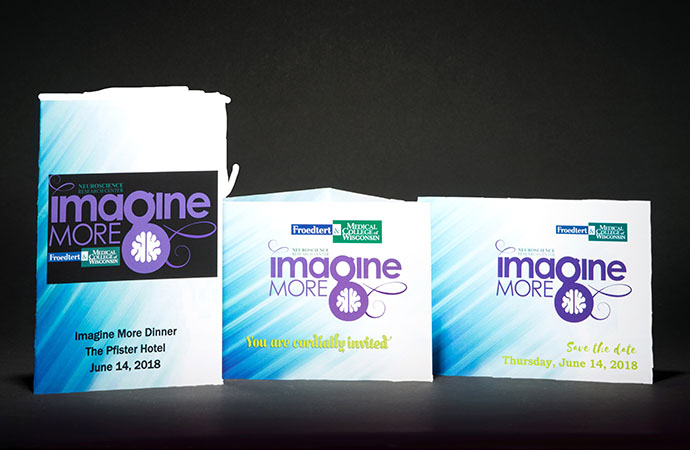 Transformative Storytelling: 2018 Imagine More Dinner
Medical College of Wisconsin
The Neuroscience Research Center at the Medical College of Wisconsin (MCW) hosts the annual Imagine More Dinner each June to support research aimed at alleviating the suffering caused by neurodegenerative diseases and neurological injuries. The event is themed to reflect the hope that novel research and innovative treatments have for patients and families. As part of the only academic medical center in eastern Wisconsin, MCW and its health care partners at Froedtert Hospital and Children's Hospital of Wisconsin have a unique vantage point to communicate the impact that academic medicine has on the development of new treatments as researchers and physicians collaborate to solve the toughest problems in medicine. The Imagine More Dinner in June 2018 was strategized, designed, and implemented to take advantage of this opportunity by focusing on the personal narratives — one of the most compelling forms of storytelling — that convey the emotion and urgency driving so many neuroscientists and clinicians to search for cures.
What was the most successful part of your event?
The most successful piece was the measurable success and engagement opportunities demonstrated. Our goal was better fundraising outcomes and a need to develop the donor pipeline by focusing on personal narratives around emotion, hope, and a search for cures. The results confirmed the need for our teams to rethink programming and strategy for other events as well.
What is one thing you learned from this experience?
Through analysis of metrics such as audience participation, dollars raised, and average gift amount with comparison to the prior year; future philanthropy conversations; and volunteer leadership, we confirmed a more effective event model to increase philanthropy and engagement.
Contact
Kelly Baylor, kbaylor@mcw.edu