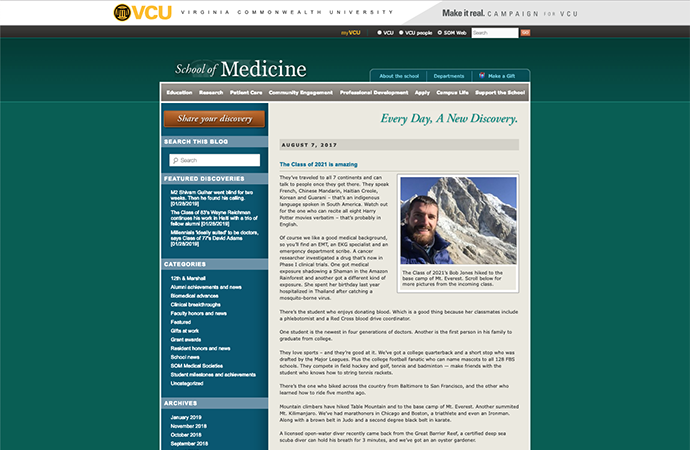 The Class of 2021 Is Amazing Facebook Campaign
Virginia Commonwealth University School of Medicine
The Class of 2021 Is Amazing began as a Facebook campaign to introduce the incoming medical class to the VCU School of Medicine Facebook audience and aimed to double the number of new page followers for August 2017 compared with August 2016. With 10 Facebook posts, it succeeded — more than tripling the number of new page followers for August 2017 to 163, compared with 43 in 2016. However, the campaign achieved even more as it was repurposed in multiple ways: an article on the medical school's website spotlighting 31 students that became the year's most-read story; a one-page handout for the Major Gift Officer team; and the back cover of the alumni magazine.
Additionally, the campaign highlighted the accomplishments, contributions, and diversity of the incoming class, as well as established relationships with incoming students so they were familiar with the development and alumni office, laying the groundwork for lasting relationships as alumni.
Coordinating with the Curriculum Office to include a link to a Google form in an orientation email allowed the communications team to make a request for fun facts before students were on campus and overwhelmed with other responsibilities, resulting in more than 100 submissions. Using the hashtag #VCUSOM2021, emailing students with a direct link to the post, and encouraging them to like, tag, and share helped expand the reach of posts and garner more engagement.
What was the most successful part of this Facebook campaign?
Increasing our Facebook audience while building relationships with our incoming class and creating content to share with alumni, donors, and friends.
What is one thing you learned from this experience?
To maximize submissions, keep it simple. The form intentionally asked only four questions. The communications team followed up to ask for photos and additional information.
Contact
Polly Roberts, polly.roberts@vcuhealth.org